Under the circumstances, it's easy to forgive Robbie Bina for wanting his notoriety to be for something — anything — else.
Say, being a dependable teammate. Or a strong supporter of his team.
That's not the hand Bina has been dealt. For better or worse, his name was made around college hockey two seasons ago when he was seriously injured by a check into the boards.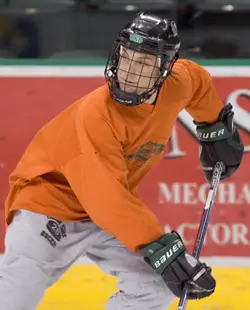 Some closure to that chapter came at the start of this season, when he returned from the injury after missing more than a year. But you could still ask around about Bina and have people first remember the injury.
"I guess I wish I could get the attention for something a little different," Bina said.
That's about as much of a complaint as you'll get out of Bina, the North Dakota junior defenseman whose hockey career took a detour one afternoon in March 2005.
He's a player who never wanted the spotlight, Sioux coach Dave Hakstol said, but got it while he was off the ice after a devastating hit along the boards of the Xcel Energy Center in St. Paul, Minn.
As he did for some of the 2004-05 season, Bina was skating on the right wing early in the second period of the WCHA semifinal game against Denver.
A check from behind by Denver's Geoff Paukovich sent Bina's head into the boards and then sent the Sioux player to the ice, where he stayed while being attended to by medical personnel. The record shows Paukovich, then a 6-foot-4, 215-pound freshman, got only a two-minute boarding penalty, but he later was suspended by the league for the championship game and by the Pioneers for the team's first NCAA tournament game.
Bina, who's 5-8 and 175 pounds, remembers just about everything. He never blacked out, giving himself a clear picture of the moments after the hit.
He recalls lying on the ice with a "funny feeling" throughout his body, a surreal few moments that only set up a year-plus away from competitive hockey.
Doctors determined Bina's C7 vertebra — at the bottom of the neck — was crushed. Surgery removed that vertebra and fused two others.
Bina's hockey future, of course, came to mind somewhere along the way.
"I wasn't sure what the whole process would be, to be able to come back or all that," Bina said. "I was pretty surprised at how positive the doctor was after surgery and what he said I needed to do to get back. There really wasn't a whole lot that I really had to do."
That's probably being modest. You don't go through a spinal injury and just come back in no time. In Bina's case, there were a series of clearances made, with the final one — contact in game settings — coming in time for this season.
But that meant a long 2005-06 season for Bina. Most players are able to sweat and struggle through the week of practice with the weekend's games serving as the light at the end of the tunnel.
Bina, however, didn't have that luxury. He conceded it was tough to be with his teammates while knowing he wasn't going to be able to play last season while taking a medical redshirt.
In that extended prep time, Bina said he worked on his puck movement and offensive skills with eyes on this season.
"I'm sure he had his tough periods, but he would never have let us know it," Hakstol said. "I always trace things a little bit back to family, and his family is just good, honest, hardworking people. I'm guessing Robbie probably falls back on that type of upbringing, just says, 'This is how it is. My job is to work hard in practice, get better, get strong and get ready to play next year.'
"And that's real hard to do. That's hard to do for that long a period of time when you know you can't play the game. But he did it as well as anybody that I've seen."
Support from all corners made it easier, Bina said. Teammates carried his sweater with them during the run to the 2005 national championship game. A Grand Forks native, Bina had a natural connection to the community that only grew during the recovery process.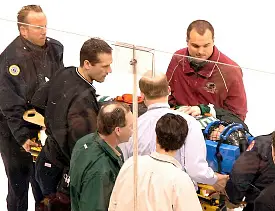 "People in Grand Forks really supported me all the way through," Bina said. "They wanted me to be back out there, and it was great to have them behind me all the way."
"He's a local kid, so lots of guys know his face and have got a chance to talk to him and really know who he is," said Rylan Kaip, Bina's teammate and roommate. "The community was a big part for him, and I think they continue to show support for him, and that really helped him through the tough times."
There indeed were tough times after the injury. The hardest part, Bina said, was watching his teammates go to two Frozen Fours. Not that they made it, but that he was watching.
When the watching was over, the community made Bina feel welcome on the ice. Before North Dakota hosted Manitoba in an exhibition game on Oct. 1, Hakstol went over pregame info with his team in the locker room.
"When coach Hakstol came in and said he [Bina] was going to be in the starting lineup, I think everybody had a little smile," Kaip said.
Bina was the last Sioux starter introduced, inducing thunderous applause from the crowd at Ralph Engelstad Arena.
"I had chills running up and down my spine," Bina said.
That's a phrase that can mean a whole lot more to someone who has had a spine injury.
"I feel very lucky to even be able to do this again," Bina said. "And very fortunate to not be in a wheelchair or anything like that."
This is just one more chapter in Bina's story, one that already includes entries about loss and perseverance.
"He's ready to move on," Kaip said. "Ever since the doctor cleared him to play, he hasn't missed a workout. He's been working extremely hard and he's always around the rink, cheering guys on when he wasn't playing. Now, to have him back in the lineup and have his veteran presence in the locker room and on the ice, that's a huge thing for the team."
Bina would have been a leader on the team without his injury history, but having a player in the locker room who has gone through an experience that almost ended his career is a motivator, Hakstol said.
The 23-year-old defenseman isn't wearing a letter on his sweater this season. Hakstol said that's a result of much of the freshman- and sophomore-heavy team never having played with Bina as much as anything.
But the example Bina has set — coming back from a major injury helps others think about what extra they can do — is a strong one.
"I think what he's done certainly has to have that effect on guys," Hakstol said. "I've heard Erik Fabian, coming off a knee injury, talk about that. I'm sure in a lot of quiet ways it has that effect. Hopefully, it doesn't just have to be in regards to a major injury like Erik Fabian. Hopefully it's in your day-to-day activities. Maybe it brings the reality of life a little bit more into focus. I think we all tend to forget some of that, some of the important things, more often than we should."
Not Bina. Not anymore.
"Now I realize that things can happen," Bina said, "and I've just got to be thankful for everything I've got right now."