Don't let the numbers fool you.
If there was a stat for heartbreaking losses, missed chances and shots off the post and cross bar, it's a pretty safe bet Wayne State would be at the top of the charts.
But there is no such stat kept in college hockey and the Warriors are at the bottom of the College Hockey America standings heading into this weekend's home set with Bemidji State.
Yet, one lucky break could get WSU back rolling. That break came last weekend.
Last Saturday at Cornell, the Warriors broke through and beat the then-12th ranked Big Red, 5-4. How big was the win? Well, big enough to have Cornell head coach Mike Schafer blame the referees, for one.
"Of the three parties on their game tonight, there was only one party that was on, and that was Wayne State," Schaefer told the Ithaca Journal. "Other than that, the other teams (Cornell and the officials) on the ice weren't on their games."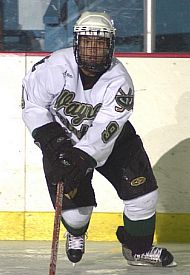 WSU scored four power-play goals, including two 5-on-3 goals, and freshman goaltender Brett Bothwell made 27 saves for the win.
Ironically, Schaefer was an assistant under WSU head coach Bill Wilkinson for five years at Western Michigan in the 1990s.
"We've been playing relatively well the past few weeks, but we just couldn't push it over the edge," Wilkinson said. "I think when we beat Cornell, it gave the guys some confidence and made them realize that these things can happen if you work hard enough. We're going in the right direction."
But the power went out Sunday as the Warriors (3-10-0, 1-1-0 CHA) were blanked, 2-0, by the now-No. 13 Big Red.
"We actually played better Sunday then we did Saturday," noted Wilkinson. "We hit two posts and a crossbar and they scored a power-play goal with our guy coming out of the box and he couldn't get back. We had our chances, but that's pretty much been the story of our season."
Senior goalie Will Hooper, still searching for his first win of the season, made 26 saves. Hooper is 0-7-0 and Bothwell is 3-3-0. Still, Wilkinson isn't ready to give the reins to Bothwell just yet.
"Will's played great, but we just can't seem to win in front of him," Wilkinson said. "The victories we do have were very difficult to achieve. I'd rather have more wins, obviously, but as a team, we've been good and not fabulous.
"The contributions are starting to come from everyone and that's what you want, but special teams seem to be the marquee of college hockey these days."
Senior Nate Higgins leads the team with six goals, senior Jason Baclig leads with nine points and senior co-captain Jason Bloomingburg and senior defenseman Dan Iliakis have tallied eight points apiece.
"We're getting a little bit from everybody," concluded Wilkinson. "You have to start somewhere. All of our lines have been clicking, but we haven't been able to get it done consistently."
Perhaps the consistency starts this weekend at home, where the Warriors haven't played since Oct. 28, against the Beavers.
UAH's Ross Reflects on Win No. 500
After Alabama-Huntsville beat Robert Morris 7-2 on Nov. 18, UAH head coach Doug Ross celebrated his 500th win as a college head coach.
And his players helped him celebrate the milestone.
"They dumped, it seems like, 25 gallons of Gatorade on me," Ross said in the Huntsville Times. "It was real rewarding and made me feel really special that everybody was so happy to see me make that milestone.
"I was kind of going into the whole deal saying it was just another hockey game, but everybody made it into a special occasion and made me feel good about it. It's nice to see that people care about you like that."
The Chargers had lost in three earlier chances to give Ross his 500th win, and the RMU game was tied 2-2 early in the second period when Ross sent senior Marc Narduzzi in to replace Jordan Erickson in net. Narduzzi didn't allow a goal the rest of the way, making 21 saves.
"All of a sudden, Narduzzi made those saves and turned it around," Ross said.
Ross, who has said he may retire after this season, is 500-292-43 in 28 seasons overall. He is 444-257-41 in 25 seasons at UAH.
Two '07 Recruits Coming From Mahoning Valley
Center Nathan Longpre and right wing Chris Fairbanks are off to CHA schools starting next fall as Longpre will play for Robert Morris University and Fairbanks is a future Alabama-Huntsville Charger.
Longpre and Fairbanks are teammates this season in the North American Hockey League on the Mahoning Valley Phantoms. Head coach Bob Mainhardt holds both Longpre and Fairbanks in high esteem.
"Nathan is a gifted player who can make an immediate impact at the collegiate level," Mainhardt said. "He will continue to mature both on and off the ice."
Longpre leads the Phantoms in scoring with nine goals and 27 points in 26 games thus far. Last year, with the Peterborough Stars of the Ontario Provincial Junior Hockey League, Longpre finished tied for 17th in league scoring with 67 points on 24 goals and 43 assists in 48 games.
"I'm looking forward to playing college hockey at Robert Morris next year," Longpre said. "I'm trying to work on my individual and team skills this season. I want to do well and win with the Phantoms and I want to prepare myself for the next level."
Fairbanks will join former Phantom Joe Federoff on the Chargers. Federoff, who transferred following his freshman season at Robert Morris, will begin play with UAH in January.
"I think that UAH knows that Chris will push himself, regardless of the circumstances," Mainhardt said. "He has selected his college, but he continues to display a strong work ethic and that's why he'll still do the job this season. It's one of the reasons why he's wearing the 'C' on his jersey."
Last season, Fairbanks recorded 25 points on seven goals and 18 assists in 53 games with the Phantoms. He has 11 goals this season, good for second on the team.
"When I came to play for the Phantoms last year, I had set two goals for myself," Fairbanks noted. "One was to eventually play college hockey at the Division I level. The second is to win a national championship.
"I'm looking forward to playing in Huntsville next year. I can now focus on improving my game and winning a national championship with the Phantoms."
Niagara Wins RPI Tournament
Niagara won the Rensselaer/Bank of America Holiday Tournament Saturday with a 3-1 decision over Colgate.
Sophomore goalie Juliano Pagliero made 30 saves in the win, including 17 in the final period. Senior captain Sean Bentivoglio was named Most Outstanding Player as he scored three goals, including two shorthanded, in the two games.
"I am very proud of our guys," said Niagara head coach Dave Burkholder. "When we are on a roll, we finish our checks, we block shots, and then we get our big plays. The goaltending was fantastic all weekend."
After not scoring a shorthanded goal all season before his shorty Friday night, Bentivoglio scored Niagara's second shorty in as many games, evening the score at 1-1 Saturday.
"Bentivoglio's goal was again key," Burkholder added. "In the second period, we had four big hits and that got us rolling. We just stayed patient and treated this as a road game.
"Right now we are gaining confidence. We play a tough schedule and we do it to get ready for March."
The tournament title was the sixth in-season tournament crown in Niagara's 11-year history and first since the Syracuse Invitational in 2001. Pagliero, Matt Caruana and Ryan Annesley joined Bentivoglio on the All-Tournament Team.
To get to the finals, NU beat host RPI on Friday, 5-3, as Les Reaney and Ted Cook each had a goal and two helpers, Bentivoglio two goals and Allen Barton made 25 saves. Bentivoglio's second goal, a shorthanded goal, came at the end of a 5-on-3 for RPI.
"The 5-on-3 kill was amazing," said Burkholder. "We had guys blocking shots. We really pride ourselves on going down and blocking shots. Then the Bentivoglio goal was the change for sure. You could tell it took the energy out of the crowd."
With the victories, Niagara improves its season-high unbeaten streak to seven games (5-0-2) and stayed unbeaten when facing a team for the second time this season (3-0-1). They also sit in first place in the CHA.
Scofield On the Shelf In Bemidji
Bemidji State sophomore forward Tyler Scofield will reportedly miss the next six weeks after breaking his collarbone during the Niagara series two weeks ago.
Apparently, Scofield complained of shoulder pain in the first game, but played both games — two ties with the Purple Eagles.
The pain must have been blocked out somehow, though. Scofield had a goal and three assists that weekend.
NU Takes Gamble On USHL Goalie
The logjam in the Niagara goal will continue next season following Barton's graduation this coming May.
Green Bay Gamblers' goaltender Adam Avramenko has committed to the Purple Eagles for next season.
Avramenko, 20, came to the Gamblers via the Maritime Junior Hockey League, where he backstopped the Woodstock Subway Slammers to the Kent Cup last season. In 15 starts with Green Bay, Avramenko is 8-6-1 with a 3.14 goals-against average and a .900 save percentage.
Avramenko is tops in the USHL in saves (423) and first in minutes played (896:56).