The Hockey Commissioners' Association (HCA) Thursday announced the establishment of two major annual awards. The National Rookie of the Year trophy and the Derek Hines Unsung Hero Award, named in memory of the former Army player who died courageously in combat in Afghanistan, will both be presented for the first time in April.
"As the college game continues to receive more national exposure, both in terms of television and a weekly satellite radio show that's coming soon, our Association believes it's the right time to highlight one outstanding first-year player from what is a dynamic and highly-skilled group of candidates each year across the nation," stated HCA president and CCHA commissioner Tom Anastos.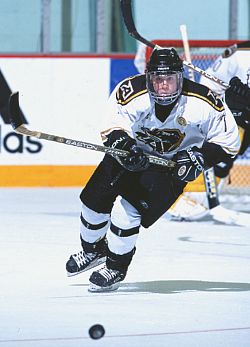 "Invariably, the national winner and many of the finalists will have an impact at higher levels of hockey. Players such as Marty Turco, Dany Heatley, Paul Kariya and Erik Cole, to name but a few, are some of the freshman student-athletes that would have been considered for this award in their college days."
The National Rookie of the Year will be chosen from among the six players that are recognized as the top first-year player in their respective conferences. Voting will be conducted among the assistant coaches of all 59 D-I teams with one vote per team. Points will be awarded on a 5-3-1 basis with five points for a first-place vote, three points for a second-place vote and one point for a third-place vote.
Each of the six conferences will also submit a nominee for the Derek Hines Unsung Hero Award to honor the nation's "consummate team player and team builder." Hines, a former Army captain, was killed in the line of duty in Afghanistan in September. He was a four-year letterwinner for the Black Knights, graduating in 2003 after serving as the team's co-captain in his senior season.
"Derek was a special person who profoundly impacted those around him and his remarkable life exemplifies everything that a college hockey player can strive for and achieve," said Bob DeGregorio, commissioner of Atlantic Hockey. "We are so pleased that the Hines family has given their blessing to this award that we hope can serve as a fitting tribute to all that Derek stood for."
The Unsung Hero Award will go to the nominee who best personifies Derek's spirit and relentless commitment as defined by the following description:
"This award recognizes a fearless leader and beloved fan favorite who always places his team first. Displaying exemplary sportsmanship, he's supremely competitive, intelligent and extraordinarily conditioned with an unmatched work ethic. The contributions of this individual, on and off the ice, cannot be measured by statistics alone."
Nominees will be judged by a panel comprised of the sports information directors from the six D-I conferences along with representatives of Army athletics and the Hines family.