Stepping Up
Last week, I mentioned some of the new players who were making a mark on this season. This week I am going to mention some of the veterans who stepped up to help replace some key players who left their team after last season.
When Fredonia's Matt Zeman decided not to return for his senior year, there were those who believed the Blue Devils were doomed. That was far from the case thanks to Neal Sheehan and Kyle Bozoian who stepped up their production to help Fredonia remain a strong contender in the league.
In all honesty, Fredonia coach Jeff Meredith wasn't necessarily looking for any particular solution.
"I don't know if we looked at anybody individually to step up," he said. "We were hoping it would be a collective effort."
Nonetheless, Sheehan has certainly been a solution as he is only four points behind last year's production with seven games to go. He has at times put up some impressive numbers in certain games to give him 16 goals and 15 assists, good enough for third amongst SUNYAC players in overall play.
"He's a good finisher," Meredith said. "He's always has done well in the offensive part of the ice, and this year he's been rewarded."
Bozoian has also been rewarded being the only other Blue Devils' player with double digit goals. His eleven on the season is already one more than last year.
"Also a pretty good finisher," Meredith said. "He's bigger than Neal. Boze is a little bit more of a power type forward."
Bozoian is also one of 89 players across all of college hockey who is in the running for the Frozen Four skills competition in St. Louis.
With all the contributions Sheehan and Bozoian have made on the ice, Meredith is more impressed with their leadership contributions.
"You can't put numbers on it," Meredith said. "A guy like Neal when things get helter-skelter can say a few things on the bench to settle things down. Boze has great leadership qualities. A big part of our team is the leadership from our senior and junior classes."
It's that sort of leadership and players like Sheehan and Bozoian stepping up that Fredonia is going to need for their stretch run to try and grab a bye position.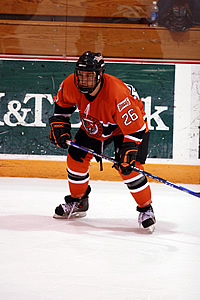 Another team that needed someone to step up is Buffalo State. They lost two of their top scorers, Sean Burke and Greg Prybylski. That player is sophomore Jason Hill who already has more points than last year with nine goals and 18 assists. In league play he is fourth in the SUNYAC with 15 points (six goals, nine assists).
"He's got unbelievable play making abilities," Buffalo State coach Nick Carriere said. "His vision on the ice is amongst the best in Division III. Jason played with Sean and Greg [last year], and they complimented each other very well. Burkie getting the [team] scoring title would not have happened without Jason feeding him the puck."
Now, Hill has to do more than just pass the puck to the top goal scorers. He has to put the puck in the net himself.
"He's playing a little more all rounded this year," Carriere said. "He's not just feeding the puck to others, but is looking to go to the net."
There are some players who can give their coaches premature gray hairs. Hill does that, but in a way Carriere can't get too upset over.
"You shake your head as a coach because he freelances at times, and then he makes the goal. All you can do is tap him on the helmet when he comes to the bench," Carriere said.
"Jason Hill isn't wearing a letter this year," Carriere adds. "but he leads by what he does on the ice and giving encouragement on the bench."
Hill will have to continue to play a major role to help lead the Bengals back into a playoff position.
Cortland needed to fill the gap left by Matt Schillace. They did it with their next two leading scorers, Barry McLaughlin and Nick Catanzaro.
McLaughlin does the scoring while Catanzaro does the assisting. McLaughlin has 14 goals and six assists, and when the junior was a freshman, coach Tom Cranfield knew he had kid with a competitive attitude.
Cranfield said, "Two years ago, he stood next to me during a powerplay drill, and we had some really good players on that powerplay, some who went on to play pro, and Barry looked at me as a freshman and said, 'I'm going to be playing that role one day.'"
"Barry is a quiet leader," Cranfield said about his assistant captain. "He leads by example. Everybody in a tough situation looks at the way Barry is handling it."
Sophomore Nick Catanzaro has the opposite stats of McLaughlin scoring just four times but with 13 assists.
"Nick's a different type of player," Cranfield said. "Doesn't have that scoring touch as Barry does. Nick relies on his tenacity and speed. He plays hard. He's willing to play hurt. You can't hold him back. He gets himself in the right place around the net."
Cranfield also knew that he had a good player on his hands: "We thought he would be an impact player right away."
Both McLaughlin and Catanzaro are going to have to make an even bigger impact if Cortland is going to dig themselves out of last place and into playoff contention.
SUNYAC Short Shots
Joey Wilson scored four goals including a penalty shot in Plattsburgh's 8-1 route of Skidmore … T.J. Cooper scored a pair of goals in Plattsburgh's 9-2 victory over Curry … Kyle Bozoian scored a hat trick while Neal Sheehan, Kraig Kuzma, and Bryan Goudy each got a pair of goals in Fredonia's 11-1 route of Morrisville … The night before, Bozoian got two goals as the Blue Devils beat the Mustangs, 5-2 … Matt Damskov scored a powerplay goal with 5:19 left in the game to give Morrisville a 3-2 victory over Cortland … Brockport's Chris Brown, Steve Seedhouse, and Gordon Pritchard each got a pair of goals in beating Lebanon Valley, 8-1 … Neil Musselwhite got a pair of goals for his Oswego Lakers in a 5-1 win over Hamilton … Despite getting 50 shots on goal against Johnson and Wales, Buffalo State needed a shorthanded goal with 5:46 left in the third period to salvage a 4-4 tie … Sean Sheehan made 21 saves the next night to register a shutout as Buffalo State beat Johnson and Wales, 2-0 … Ben Binga made 40 saves for Cortland and only let in one goal, but his team did not score any against Utica in a 1-0 loss … Rob Barnhardt made 125 saves in Potsdam's two losses to Manhattanville, letting in nine goals for a .928 save pct. … Fredonia's senior defenseman, Don Jaeger, was one of 13 players nominated for the 2007 Hockey Humanitarian Award.
Game of the Week
With only four games on the schedule this week, it appears this is a mini-break for the teams before conference play resumes. In reality, five of the nine SUNY teams are playing. Out of those four games, only one game clearly stands out as the game of the week — Oswego at Utica.
Even though Utica has struggled lately, going .500 in their last six games with one of those wins being just 1-0 over Cortland, the Pioneers are still ranked 15th in the nation and are a dangerous team. Plus, Utica is home, and they have the added incentive to try and be the first team to beat Oswego this year.
It will not be an easy game for the Lakers, but if they do win it, then they will set their sights on trying to run the table the rest of the way against conference opponents.
On The Periphery
One of the wonderful things about college sports is teams don't move. Sure, occasionally a school may drop a sport, which can be heartbreaking. But, you don't have teams holding the school or city hostage with unreasonable demands on the taxpayers or other schools luring teams away with unmatchable offers.
The first company I worked for out of college sent me to Pittsburgh for a three-month assignment that lasted nine months (thus introducing me to the lunacy of the corporate world that helped make Scott Adams very rich). I was fortunate to be in the Steel City the year a certain hockey player by the name of Mario Lemieux showed up.
At the time, sports interest in Pittsburgh was limited to two teams — the Pirates and Steelers, and not necessarily in that order. Hardly anyone mentioned the Penguins never mind bothered going to a game. The only news the Penguins ever made was when they first appeared in Pittsburgh and tried the gimmick of teaching a real penguin how to ice skate. That attempt at crazy animal tricks failed when the penguin died of pneumonia. I kid you not.
Than along came Lemieux, and I witnessed one of the greatest transitions of a city's attitude towards a franchise. The hype was huge and the Penguins were front page news and lead stories on the local sports reports. However, it wasn't till about halfway through the season did the key turnaround game exist. The Edmonton Oilers came into town with Wayne Gretzky. It was the current king against the heir apparent.
Suddenly hockey was big in Pittsburgh. I and some friends got tickets early, but even then we were relegated to nosebleed territory. The game was sold out. Scalpers were everywhere outside the Igloo. You could feel the energy downtown. The atmosphere inside was like a playoff game. This was a site the locals were used to for a Steelers game or the Pirates during the World Series. But, this kind of buzz for a hockey game? In Pittsburgh?
The game lived up to all its billing, and in fitting fashion, ended in overtime with a goal by who else but Gretzky. The king was not yet willing to give up his crown.
Despite the loss, the fans left the arena in a festive mood. It was at that point I realized the Penguins had arrived, and Pittsburgh was now a three-sports town.
Once again, we hear talk about the Penguins being in financial trouble and entertaining offers to move. This was a common occurrence before Lemieux arrived and to a lesser extent afterwards, and now was rearing its ugly head once again.
Despite my experiences stated above and that Pittsburgh holds a special place in my heart — I proposed to my wife there — I never became a Penguins fan. However, I always kept my eye on the team, and whenever they were in the Stanley Cup, I would root for them.
I will be saddened, and it would be a downright shame, if the Penguins leave Pittsburgh. Before Lemieux, nobody would have cared. But now, it would leave a great void in a city that became known for the Steelers, Pirates, and Penguins.
News about the departure of Glenn Thomaris came after this week's column was filed. Russell will have more on the story in coming weeks. — Ed.