Groundhog Day!
Pretty sure that most teams are hoping to see their shadow today and extend winter for another six weeks! More winter should mean some more hockey and great hockey at that coming into the playoffs. Hard to believe there are only three weeks left in the regular season but if you are going to make a run, now's the time to ride the hot goalie, find that energy line, get a couple of lucky bounces with the puck and play really good special teams.
Last week this column focused on the ECAC East conference leaders so this week we turn to the NESCAC conference with some of the top teams looking to solidify their positions and yet others are looking to play the spoiler role.
Groundhog Day — The Phone Call
In keeping with my movie-themed materials from the past couple of weeks, here is a reference that is specific to the actual date of release of this column. For anyone familiar with the movie starring Bill Murray, you know that he relives Groundhog Day over and over again until he gets his life right and corrects all of his flaws and interactions with people. All in all, it's a pretty funny movie if you haven't already seen it.
Last season with three weeks to go in the schedule, Amherst was sitting in second place in the NESCAC conference and playing pretty well when this reporter contacted head coach Jack Arena to discuss expectations for the final six games of the regular season. Cutting to the chase, I wrote the column and Amherst went on to lose six straight and drop to sixth place.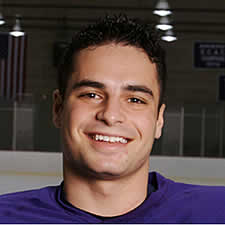 Fast forward to Groundhog Day of 2007 and when the phone rang, Arena actually hesitated before answering when he saw the number on the Caller ID. "I saw the number and thought oh boy, I hope this isn't starting a repeat of last year," joked an amused Arena. "Last year I talked about what we needed to do well playing down the stretch and we went out and didn't execute well on any of it and it really hurt us moving right through the conference playoffs. I am definitely hoping this year will be different."
Well coach, you do have a few things in your favor this year. First, you are playing four of the final six at home and not on the road. Second, you are pretty healthy with the exception of one or maybe two guys and thirdly, you have been pretty consistent all year. What's keeping you up at night?
"We have had a pretty good power play all season but that is a two-edged sword," answered Arena. "I think we have been relying a little too heavily on the power play. We need some more 5-on-5 goals to take the pressure off of the special teams. Absolutely the top two lines need to produce for us to be successful and it would be great to get some added production from our third and fourth lines which is where we were at the beginning of the season."
Of course goaltending is always a key in any playoff run and right now the Lord Jeffs are in pretty good shape with Josh Fillman and AJ Scola.
"Fillman has been terrific in a lot of games and has struggled a bit on occasion. Scola has played well in his limited appearances so far and looked good last weekend. He will probably get a start this weekend to keep both guys sharp — it's very important to have solid goaltending this time of the year as every game from here on out is like a playoff game," Arena said.
Some offensive keys for Amherst will be the continued production from sophomore forward Joel Covelli (6-22-28) and senior captain, Sean Ellis (10-14-24) who lead the team in scoring. Some additional firepower from junior Kyle Schoppel (8-11-19) and sophomore Brendan Powers (8-4-12) would help to balance out the anticipated goal-scoring among the top tow lines for Amherst.
Defensively the blue line corps will be bolstered this week by the return of sophomore Shane Lennox who has been out injured.
There only six remaining games and this weekend brings Bowdoin and Colby to Amherst who are sitting in third and fourth respectively. "The good news is that they are the ones with the long bus trip," noted Arena. "Even the trip from Hamilton to Amherst is pretty long so hopefully our guys will have a bit more energy for both games — we'll need it."
R-E-S-P-E-C-T
For the second place Wesleyan Cardinals, this season has been a special one to date. Ties with UMass-Dartmouth and Middlebury as well as a big wins over Norwich and Southern Maine has the Cardinals sitting pretty at 9-4-4 overall and playing four of their last six games at home where the team is 5-1-1 this season. So what's not to like. Several of the teams the Cardinals have beaten are ranked in the national poll but the Cardinals have yet to crack the top 15.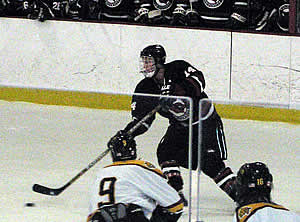 "We haven't won anything yet," cautioned head coach Chris Potter. "All of our games are very important and there are no easy games so nothing is taken for granted. Half of the battle for any team is believing you can win and right now we believe we belong where we are and are going to work real hard to stay there. Our confidence is good right now — we have played pretty well at home but need to finish strong and keep playing hard."
Last weekend the Cardinals took 3 of 4 points from Williams and Middlebury on the road. Prior to Saturday's tie with the Panthers, the Cardinals had lost thirty consecutive games to Middlebury so the 1-1 OT tie was more than just a moral victory.
"There were times where we didn't play particularly well," said Potter. "But we did play well at the right time and basically survived in both the Williams and Middlebury games. Middlebury scored to tie ups with under two minutes to play when we were a man down and I was very pleased to see how we responded as I think we had the better chances s in regulation and the overtime after they scored."
Leading the way for Wesleyan is senior co-captain Will Bennett. His eight goals and nineteen assists leave him just nine points short of the century mark in just 82 games played in his career.
"Getting there would be a great accomplishment for Will," commented Potter. "He was injured some in his sophomore season so to have a chance to do it in this league says a lot about the player he is. In some ways I wish I could have will and Ryan (Hendrickson) and the rest of the seniors a bit longer. We never really had all of the pieces to compete like we do now and it only came together for them in their senior year — it would have been nice if we could have had more success for them earlier but it took some time to get all of the pieces together and now we are seeing the results. This has been a really fun year and we are excited to finish the season strong."
One factor helping the Cardinals in terms of being fresh and motivated for both games every weekend has been a deep roster. "Some coaches might see a big roster as a potential problem," stated Potter. "But it has really worked in our favor this year. We can rollover three to four guys from a Friday to Saturday game which has energized our team and given everyone the feeling that they are contributing to the team's success. Everyone is engaged and we are seeing the benefits on the ice.
The six remaining games pose some interesting challenges for the Cardinals starting this weekend with the resurgent teams from Tufts and Conn college before a weekend in Maine and finishing at home against Skidmore and Castleton. "They are all going to be tough starting on Friday night. Tufts has been pretty solid lately and we know how good Conn College is this year. Bowdoin and Colby are always tough and I don't think anyone in our league has taken four points away from the Skidmore and Castleton match-ups. There is still a lot of hockey left to play so we'll focus on what we can control which is our own game and see what happens."
Based on the way they are playing maybe some other people will start to notice and give the Cardinals their due with a little recognition for their accomplishments. Three weeks to go and a home-ice playoff berth or more, could be a reality.
Playing the Spoiler
For the Tufts Jumbos, the season has seen some major ups and downs but the ups seem to be coming at the right time of the season. Having started the season losing eight of their first ten and eight in a row from the beginning of December through mid-January, Coach Brian Murphy's team is 3-3 in their last six including wins over Bowdoin, Hamilton and Suffolk. The team is getting healthy at the right time of the year and is starting to get the goaltending it though it would get at the beginning of the season coming down the stretch.
"Everyone has to play the schedule," commented Murphy. "We've played a ranked team every weekend which says a lot about the level of play in this league. We knew when we moved over to the NESCAC it would be a challenge to compete at this level and we need to make some improvements. We need to be a better team at home especially on Saturdays where we have not been very good — that is one of the keys to succeeding."
Last year the Jumbos finished the season losing four out of their last five and dropped out of the playoffs on the final weekend. "We tanked at the end of the year last year due to a combination of things," noted Murphy. "We certainly weren't playing well and at times, were only dressing 12 to 13 skaters due to injury which didn't help.
"We also have played a lot of mid-week games with rivalries developed from our days playing in the ECAC conference. Those Tuesday games really throw off the continuity of a schedule and raise havoc with planning out your practices, lifting and stretching based on which weeks they roll-in. We will drop 4 of the 5 for next season and will prepare for the league schedule by playing in the Plattsburgh and Castleton tournaments next season. The Castleton tournament is a new tournament at Thanksgiving and we are excited to be part of it."
Goaltenders James Kalec and Issa Azat have started playing well over the past three to four weeks and the jumbos are showing the results. "I am really comfortable with either goaltender," said Murphy. "They are both very capable. Issa has really demonstrated his athletic ability and has played very well lately and even though we lost, James played very well against Amherst last Saturday."
Getting healthy and maturing have also been keys for the improved play from Tufts. Nine freshmen are regulars every night and their maturation process been noticeable. "The guys are very positive, there's no negativity even though the results haven't been what we would have hoped for. We have Greg O'Connell back from injury which should help us especially with our power play which has been out of sync."
Another area of focus for the coaching staff has been improving the efficiency of the penalty kill. "We'll (the coaching staff)take the responsibility for that one, stated Murphy. We are going focus some time and change some things on the penalty kill as it has really hurt us this season." Teams are hitting on 21% of their chances against Tufts this season and nearly thirty prevent of the team's goals against have come with a man in the penalty box.
While not mathematically eliminated from playoff contention, Tufts is in a tough spot to get into the post-season. They will need to win most if not all of their remaining games and get some help from some other teams if they want to sneak in. While that scenario doesn't seem likely, Murphy isn't ruling anything out the way things have gone this season in the league and based on the recent play of his team, there is some hope. At the very least expect Tufts to add to the excitement by making things difficult for the contenders and build the nucleus for a solid season in 2007-08.
The Rivalry
There are a lot of storied rivalries in college hockey — BU and BC, UND and Minnesota and Michigan and Michigan State just to name three. But in D-III there aren't many better than the annual Middlebury vs. Norwich match-up in February. This year both teams are not performing to the level of play they would like to be at nor are the records where they have been over the past several years. That being said, throw it all out the window when these to schools meet because the rivalry is fierce and competitive.
Sunday afternoon before that big football game you might want to check out ESPNU on your cable or dish network. It is unusual for a D-III game to be broadcast on national television but this one will be live starting at 3 PM. Without question the action in Northfield will be great. Check it out!