For all but one of the 59 teams in Division I of college hockey, this season will have to end with the refrain of "Wait Till Next Year!"
Regardless, even fans of the eventual national champion should be excited at pondering what is in store for college hockey lovers in the 2007-08 schedule. Several USCHO writers and editors asked coaches and sports information directors at many of the sport's top programs to give our readers a preview of what nonconference and tournament games we can all look forward to in the coming season.
But don't make your hotel and travel arrangements just yet, readers! Some of these matchups are tentative; some programs were not able to get back to us, and quite a few games are yet to be scheduled. With those caveats in mind, let's take a look at some of next year's action.
October
The 2007-08 campaign kicks off in typical fashion with a handful of tournaments. Minnesota will host the Ice Breaker, and Michigan, Boston College, and Rensselaer will be vying with the Gophers in what obviously will be a competitive field for that early prize.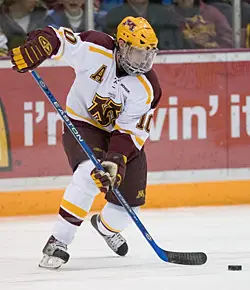 As always, a handful of teams will get quite a head start on their frequent flyer miles by going all the way to Anchorage to start the season. There could be some unusual bedfellows in this field.
"We haven't solidified that yet but I believe we have Wayne State, Robert Morris, and BU," Alaska-Anchorage coach Dave Shyiak said. "Then our only other nonconference games are against our archrivals Fairbanks, so we only have six nonconference games."
There will be a much shorter trip in store for those squads playing at the Lefty McFadden Invitational in Dayton in October. Ohio State, Notre Dame, Mercyhurst, and Wisconsin will face off in that one.
So far the only other tournament we learned about in October was the Governor's Cup, as four squads face off in the Empire State on October 26 and October 27. Rensselaer, Colgate, Union, and St. Lawrence make this one an all-ECACHL tournament.
Besides tournaments, several intriguing nonconference games are on the slate.
"Colorado's coming here for two games in October," New Hampshire coach Dick Umile reported, and CC coach Scott Owens confirmed.
Fans of the Sioux might want to consider a trip to Boston in October as well. "We're limited because of 27 league games [plus the Beanpot]" Northeastern coach Greg Cronin said. "North Dakota is coming in October. They're playing us and BC back-to-back."
Other coaches reported various other plans. "I can tell you that we are playing at Miami for two to start the year," Vermont coach Kevin Sneddon said. Maine coach Tim Whitehead told USCHO that the Black Bears will host the Under-18 team on October 6 and also Mercyhurst on October 19-20. In between, they play at Denver on October 12 and 13.
Clarkson hosts Massachusetts on October 12 and Providence on the next day, presumably swapping foes with neighbor St. Lawrence that weekend.
During the weekend of October 19 and 20, the most exciting nonconference action pits Denver at Notre Dame for a pair, while Colgate visits Michigan State for two as well.
On October 26 and 27, BU plays a pair at Michigan . The two teams have played only 19 games against each other in their long histories. Clarkson also visits Lake Superior State that weekend, and Robert Morris travels to Wisconsin at some point in October. Likewise, it's anticipated that BC will play at Notre Dame during the season's first month, as those teams have an ongoing commitment to play each season.
November
Before Thanksgiving, it's probable that we'll see Harvard at BC, followed a week later by BU at Harvard on the Tuesday before Thanksgiving.
As for the Terriers' Thanksgiving plans, they are not as settled as some might expect. There has been speculation about a BU-Cornell game at Madison Square Garden, but this remains unconfirmed for now. "We're playing Cornell Thanksgiving weekend; we're not sure where," Terrier coach Jack Parker said.
Black Bear coach Tim Whitehead also reported that Maine may be part of a tournament at Niagara on November 30 and December 1, but this is also to be determined for now.
All of that said, there are somewhat more definite plans for Thanksgiving weekend. The RPI Invitational will feature RPI, Notre Dame, St. Lawrence and Vermont on November 23 and 24, though we don't know yet who's playing who. During the same weekend, The College Hockey Showcase again features Minnesota, Wisconsin, Michigan and Michigan State. The Michigan teams will host next season. Wisconsin will play at Michigan and Minnesota visits Michigan State on the 23rd, with Wisconsin and Minnesota swapping venues the next day.
Clarkson also hosts St. Cloud State during that same weekend, while Union plays at UMass on November 23.
December
Before we get to the various holiday tournaments to close out the calendar year, there are nonconference games earlier in the month. Princeton hosts Notre Dame on December 7 and 8; Union travels to Lake Superior State on December 15 and 16. Miami plays at Rensselaer on December 16 and 17.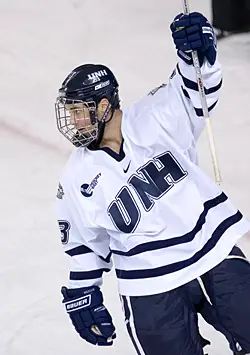 Some of the most exciting action between Christmas and New Year's is actually not a tournament at all. For the first time in its history, UNH will play at the crown jewel of college hockey, the Ralph Engelstad Arena. On December 29 and 30, the Wildcats play North Dakota in a meeting of two perennial powers.
As for the tournaments, the Denver Cup (December 28-29) will feature Northern Michigan, Dartmouth and Sacred Heart along with the host Pioneers. On the same pair of days, the Badger Showdown will feature host Wisconsin along with Northeastern, Bowling Green, and Colgate.
Among coaches we spoke to, there was some confusion about where BC will play its holiday tournament. One report had BC joining Maine, Cornell, and Clarkson at the Florida College Classic, but several others believed that BC would be accompany Air Force and RIT to the Dodge Holiday Classic, with the Golden Gophers hosting as usual.
The plans elsewhere in Florida are more definitive for December 29 and 30. "We're at Tampa for the Christmas tournament; Notre Dame hosts," said Owens of CC's plans. "We play RPI and then either UMass or Notre Dame. Basically it's the same tournament they ran at Thanksgiving this year with Air Force in it, but next year it's Christmastime and basically it's Notre Dame's tournament to get Tampa Bay ready for the Frozen Four."
Meanwhile, various sources were fairly sure that the Great Lakes Invitational would feature Providence versus Michigan and Michigan State versus Michigan Tech in the first round on December 28 and 29. You also can expect to see Harvard, St. Cloud, Miami, and Ohio State at the Ohio Hockey Classic.
Vermont also plans to host its usual holiday tournament but cannot yet announce the other teams. "We've had a few obstacles along the way that have emerged," Sneddon said.
In other nonconference action to round out December, Princeton will visit Mankato for a game against Minnesota State on December 28 before continuing on to Nebraska-Omaha to play the Mavericks on the 30th.
January-February
Once we hit 2008, nonconference games are few but not that far between. On January 5, Maine hosts Rensselaer at the Portland Civic Center, and BC plays at Clarkson.
Air Force plays at Denver on January 18, and Colorado College hosts Clarkson on February 1 and 2. And, as always, the first two Mondays of February will bring us another Beanpot at the TD Banknorth Garden in Boston. Next season we have a first-round battle between BU and BC, while Harvard plays against Northeastern.
Dates Unknown
Several games were mentioned without specific dates attached. The two Division I teams in the Granite State will face off at some point when Dartmouth plays UNH at the Verizon Center in Manchester. St. Lawrence also will play against the Wildcats, and Denver will visit Notre Dame next year.
Vermont also will announce more specific dates in the weeks and months to come. "In addition to Miami early in the season, I can tell you that we have St. Lawrence, Harvard, and Dartmouth at home as well as our tournament," Sneddon said.
An Air Force-Colorado College game is in the works, and Michigan State plans to host Colgate and Mercyhurst as well.
2008-09
For those of you who like to plan really far ahead, we also learned a few details about the schedule for 2008-09!
Although BU has no holiday tournament planned for next season, it will participate in the Denver Cup in 2008-09. Some tentative schedules for next season also showed Northeastern going to Anchorage to start the year, but Husky coach Greg Cronin reported that those schedules were erroneous: The Huskies will play in that tournament in October 2008.
We'll have a BU-Harvard and BC-Northeastern pairing on the opening night of the Beanpot two years from now. Another exciting tidbit is that North Dakota is expected to play at the Great Lakes Invitational. If so, it would play Michigan State on the first night.
Thanks to Tom Reale, Ken Schott, Ken Myers, Candace Horgan, Jayson Moy, and Laura Stange for their contributions to this story.