Don't look now, but here come the Robert Morris Colonials.
Bemidji State and Niagara looked too late.
Overlooked its first two seasons in the CHA, Robert Morris has seemingly been the team to beat this season and is within striking distance of the top spot in the conference.
Say what?
To borrow an old phrase from pro wrestler Kurt Angle, ironically enough a Pittsburgh native, "It's true, it's true."
Going into this weekend's action, RMU has 18 points (9-7-0, most conference wins) and sits in third place behind league-leading Bemidji State (8-4-4, 20 points) and No. 17 Niagara (8-3-3, 19 points) in the two-hole. Robert Morris also leads the league in goals scored in CHA games with 55 and has won a team-best five straight games, also an active best for all NCAA teams.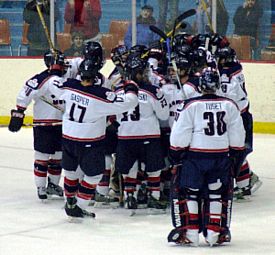 This all comes after winning just 11 total CHA contests its first two seasons from 2004-2006.
Over the past two weekends, the Colonials have taken all eight points in CHA play and they have come at the expense of Bemidji State (last weekend) and Niagara (two weeks ago).
But talk to the RMU players and you won't sense much excitement. Perhaps that's due to the fact nothing has been won yet and the season is far from over.
"I gave up the one goal, so that was a good stat for the team, I suppose," Colonials' senior goalie Joe Tuset said about their 7-1 win over Niagara on Feb. 2. "We're coming together at the right time and we're all on the same page. We're having fun out there."
"Coach (Derek Schooley) does a great job of keeping us on an even keel," junior forward David Boguslawski said. "When we win, he brings us back down. If we lose, he brings us back up."
Players have said Schooley is taking a philosophical, low-profile approach to these last six games with the postseason tournament in Des Moines looming on March 9.
Other CHA schools are also taking notice of RMU's ascent to the league's upper echelon.
"They've got a bunch of guys in their lineup that are juniors and seniors and starting to play like it," Niagara associate head coach Jerry Forton told the Niagara Gazette. "You can't substitute experience, and these guys have all played together for years."
"(RMU) is a difficult place to play," said BSU head coach Tom Serratore in the Bemidji Pioneer after last Friday's 4-2 loss to the Colonials. "In the end, we just turned the puck over too many times. At this time of year, every game, every series is like playoff hockey. Every turnover is magnified and one turnover can kill you. At this time of year, especially, you have to sustain the forecheck and limit your turnovers. We didn't do a very good job of that."
"On the right night, Robert Morris can beat anyone," said Alabama-Huntsville head coach Doug Ross. "Derek has done a great job and he's got that program improving and going places."
Noting the "even keel" Schooley has his players stay acclimated to, Boguslawski went a bit further with his assessment of RMU's on-ice success.
"At the end of the day, we're all hockey players," said Boguslawski. "No matter what team you're on, we all put on the same equipment, lace up our skates the same way and play the same game."
WSU, BSU Apply For CCHA, WCHA Inclusion
In moves that make sense geographically, but not for the benefit of the CHA, two current CHA squads have reportedly applied for entry into other Division I conferences.
Wayne State wants into the Michigan-heavy CCHA and Bemidji State has aspirations of latching on with the WCHA and its plethora of Minnesota schools. BSU's women's team currently plays in the women's version of the WCHA.
Against WCHA competition since 1999, the Beavers are 12-49-3, but nine of those 12 victories have come in the past two seasons.
The WCHA has a moratorium on expansion in place and is apparently not accepting applications from interested programs at this time. Whether or not the league is considering an elimination of that moratorium, which would then open the door to application by interested schools, and what the timelines for raising the moratorium might be, are questions for the WCHA, which did not return a request for comment.
The Warriors, similarly, haven't done so well against CCHA schools, but have faced every CCHA school since their program started in 1999, save for Michigan. All-time, WSU is 8-33-2 against CCHA teams. Two of those wins came this year against Western Michigan and Ferris State.
"We have received a letter requesting admission into the CCHA from Wayne State," CCHA commissioner Tom Anastos said. "Our plan at this point is to visit this topic as part of a much broader discussion on our level of interest in expansion, the state of the CHA and our role in helping the sport grow at our annual meeting in April."
While the WCHA office did not answer a request for comment as of Thursday afternoon, CHA commissioner R.H. "Bob" Peters did, however, for what it's worth.
"No written notice has been received from any current member of the CHA stating their intention to leave the CHA," Peters said.
Niagara was the last CHA school before Air Force bolted for Atlantic Hockey last season to attempt to leave the CHA, but its application to the ECACHL was rejected in 2004.
Air Force head coach Frank Serratore said recently in a "Tuesday @ The Rink" chat on CSTV.com that the writing was on the wall.
"When we saw that happening (Niagara applying to the ECACHL and Findlay folding), we felt we needed to get to a league with more teams and more stability and Atlantic Hockey was the right fit for us," Serratore said. "Lastly, Atlantic Hockey provides us with an opportunity to play in the same conference with Army. People forget that when we first formed the CHA, both Air Force and Army were charter members, but Army left after the first year. Around here, playing in the same conference with Army is a big deal.
"I'm not in a position to answer where the CHA is and where they're going. We're no longer members of that conference, so we're no longer privy to that information."
As for the future of the CHA, no club teams have come forward with the intention of going D-I, as had been the hope as recently as last summer. Perhaps that will change this summer, but many aren't holding their breath.
Federoff Fitting In With Chargers
Three years ago, Pittsburgh native Joe Federoff committed to his hometown Colonials and scored four goals and 11 assists in 32 games his freshman year of 2004-05.
But for whatever reason, things didn't look so bright last season and Federoff decided to transfer to another school. That school turned out to be Alabama-Huntsville.
Federoff sat out last season due to NCAA transfer regulations, but once he became eligible this year for the winter semester, has fit right in with the other UAH forwards.
"Anybody who knows anything about hockey can see he has a lot of natural ability," Federoff's junior coach, Bob Mainhardt of the North American Hockey League's Youngstown (now Mahoning Valley) Phantoms said. "Joe's a big, rangy kid who does some things that are very hard to teach people to do. He has a great way of slowing the game down and dictating the tempo, but when he needs to turn it up a notch, he can do that too."
Through 12 games, Federoff has two goals among his six points.
Niagara's Moran Living A Dream
Purple Eagles' freshman forward always had a dream to play college hockey.
But, unlike many kids who want the big-name recognition, Moran wanted to stay home. He wanted to play near his hometown of Buffalo. He chose Niagara.
"I watched in the late 1990s as Greg Gardner took them to the Elite Eight and then I watched Barret Ehgoetz and Joe Tallari play the years they were nominated for the Hobey Baker," said Moran in the Buffalo News. "It was just fun to watch them. They were so offensive that it just caught my eye and really I just loved watching them play. I grew up around the program and watching the team. I always wanted to stay close to home and it really was a dream come true when I got a scholarship here."
Moran ranks fourth on the team in scoring with 34 points, behind the all-everything line of Sean Bentivoglio, Les Reaney and Ted Cook, and is fourth in the nation in rookie scoring. His 29 assists lead NU and also ranks him first nationally among rookies and tied for third overall. Moran holds the record for most assists by a rookie and is just six points from tying the school's rookie scoring mark set by Reaney and Cook last season.
"We knew we had to try and get him here," reflected NU head coach Dave Burkholder in the same piece. "We got lucky in that growing up, he just always wanted to play at Niagara. We got very lucky in that we were able to keep one of the great Buffalo kids home."
Moran became the first American-born player to be named Ontario Hockey Association Junior A Player of the Year honors when he played for the Buffalo Lightning during the 2004-2005 season. He played last season with the United States Hockey League's Omaha Lancers to refine his skills before heading to Monteagle Ridge.
"(On the power play), he gives a lot of misinformation," Burkholder added. "He'll dip his shoulder and he's got a great toe drag. And then he's just a great passer. He finds seams. It will look like Ted Cook is completely covered and Chris finds his stick. He's just an exceptional passer."
"I guess my passing is pretty good right now, but I think I need to improve on finding the back of the net," noted Moran.
Hooper Finding Way Again In WSU Net
Having just one win all season wasn't the way Wayne State goalie Will Hooper wanted to end his collegiate career.
And, well, he had to start someplace, and that was last Saturday when Hooper made 17 saves as the Warriors topped Alabama-Huntsville, 4-1 at the meat locker-like Michigan State Fairgrounds Coliseum.
"He realized that if he was going to get back in the net he needed to work harder," WSU head coach Bill Wilkinson said to The South End, Wayne State's student newspaper. "His practice work ethic has improved about 20-30 percent from what it has been. Now, he's at the level that we really need him to perform at and that's indicated in the way he played (Saturday)."
Saturday also marked Hooper's first victory in league play in more than a year and the first time in his 13 starts this season he has held a team to fewer than two goals.