With each passing week more things fall into place. The MCHA conference race has finally been settled and it was once again MSOE claiming the regular season title. It didn't come easy, though, as the Raiders dropped Friday's contest at Finlandia 11-4 before rebounding to score a 3-2 win on Saturday, thereby locking up the top spot. By way of finishing in the top two spots in the league, MSOE and Finlandia have earned a week off while the rest of the league begins quarterfinal play this weekend with Marian hosting Northland and UM-Crookston traveling to Lawrence. Both are first-to-three-point series.
Meanwhile, the NCHA postseason is down to four teams, with only one surprise coming out of the first round as St. Scholastica finally found a way to beat UW-Superior. The NCHA one-game semifinal contests are Saturday and find UW-Stout traveling to St. Norbert while top-seeded UW-River Falls hosts St. Scholastica.
Tournament Watch
Back for another week and for the first time things appear to be pretty simple. The one wildcard is UW-Superior whose first round exit from the NCHA tournament might be enough to end their NCAA hopes, but they aren't worth counting out quite yet.
With the fate of NCHA teams relying heavily on what happens in other conference tournaments, and those tournaments finally getting underway this weekend, three Eastern teams should have all NCHA fans pulling for them to win their respective tournaments.
Based on the National PWR, there are three very obvious teams that are in position to possibly beat out an NCHA team for a tournament birth via a Pool C bid. They are Norwich, Oswego and Mass.-Dartmouth. So as if NCHA fans didn't have enough action to follow this weeken, all should also be pulling for Norwich in the ECAC East, Oswego in the SUNYAC and Mass.-Dartmouth in the ECAC Northeast tournaments. By winning their respective conference tournaments, any of the three would receive an autobid into the NCAA field and thereby remove the possibility of them receiving a Pool C bid over someone from the NCHA.
So, for the sake of the NCHA: Go Cadets, Lakers and Corsairs.
This Week in the MCHA
Last weekend featured the biggest series of the season in the MCHA and by the time it had played itself out, it had certainly lived up to its billing.
With the conference title on the line, MSOE only needed to score one point in two games at Finlandia and the Raiders would take home a third straight MCHA regular season title.
It might have been the long bus ride, maybe the sub-freezing temperatures in the arena or perhaps something else, but something didn't sit right with the Raiders on Friday as they would allow their most goals of the season and were resigned were resigned to watch Finlandia roll to an 11-4 win.
MSOE got off to a solid start, as after falling behind 1-0 early, Brian Soik and R.G. Flath would score a little over three minutes apart to put the Raiders out front 2-1.
The lead would be short-lived however, as Finlandia's leading scorer Josh Paquette would notch a powerplay tally a mere 54 seconds later to tie the game.
The two would enter the second period knotted at two, and what looked like it might turn into an epic shootout quickly turned into a rout. The second period would belong to Finlandia, as goals from four different players would put the Lions in front 6-2 by the time the period was over.
With the game looking all but over, MSOE had a brief glimmer of hope as only 1:24 into the third Flath would get his second of the night, this time shorthanded, to cut the deficit to three.
With the offensive depth of MSOE and still over 18 minutes remaining, it looked like the Raiders might have a shot to get back in it but the Lions would jump back on top by four a mere 36 seconds later to all but ice it.
Things would snowball from there, and Finlandia defenseman Marc Marcotte would cap off a five point night by scoring a breakaway goal with just under two minutes to go.
From a fan's perspective, the Friday result made things more interesting as now the MCHA race came down to the final game of the season, and MSOE would have to hit the ice without senior captain Brian Soik who received a game disqualification for a check from behind on Friday. Additionally, after allowing all eleven Friday goals, MSOE number one goaltender Matt Burzon did not play Saturday as the Raiders opted for another senior in Joe Dovalina.
That decision looked to be a wise one as Dovalina kept the Lions off the board long enough to allow the Raiders to pick up two goals from Reid Crawford and one from Lee Swallow as they jumped out to a 3-0 lead midway through the game.
Finlandia would pick up a goal from Marcotte later in the period and a five-on-three goal from Mike Parks midway through the third, but Dovalina and the Raider defense would shut the Lions down from there and the Raiders would hold on for the two points, thereby securing yet another MCHA title.
With the MCHA tournament starting up this weekend, MSOE and Finlandia both receive byes to the semifinals, and remain the two favorites to meet in the finals. Not to count out anyone else in the league, but a rematch of these two in the finals would certainly be fun as this has developed into perhaps the best rivalry in the league. With the two having split their four regular season meeting, can you say rubber-match for the title?
Under The Radar
Between the battle between MSOE and Finlandia for the top spot in the conference, and Lawrence's recent winning streak, there is one team no one is really talking about. Marian.
The Sabres sat in third place for a majority of the season and enter the MCHA playoffs with a six-game winning streak. Marian closed out their season with an impressive sweep of Lawrence last weekend, which according to head coach Jasen Wise should be a big boost heading into the postseason.
"Those were two nice wins. They are a good team and are every well-coached. To come out of that weekend the way we did, we were very pleased with that."
Although the Sabres' third place finish in the MCHA did not earn them a first round bye, Wise actually thinks a quarterfinal series will be beneficial to his club.
"We are happy with where we finished," he said. "We are actually looking forward to playing this weekend. Last year we had a bye and I think the week off hurt us going into our second round game with Finlandia."
Despite Wise's concerns, Marian was able to defeat Finlandia 3-2 in overtime before falling to MSOE in the conference championship game.
As far as this year is concerned, Marian has reason to be upbeat as they have fared as well as anyone in the league against MSOE and Finlandia. Though unable to defeat the Raiders, the Sabres managed to pull out a tie in each series the two have played. They have found even more success against Finlandia, splitting both series in against the Lions.
While MSOE and Finlandia are favored to reach the finals, Marian is worth a serious look as they appear to be peaking at the right time, as evidenced by not only their current winning streak, but by the fact they have scored 37 goals over the streak while allowing only six.
If there was a time to get hot, this is it according to Wise, as despite the fact that whoever wins the MCHA Tournament will not be going to the NCAA Tournament, this is what teams have been waiting for all season.
"It doesn't bother anyone. Everyone knew the system going in. It may actually add to things because this tournament is what we prepare for; there is no tomorrow for us."
Chasing A Record?
Though Northland has had a tough season, one bright spot has been the goaltending of freshman Bo Storozuk. Despite facing a very high amount of shots, the Swan Valley, Man. native has posted respectable numbers. The most impressive of which is that until recently he even was maintaining a save percentage of over 90.
It was brought to my attention this week that Storozuk now has 1003 saves on the season, which is the ninth-highest single season total in Division III history. According to the NCAA record book, the all-time single season save record was set by George Bosak of Scranton when he stopped 1095 shots in 1994.
As Storozuk has seen near exclusive action in the Lumberjack net this season, it's not unreasonable to expect him to see two more starts this weekend. As Storozuk is averaging almost 45 saves per 60 minutes played, he very well could challenge the all-time mark if he plays two full games this weekend. Just a little something to keep an eye on.
One interesting aside here that I feel is worth mentioning is that while researching this, I came across the St. Scholastica records that show David Lyons making 1157 saves in the 1998-99 season. Yet oddly, he is not included on the NCAA list. I have yet to resolve the situation, but felt it bears mentioning.
This Week in the NCHA
And then there were four.
With all the favorites except for UW-Superior advancing, the quarterfinals didn't offer much by way of surprises as the St. Scholastica series victory, though a tad surprising, wasn't exactly earth-shattering. With UW-River Falls and St. Norbert, the top two seeds, both hosting, most people are expecting both to go through to the finals. Things may not be so easy, however, as a look at each of the "underdogs" will show.
What Must A Team Do?
Another season is upon us and St. Norbert will be hosting an NCHA semifinal game once again. As usual, St. Norbert is considered the favorite – at least by those on the periphery, but the numbers just might tell a different story.
UW-Stout is in the midst of their finest season in school history. Currently holding a 21-4-2 record, the Blue Devils took three points in their season series with St. Norbert, but according to St. Norbert head coach Tim Coghlin in a previous column the Green Knights were lucky to get the one point they did.
The Blue Devils have had one slip-up all season and it came in their final series of the season against UW-River Falls as they dropped both contests. Aside from that they have been nearly flawless.
The two teams have played nearly identical schedules, have nearly identical records, and each tied for a share of the conference championship.
St. Norbert has scored more goals while allowing less than the Blue Devils, but the differences are not large and UW-Stout's style is not what one would call run and gun, so huge goal totals from them shouldn't be expected in the first place.
UW-Stout number one goaltender Mike Stone has put up a better save percentage than St. Norbert's Kyle Jones has, though not by much so that's a wash as well.
One big knock on the Blue Devils has been that they didn't beat St. Norbert at the CCC, but rather at the Resch Center. One can hardly blame UW-Stout as what were they supposed to do, ask for an immediate rematch in another building?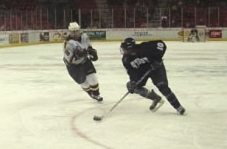 With everything else canceling itself out between these two teams, the one thing that may legitimately qualify St. Norbert as a favorite is that they will be playing at the CCC this time around.
The Green Knights' track record in the building speaks for itself, and they have yet to lose there this season despite a few close calls.
But aside from the Cornerstone factor, I'd like to know why no one is giving UW-Stout a chance.
If an NCHA team with a tradition of success and name recognition such as UW-Superior, UW-River Falls or UW-Stevens Point were heading into the CCC having had the same season UW-Stout had, people would be calling it as a game that could go either way.
From talking with numerous people this week, it sure doesn't seem like UW-Stout is getting that same respect, but they have earned it and deserve to be treated as such.
One thing to remember is that St. Norbert may very well win on Saturday in what is the most important meeting between the two teams this season, but even with a win they will have only split their three games against UW-Stout.
The beautiful thing about this game is that it will likely be an excellent game and an excellent team will win either way, even if it is the Blue Devils who emerge victorious, which is what some people need to realize.
Milestones
It's almost unfair to continue talking about this, as Mark Wick and company have turned the St. Scholastica program into something wholly different that it was when they got there.
That being said, let's take a look at some of the milestones the Saints achieved this season.
After having their first winning season in twenty years last season, they have proven it was not a fluke as they matched the feat this year. They ended grotesquely long winless streaks against St. Norbert, UW-Stevens Point, and most recently UW-Superior. Additionally, three players landed as honorable mention on the NCHA All-Conference team, which still seems a little strange to those of use who grew up with St. Scholastica being a perennial doormat.
Most importantly, however, the Saints have advanced to the semifinals of the NCHA playoffs for the first time in a long time.
What's interesting is the way it happened. Try this on for a wild finish:
Having lost to UW-Superior on Friday, the Saints needed a Saturday win. Things did not look good for them as they trailed 3-0 early in the final period. However, the Saints were able to score the next four goals — all of them strangely unassisted, to send the series to a mini-game.
Enter the mini-game. UW-Superior jumps up 1-0 and with time winding down it looks like the Yellowjackets will hold on and win the series, but wait, as with 19 seconds remaining a pileup in the crease leads to a penalty shot that St. Scholastica buries. Overtime.
Having had all those things go in their favor, it was only fitting that the Saints would be the first team to score, and that they were as defenseman Aaron Spotts found the back of the net to win the series for St. Scholastica.
So if anyone wants to know why I didn't talk a lot about statistics, numbers, etc. when it comes to this week's NCHA matchups, I'd kindly ask that you re-read the preceding three paragraphs.
When endings like that are possible, why even bother? Let's just line up and play.