An Instant Classic
Send the video to ESPN.
Buffalo State coach Nick Carriere provided the understatement of the weekend: "I think people got their money's worth."
I'll say. The Fredonia at Buffalo State game was classic playoff hockey. I would have paid NHL prices to watch that game.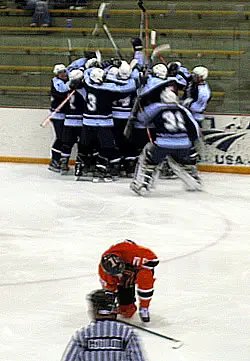 The teams came out fired up. Defenders were diving to block shots. Goaltenders were making game saving stops. The players skated hard up and down the ice.
The turnout was also impressive. Buffalo State hasn't gotten the greatest of crowds in the past, but on this night, though it was not full, it was perhaps the largest crowd in the hockey program's history.
"It was great to have a good atmosphere in the building," Carriere said.
A lot of the school's administrators were in attendance, including the school's president. She stayed the entire time.
Who would leave? It was a nail biter that you wished could last forever. A game that no one deserved to lose.
"Five periods of hockey. That's a lot of hockey," Fredonia coach Jeff Meredith said. "Essentially the whole game was overtime."
Fredonia struck first at 9:15 of the second period on a Kraig Kuzma powerplay goal. Jason Hill tied it up at 1:14 of the third period.
During the game, both teams were attacking each other. However, when the overtime started, Buffalo State took it to Fredonia. I was surprised how much the Bengals outskated the Blue Devils. The shots on goal that period was very misleading at 10-9 in favor of Buffalo State. Essentially, that period was Buffalo State's to win.
During the intermission, I talked to former Bengals' coach Jim Fowler. We both agreed not only was that a bad omen, but it was going to be a fluke goal that was going to win it. Carriere was thinking the same thing.
"It's always a scary thing when you start hitting posts and crossbars," Carriere said. "You know the hockey gods are working against you."
It wasn't quite a fluke goal that won it, but it was a Buffalo State mistake behind their own net that allowed captain Wil Barlow to receive the puck in the high slot area wide open. Sean Sheehan had no chance stopping the blast.
"I thought the puck went out the other side, and I didn't see it until the shot," Sheehan said. "My reactions weren't quick enough."
The Fredonia players poured on the ice in celebration, and the good sized contingent of Fredonia fans screamed in ecstasy. The Blue Devils move on. Everyone went home with the memory of a great game.
For Buffalo State, a slow start to the season was reversed by a strong ending.
"It was a great effort tonight," Carriere said. "It was a great season. Sometimes the puck bounces the other way."
Not A Classic
On the other end of the extreme was Plattsburgh beating up on Brockport, 9-2, including two goals in the first 2:14 which set the tone. The Cardinals opened a 7-0 lead before the Golden Eagles, making their first playoff appearance in seven years, finally got on the scoreboard. Special teams were the order of the day as the Cardinals scored two powerplay and two shorthanded goals and both Brockport tallies were with the man advantage.
Riley Hill, Ward Smith, and Joey Wilson each had a pair of goals. The other goal scorers were Nick Rolls, Tom Breslin, and Shawn Dennis. The blowout even enabled Plattsburgh coach Bob Emery to give both his goalies some work as Chris Molinaro stopped all 12 shots he faced and Karl Helgesson made eight saves while letting in the two goals.
Was it a case of Brockport coming out flat or Plattsburgh playing strong?
"A mixture of both," Brockport coach Brian Dickinson said. "I'm not sure we handled the pressure of finally making the playoffs and the excitement of all the people coming up to us saying how happy they were. Certainly, Plattsburgh was flying down the ice."
Greg Van't Hof struggled early on, and that put Brockport behind the eight-ball.
"If Todd [Sheridan] had been healthy, we probably would have made the switch at two minutes in," Dickinson said. "We gave them some easy goals, and you can't do that in the playoffs."
The game to really talk about was Brockport's final regular season game where they beat Geneseo, 2-1. Brockport played their most inspiring game in years as they needed a win to make sure they made the playoffs, not knowing what Cortland was doing.
"We were so disappointed the way we finished against Fredonia," Brockport coach Brian Dickinson said. "We had a hard, physical practice this week. We really beat ourselves up, because we knew the type of game Geneseo was going to play."
"They probably worked as hard as any team who had their backs up against the wall," Geneseo coach Chris Schultz said. "I didn't see a guy who was wearing the white jersey who was holding anything back."
Van't Hof, who has needed to fill in for Todd Sheridan down the stretch due to an injury to the freshman, was stellar. He stopped 25 of 26 shots and didn't allow the Ice Knights (Mike MacDonald) to score till 5:11 left in the game. By then, a Steve Seedhouse goal early in the second period and a Sean O'Malley tally early in the third was enough to keep the Golden Eagles in the lead.
The most impressive performance for Brockport was after they scored their second goal. Instead of sitting back, the Golden Eagles continued to attack their opponents, allowing Geneseo very few opportunities for a counterattack. When Geneseo tried to pull their goalie, Brockport nearly kept the puck in Geneseo's zone the entire final minute and a half. Brockport outshot Geneseo, 14-7, in the final period.
"I was impressed the way we handled the 4-5 minutes after they scored," Dickinson said. "It was nice to play almost the whole last minute in their zone."
In the end, Brockport did make the playoffs, continuing the long term plan Dickinson had in mind two years ago when he recruited virtually an entirely new team, but got sidetracked last year with Dickinson's sabbatical.
"I still think our season is a success," Dickinson said. "It's still disappointed to lose in a blowout, but if you look at the seven ties that could have been wins when in the past they would have been losses, that's an improvement. We wanted to make the playoffs in whatever position, so we met that goal. Overall, I'm happy with the season."
Some Tough Picks
The coaches had some hard choices to make when selecting the individual SUNYAC awards. The Player of the Year could have gone either way between Geneseo's Mitch Stephens and Oswego's Brendan McLaughlin. I personally leaned towards McLaughlin, but the coaches chose Stephens. One thing to keep in mind is only conference games count, and the coaches do the voting, so often a lot depends on which coaches the players perform the best in front of.
The same is true with the First Team goaltender selection. This time, I did agree with the choice of Derek Jokic over Ryan Scott, again a Geneseo player won out over an Oswego player.
The other First Team choices certainly seemed appropriate — Stephens and teammates McLaughlin and Ryan Ellis at forward with Gerard Heinz (Cortland) and Nick Rolls (Plattsburgh) on defense.
At least the Rookie of the Year award was easy. Pier-Luc Belanger from Plattsburgh won it in what had to have been an unanimous choice outside of his own coach not being able to vote for him.
The Coach of the Year award was a little bit of a surprise. I leaned towards Ed Gosek, because his team never went into a slump, and they only lost one game. Geneseo's Chris Schultz was a good candidate as well as he took over a team as the third coach in three years and continued to maintain their winning ways. However, Brian Dickinson is a good choice as well, as he took a team that won one game during his absence and got them into the playoffs. Their record may not have been great, but with five ties that could very easily have been wins, I have no problem with this selection.
SUNYAC Short Shots
Kevin Galen had two goals and three assists, Ryan Busby and Mike Thomson each got two goals, and Ward Smith notched four assists in Plattsburgh's 10-3 blowout over Potsdam … Cortland ended the season with emotions flowing as they collected 17 penalties for 50 minutes, most of them in the latter part of the game while losing to Oswego, 4-1. Ben Binga had two roughing calls and an unsportsmanlike conduct … Fredonia (3 for 9) and Buffalo State (2 for 6) each went .333 on the powerplay as the Bengals won 6-4 to get home ice with D'Arcy Thomas and Jason Hill each getting a pair of goals … The turning point in the game was when Buffalo State scored two goals within 14 seconds to take a 5-3 lead late in the second.
PLAYOFF PREVIEWS
Once again, the same four teams are in the semifinals. This time, we do not have the same match ups for the third consecutive year (much to the joy of the Oswego faithful). Fredonia travels to Oswego instead of Geneseo, and Plattsburgh heads to Geneseo looking to upset a different team trying to get to the finals. Of course, Geneseo and Plattsburgh are very familiar opponents at this time of year, but now they meet a little earlier.
The single game format, new for this year, continues in the semifinal round. No one can afford to come out slow. You're either on it from the opening face off, or you face playing golf after Saturday. Of course, if the game is tied, they go to 20-minute sudden death periods until somebody scores a goal.
Fredonia (5-7-2, 13-9-4) at Oswego (11-1-2, 20-2-3)
Oswego got their wish — no Plattsburgh in the semifinal round. Perhaps more importantly, Oswego doesn't sit around for two weeks waiting to play a game.
"I like this better than waiting around with a weekend off like the last two years," Oswego coach Ed Gosek said.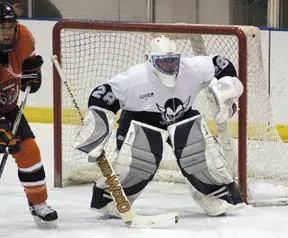 But, if they think Fredonia will be an easier draw, they will be in for the same shock as the past two years.
"The first game here you can throw out the window," Gosek said of the 8-0 blowout last semester. "It was a game where we did everything right and everything went wrong for them. Those kind of games happen. The second game in their building, we didn't score to take the lead until 2-3 minutes left. Then we got the empty netter at the end.
"I would expect more of the same here Saturday night. They've always been patient and wait for you to make a mistake and capitalize on your mistakes."
There is one caveat, however, to Gosek's assessment. Fredonia is going to be coming in after an emotionally draining and physically tiring double overtime game just four days prior, and the Blue Devils have to do the traveling.
"A lot of college hockey is riding emotions and momentum," Fredonia coach Jeff Meredith said. "We don't need to go in and beat Oswego in a seven-game series. We just have to beat them in 60 minutes."
If Fredonia has any chance of winning, that heavy burden is going to ride on Kevin Amborski's shoulders. Amborski wasn't eligible to play until the second semester, and by then, Pat Street had pretty much won the goaltending job. However, Street has struggled lately, being pulled in two of the last three regular season games in favor of Amborski. By playoff time, Amborski got the call to start.
"We decided on Kevin after the Friday night Buffalo State game," Meredith said.
He's only played in six games overall this year, but he has a .940 save pct. and a 1.74 GAA.
I will be shocked, especially after his amazing play on Tuesday, if Amborski does not get the start again. Then, he is going to have to come up with an encore performance in net.
"They [Oswego] are so dynamic," Meredith said. "You can't let them get wound up."
That to me is the key. Oswego has the speed, the depth, and the home ice. Couple that with Fredonia's busy week, and maybe the Blue Devils stay with Oswego for a period on sheer adrenalin, but I just don't see them skating with Oswego for 60 minutes, even with heroics from Amborski.
Still, the pressure is on the Lakers.
"They know it will be a tough game," Gosek said of his team. "It's been a good year, but unfortunately, it won't matter if we don't perform in the playoffs."
Plattsburgh (6-4-4, 13-7-6) at Geneseo (10-4-0, 16-9-0)
Here we go again. Except this time, it's in the semifinals, instead of the championship. Plus, this time it's just one game instead of a series, which will be interesting because in the past Plattsburgh always came out stronger in the first game before Geneseo turned the series around.
"We've been practicing all week to play 60 minutes knowing it's one and done," Geneseo coach Chris Schultz said.
Here's a stat to mull over. A lot has been said about Plattsburgh's struggles this season and how they have been having trouble scoring goals. Well, in 2007, they have gone 8-1-2, outscoring their opponents, 62-23. That averages out to 5.6 goals a game while only letting up 1.9 goals a game.
In the last two games, they have scored 19 goals. Granted, those were against Potsdam and Brockport, but confidence means a lot for offensive players and as Plattsburgh coach Bob Emery told me earlier in the season, when you are scoring, you are not gripping your stick too hard.
"They always seem to peak at the right time," Schultz said. "But, we know that, and we are ready for that. We've been strong down the stretch, too, except for the Brockport game on Friday."
Interestingly, during the Cardinals' streak, when they scored two goals, they lost (to Geneseo, 4-2), when they scored three goals, they tied, and when they scored four or more, they won. Against Geneseo, that very well may be the measuring stick.
That's because the Ice Knights are a very defensive minded squad. In fact, in conference play, they scored less goals than Plattsburgh, but they let up the least number of goals next to Oswego. In the first meeting between these teams, Plattsburgh only scored once.
"We're just going to rely on what we do best and that is playing very solid defensively and relying on our powerplay."
That powerplay may be a blessing or a curse for Geneseo — Plattsburgh is the fourth least penalized team in the nation.
"We live or die with our special teams, and I don't think that's going to change this weekend," Schultz said. "The number of goals we've scored five-on-five has been disappointing, but then there are guys on our team who just can't wait to get on the powerplay. We're not going to go and change anything."
54% of their conference goals came on the powerplay with another two while shorthanded. If this game becomes a shootout, Geneseo may not have enough powerplay opportunities to maintain the pace.
However, if this is a low scoring, defensive game, then it favors Geneseo. Plus, they have a huge advantage in net with Derek Jokic over whomever Plattsburgh puts in.
I'm expecting a low scoring affair.