To the Victors …
All three league titles in the East were wrapped up last weekend as the regular season either ended or is near complete for each league.
St. Lawrence held off Clarkson to earn just its second regular-season title all-time , and first since 1999-2000. The Saints still will have to work in the postseason if they're going to join Clarkson (a near-lock thanks to a solid non-league record) in the NCAA tournament.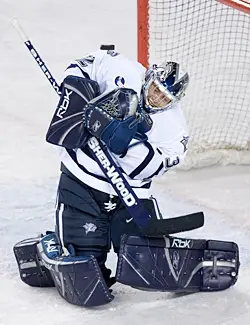 New Hampshire clinched its first outright Hockey East title since 2001-02 (co-champs with Boston College in 2003-04) and sixth overall in the PairWise. Unfortunately, it wasn't exactly how the Wildcats would've drawn it up. After locking up at least a tie with a win at home over Providence on Friday, the Wildcats traveled to the Friars only to get demolished, 7-1. Second-place Boston University, though, lost to Vermont at home, allowing UNH to back into the league title.
The most interesting league champion, though, is RIT. The Tigers have hung up their skates for the season after winning the regular-season title with a 3-0 win over Bentley on Friday night. RIT, still in transition from Division III to Division I, will not play in the Atlantic Hockey tournament, allowing second-place Sacred Heart to take over the tournament's top seed.
It's hard not to be amazed, though, at the immediate impact that RIT has had. Just two season removed from a full Division II/III schedule, the Tigers followed up last year's 6-22-2 season as a Division I independent with a remarkable 21-11-2 record, including a 20-7-1 mark in league play.
Though it may seem sad for the RIT seniors that they'll never have a chance to play for a conference title in Division I, the future for the Tigers appears bright. They return their top nine scorers and 14 of their top 15 point-getters. Also back next year are two extremely talented goaltenders in Jocelyn Guimond and Louis Menard.
Peaking Cats
They only have two wins in their last six games, but the Vermont Catamounts are playing some excellent hockey right now.
Vermont knocked off streaking Boston University on Saturday night, 3-2, one night after coach Kevin Sneddon said his team played "the best game of the season" in a tough 3-1 loss. Each of the Catamounts' last six games have come against nationally-ranked opponents (Maine, Massachusetts and BU) and over that span, and the only game that stands out as a poor effort was a 5-1 loss to Maine in which the Cats allowed four power-play goals in an eight-minute span.
If indeed the Catamounts are playing their best hockey of the season, it couldn't come at a better time. Vermont could earn home ice in the Hockey East playoffs this weekend with a sweep of Massachusetts-Lowell at home and right now, factoring in a quality win over Miami earlier this year, sits in a decent place on the NCAA tournament bubble.
It's been a decade since Vermont last reached the NCAA tournament, but more impressive is the fact that in three short seasons, Sneddon has completely turned around a program that was at rock bottom. In 2001-02, the Catamounts had just three victories. Two seasons prior to that, of course, was the ugly hazing scandal that resulted in the canceling of the Vermont hockey season midway through.
On more victory and Vermont will guarantee its third straight season under Sneddon above .500. A few more wins on top of that and the Catamounts could be heading back to the NCAA tournament.
Not too shabby, indeed.
Handicapping the Playoffs
Both the ECACHL and Atlantic Hockey playoffs get under way this weekend, though the volume of games to be played is far from similar. Atlantic Hockey will play just one postseason contest, a play-in game between Canisius and American International this Saturday. The other seven playoff teams will get a weekend off.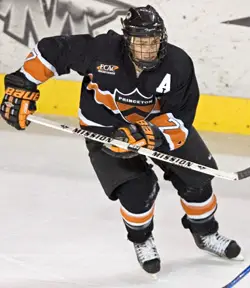 Thus, we'll turn our attention to the ECACHL, which opens its postseason with four best-of-three opening-round playoff series.
A struggling Union squad seems no match for fifth-seeded Quinnipiac, though the Bobcats haven't exactly been red-hot of late themselves. There were times this season that Union seemed like a strong team, but three losses against Quinnipiac by a combined score of 20-9 weren't among them.
In the best football-turned-hockey rivalry, Harvard will face Yale as the higher seed despite losing both games this season against the Bulldogs. Harvard's home record of 7-6-0 might not seem spectacular, but the fact that the Crimson won their last five home games of the regular season could give them a mental advantage.
Despite being a six vs. 11 matchup, the series between Princeton and Brown could be the best of the first round. Princeton is red-hot entering the playoffs after going 4-1-0 in the last five (including last weekend's sweep of St. Lawrence and Clarkson). That said, Brown was not the easiest opponent for the Tigers this season, taking them to overtime twice with the Princeton earning a win and tie.
The final playoff series, between Rensselaer and Colgate, should be another barnburner if RPI can keep the puck out of its own net. The Engineers allowed a league-high 123 goals against (84 in ECACHL play) this season but split the season series with Colgate, winning at home, 3-2 in overtime, in the February 9 meeting between the two teams. If Colgate gets its offense revved up, look for the Raiders to win with ease.
Ice Chips
• Hockey East continues to dominate the national tournament picture heading into the post-season. Right now, it seems that New Hampshire, BU and Maine (thanks to a 7-0-1 non-league record) are all locks while BC should feel quite comfortable and Vermont and UMass both have postseason potential. It's not likely that the league will see six participants, though, as head-to-head play will conceivably eliminate one or two (or possibly three) of those clubs.
• I mentioned in my last TMQ column that longtime Boston Globe college hockey writer Bob Monahan was ill and I've since learned that he passed away last week from pneumonia. Bob was a legend in his own right and saw more college games than the average writer. Since his retirement three or four years ago, his face was still seen around the arenas, but now it'll be forever missing. The college hockey world will certainly miss you, Bobby. Rest in peace.