Niagara was the only team in the nation to do what this season?
And no, the answer doesn't have Ted Cook in it, though he is a big reason for the answer.
The Purple Eagles went undefeated on their home ice at Dwyer Arena after beating and tying Robert Morris last weekend to end up 12-0-2.
"What a great season at Dwyer," Niagara head coach Dave Burkholder said. "It is a true tribute to all the guys in our locker room. This team, especially the seniors, know that (the Dwyer record) is something that has never been done here before, and we are all extremely proud of that."
The seniors all shined on Senior Day Saturday, including captain Sean Bentivoglio and Allen Barton. Bentivoglio assisted on Niagara's first two goals and Barton made 33 saves to improve his record to 4-1-3 this season.
A trio of sophomores also pitched in as Cook, Les Reaney and Vince Rocco each tallied a goal in the 3-3 tie.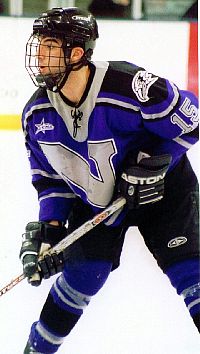 Burkholder told the Niagara Gazette earlier in the week that Reaney, goalless in six straight games until the weekend, would be ready to open the floodgates.
"It's not like he's not getting chances," Burkholder said to the paper. "If he wasn't getting chances, that would be different. But he is, he's just getting some bad bounces.
"Look out when he gets one, though. Then he'll be trouble."
Cook started the scoring for Niagara with his nation-leading 31st goal of the season and has now tallied a goal in each of the last five games.
The crowd at Dwyer Arena also made its mark in the record books as 1,645 fans packed the arena, the third-highest total in Niagara history.
"The fans were great this season," Burkholder added. "They increased as the streak grew and our pride grew. It was a lot of fun at the Dwyer this season."
Friday, Niagara beat RMU, 7-3, behind two goals and two assists from freshman Chris Moran.
Burkholder said it was a win a long time coming; NU was 0-3-1 in their last four games heading into last weekend.
"Trying to play out of a funk, it really takes hard work," Burkholder said. "And we did that tonight. When you are moving your feet and throwing the puck on net, good things happen."
Sophomore Juliano Pagliero got back to his solid net play, making 32 saves in his 14th win of the season.
Niagara needs just a single point this weekend at Alabama-Huntsville to win their second straight CHA regular-season crown.
Wayne State Takes Three Points From Beavers
Traditionally, Wayne State has had a tough time with Bemidji State.
Last weekend went against the grain for the Warriors as WSU defeated BSU, 3-1, on Friday night and tied the Beavers, 1-1, on Saturday.
"Wayne State is a difficult team to play against," Bemidji State head coach Tom Serratore said. "We played desperate hockey and when you play desperate hockey, you need to make sacrifices. We'll take the tie, but it would have been nice to get the two points."
"Philosophical" was the word of the night as WSU head coach Bill Wilkinson, who found out after the game Niagara had tied Robert Morris — thus making it impossible for WSU to have a shot at third place — was in the mood for a win and not a stalemate.
"I thought it was a hard-fought game on both ends," Wilkinson said. "I thought both goalies played fantastic and Bemidji had a high intensity level. Obviously, we would have liked a win, but it was definitely a battle. Last night, we got a couple breaks, but tonight, we hit a few posts and maybe couldn't capitalize on some scrums in tight. I thought the two games were mirror images of one another."
Freshman defenseman Jeff Caister bookended the WSU home schedule with goals, his only two of the year. Both came from the blue line as well. Caister's first tally was Oct. 27 in a loss against Sacred Heart.
Brandon Marino scored for BSU Saturday night.
Still with no chance to finish better than fourth in the conference, Wilkinson won't throw in the towel or change anything this weekend at RMU.
"We still have wins to play for," said Wilkinson. "We have to improve every time out and (this) weekend, we're going to have to play a good road series. It's as simple as that."
UAH To Honor Outgoing Ross
With his stellar 25-year career about to draw to a close, the Chargers are set to honor retiring head coach Doug Ross in a special pregame ceremony on Saturday night prior to their contest with Niagara.
In conjunction with Senior Night, pregame festivities are slated to begin before the scheduled 7:35 CT faceoff.
Friday night also features a special event as the first 500 fans through the turnstiles receive free UAH pucks.
More From The Commish
CHA commissioner Bob Peters was again asked this week about the prospects of losing Wayne State to the CCHA and Bemidji State to the WCHA.
And again, he basically beat around the bush and said he didn't know.
"I'm reluctant to make statements about it until they do two things — make it public and notify my office," Peters said Tuesday in the Niagara Gazette. "I have not received anything from anyone who might be contemplating leaving."
Niagara Awaiting 2008 Commitment
The Purple Eagles have reportedly received a verbal commitment in 18-year-old Aurora Tigers' defenseman Andrew Eastman, who plans on venturing to Monteagle Ridge in 2008.
Standing 5-foot-10 and weighing 180 pounds, Eastman is from Sharon, Ont., also the hometown of ex-NU forward Matt Ryan.
Eastman tallied two goals and 24 points this season in the Ontario Provincial Junior Hockey League along with six points in six playoff games thus far.
He was a member of the 2004 OHL Cup (bantam major) champion York Simcoe Express.
Warriors Get Another Recruit
Salmon Arm Silverbacks defenseman Brock Meadows has given the nod to Wayne State for this fall.
Meadows, who turns 21 on March 18, is 5-foot-11 and 200 pounds. This season, Meadows, a native of Langley, has 10 goals and 42 points along with 101 penalty minutes.
Down To The Wire
Here are the current tiebreakers with the last weekend of CHA play upon us. Any one of Niagara, Bemidji State and Robert Morris can skate off with the regular-season title. If teams are tied after this weekend, tiebreakers will be utilized.
The tiebreakers are:
1. Best record head to head among teams involved.
2. Most wins in conference play
3. Fewest goals allowed in conference games played between the teams involved.
4. Fewest goals against in conference play.
5. Best goal differential in conference games played between the teams involved.
6. Best goal differential in all conference games played.
Robert Morris has the tiebreaker on BSU with a 3-1-0 record and on Niagara with 3-2-1 record.
Niagara has the tiebreaker on BSU with a 1-0-3 record and will be No. 1 or No. 2. The Purple Eagles need one point in Huntsville to end up No. 1.
Robert Morris will be No. 1, No. 2 or No. 3. The Colonials need to sweep Wayne State to end up No. 2, and need to sweep Wayne State and have Alabama-Huntsville sweep Niagara to end up No. 1.
Bemidji State will end up No. 2 or No. 3. The Beavers need Wayne State to take at least one point from Robert Morris this weekend to stay No. 2.
For fourth and fifth, UAH and WSU could end up tied. They split 2-2-0 during the season and the second tiebreaker, most conference wins, won't be known until Saturday night. The third tiebreaker is fewest goals against between the two teams and WSU owns that one.
Coming Next Week …
A full-blown preview of the CHA tournament in Des Moines, Iowa from March 9-11 will occupy this web space next week, along with predictions from this correspondent. Check back next Thursday, folks!