YouTube, meet Blake Wheeler. You're going to get a few searches with his name over the next few days.
The Minnesota sophomore center threw his name in the ring for the top college hockey goal of the season Saturday night, and he did it with a championship on the line.
Less than four minutes into overtime of the WCHA championship game, Wheeler ended things with what would count as the definition of a highlight-reel goal.
Here's how it happened: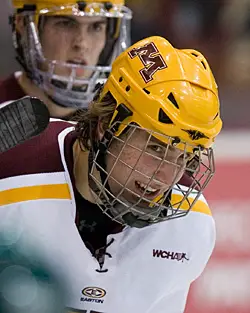 Minnesota winger Jay Barriball swiped the puck off the stick of North Dakota forward Matt Watkins just inside of the Gophers' blue line on the left wing. From there, Barriball sent a long, cross-ice pass ahead, banking it off the opposite left wing boards.
It appeared to be too far ahead for Wheeler to get to it, but the puck slowed. Wheeler, racing after the puck along with North Dakota defenseman Brian Lee, had his left hand on the stick as he approached the puck.
Wheeler, who shoots right-handed, dived forward as he got just under the left faceoff circle and got his blade on the puck with a left-handed swipe of his stick. That created enough of a shot to loop over Sioux goaltender Philippe Lamoureux's glove and into the net, setting off pandemonium on the ice and in the seats at the Xcel Energy Center.
"I just took a whack at it," Wheeler said. "I couldn't believe when the crowd started going crazy. I didn't see it go in. I guess crazy things happen this time of year. You've just got to take it how it goes."
When Barriball made the pass, it looked to be pushed too far ahead for Wheeler, but that turned out to be a fortunate thing. If the angle on Barriball's pass would have been sharper, Lee and Wheeler may have just tied up the puck.
"It happened a couple times today where Jay got the puck on the right and I blew out of the zone and he made a couple nice passes to me," Wheeler said. "I know it happened one time in the second, and we almost had a goal there. He put it a little too far in front of me. I got a bead on the puck, and it kind of stopped just short of the line. I saw the goalie coming out a little bit and looked a little out of position, so I just took a whack at it. I had no clue it would ever go where it went."
Minnesota coach Don Lucia was asked afterward whether he had ever seen a goal like it.
"Yeah," he said, "it's hanging up in Mariucci Arena."
Neal Broten's game-winning goal in the 1979 NCAA championship game — also against North Dakota — went down in a similar fashion, and the moment was captured in a picture that is now displayed in enormous proportions in the Gophers' home arena.
Wheeler scored his first collegiate hat trick in Friday's 4-2 semifinal victory over Wisconsin, and his goal Saturday clinched the tournament's MVP award.
He had only three goals in 2007 before the weekend.
"That was an effort goal," Lucia said of the OT winner. "That's the way Blake played all weekend, and I think it was fitting that he scored that overtime winner. It was a great effort, and Blake's a tremendous team guy. It was great to see him step up like he did this weekend."