If the favorites hold serve at the Northeast Regional, top-seeded New Hampshire would face Boston College in a rematch of the Hockey East championship game, but this time in the Wildcats' backyard in Manchester, N.H.
Before that can happen, though, the Wildcats must get past an intriguing first-round opponent in Miami, which sat out last weekend's CCHA championship round after being swept by Lake Superior State in the league's quarterfinals.
The RedHawks were ranked as high as third in the nation early in the year, but faded down the stretch and squeaked into the NCAA tournament as the last at-large bid.
UNH, with its high-octane offense and a solid D to match, is the obvious favorite in that game, but after looking unstoppable for much of the year, the Wildcats had a stumble of their own late in the regular season.
The team that beat UNH in the HEA title game, Boston College, is indisputably the hottest team in the country. The Eagles have won 10 straight games, and seven of those wins came by at least three goals, including both of its victories last weekend.
In the regional semifinals, BC takes on a team with something to prove in St. Lawrence, which needed a win in the ECACHL third-place game to seal its NCAA bid despite winning the league's regular-season championship.
Head coach Joe Marsh declared the Saints to be underdogs in the NCAA tournament before the bracket was even announced; expect SLU to play with that attitude as motivation against BC.
New Hampshire vs. Miami
Saturday, 1 p.m. ET, Verizon Wireless Arena, Manchester, N.H.
New Hampshire Wildcats
Record: 26-10-2, 18-7-2 Hockey East (first)
Seed: No. 4 overall, No. 1 Northeast
How in: At-large
2006 NCAA tournament: Lost in regional semifinal
After running away with the Hockey East regular-season title, New Hampshire had to settle for runner-up to Boston College in the league tournament. Even so, the Wildcats pose many problems for opponents in the NCAA tournament. And those problems aren't restricted to an offense that topped Hockey East in production.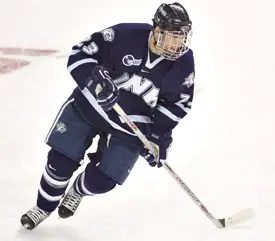 Goaltender Kevin Regan leads the country in save percentage (.936) and ranks fifth in goals-against average (2.06).
"He's been the backbone of the team," UNH coach Dick Umile says. "He's been very, very consistent. He's kept us in games even when we've make mistakes.
"He's had a fabulous season. He got himself mentally ready at the beginning of the season and really hasn't missed a beat."
Chris Murray, a second-team All-Hockey East selection, leads a defense that is not only talented but has also benefited from remaining intact for all but one game this year.
"We've got as good a defensive group as we've ever had from one to six," Umile says. "Chris Murray, who was our assistant captain, has had an absolutely fabulous season. But there's an awful lot of balance from our top six defensemen. It doesn't make any difference who's out there on the ice, we feel very confident about them and they've played very well in front of Kevin."
The most eye-catching part of the team, however, admittedly is the firepower up front. Six players topped 30 points even though down the stretch the group was beset by injuries.
"The first half of the season, we were doing very well offensively," Umile says. "That's when all our lines were healthy. The second half we haven't been healthy. Hopefully, this weekend will be when we have that first line all healthy with [Mike] Radja, [Brett] Hemingway and [Jacob] Micflikier.
"The [Matt] Fornataro, [Trevor] Smith and [Jerry] Pollastrone line is very talented and in the second half they had to do a lot for us because the first line had somebody injured and we had different people filling in.
"Our third line has done a really good job for us, too. It's given us some pretty good balance."
Although Umile clearly likes his team, he has a lot of respect for Miami, the Wildcats' opening-round opponent.
"They're a good team," Umile says. "I've told people up here that we're getting prepared to play Boston University. That's the way that Miami plays; they wear the red and white and they're very aggressive.
"Their top line is real good and they put up some big points. They've got a Hobey Baker finalist in [Nathan] Davis. They're a good program and Enrico Blasi is a talented young coach that has them playing really well."
Umile is hoping to get a seventh-man advantage in the form of the home crowd at the Verizon Center.
"We played two games there this season against Maine and Dartmouth with the idea that if we qualified [for the NCAA tournament] it might be like home ice advantage," Umile says. "There should be a lot of UNH fans there and hopefully that will help us. It's a wide-open field and Miami is a very good team, so we'll need our fan support to help us through that game."
Miami RedHawks
Record: 23-13-4, 16-8-4 CCHA (third)
Seed: No. 14 overall, No. 4 Northeast
How in: At-large
2006 NCAA tournament: Lost in regional semifinal
The Miami RedHawks are making their first back-to-back appearance in the NCAA tournament in school history, but this year's bid differs from last year's in significant ways.
Last year, the RedHawks earned the CCHA regular-season championship on Feb. 14, went on to a first-round playoff sweep of Western Michigan, a win over Northern Michigan in semifinal action at the CCHA championship tournament, and a tough 2-1 loss to Michigan State in the league's title game.
This year, Miami stayed home last weekend as four other teams from the CCHA battled in Detroit for postseason supremacy; the RedHawks lost their first-round playoff series to visiting Lake Superior State in a pair of 2-1 games, having run into a hot goaltender in LSSU's Jeff Jakaitis, who made 81 saves in the series.
"Typically when you get scoring chances — 15 to 20 per game, quality chances — you're doing a pretty good job," said Miami head coach Enrico Blasi. "I felt our team played extremely well. We just weren't able to solve Jakaitis.
"All in all, I thought our team played very, very well. Really, that was the frustration. I don't know that we could have played any better. We just have to bear down, and we have to execute around the net."
It was more than a simple lack of execution around the net that knocked the RedHawks out in the first round of last year's NCAA tournament. In Miami's 5-0 loss to Boston College, the RedHawks were in the penalty box for the first few minutes of the game, resulting in two Benn Ferriero power-play goals and a deficit from which Miami could not recover.
This year, Blasi is counting on his team's experience when Miami faces New Hampshire in the first round.
"This will be the third time for our seniors," said Blasi. "Each time we've gone to the NCAA tournament, we've played in somebody's backyard, so this shouldn't be anything new."
The RedHawks are a balanced team, with five goal-scorers in double digits, a veteran defensive corps, and two goaltenders who split time for much of the season. Offensively, Miami is led by Hobey Baker finalist and junior forward Nathan Davis (20-29–49), and his often-overlooked classmate Ryan Jones (28-18–46), a two-way player as dangerous in front of the net as any in the game.
Sophomore Jeff Zatkoff (2.24 GAA,.918 SV%) and junior Charlie Effinger (2.67 GAA,.896 SV%) have each manned the net solo for stretches. Zatkoff played when Effinger had mononucleosis in the first half of the year, and Effinger was alone when Zatkoff played for Team USA in the 2007 IIHF World Junior tournament.
Blasi said he hasn't decided yet who will start in Saturday's game. "We probably won't do that until Friday. I don't want to change our routine. Usually Friday afternoon, we name the starting goalie, and I don't see that changing this week.
"We're confident in either one of them. That's why it's a difficult decision."
Given their playoff history — recently, in the CCHA, and the 0-2 streak in the NCAA tournament for this senior class — the RedHawks are keenly aware of what they face in Manchester.
"The fact of the matter is that they [UNH] are the No. 1 seed and they're our first opponent," said Blasi. "They are very skilled and have a couple of lines that can hurt you offensively.
"We have our hands full. We know they're well coached. We have a lot of respect for them.
"Really, the key on Saturday is to bring our 'A' game, make sure everybody is playing within our game plan. That's the bottom line from this time of year. You have to execute."
Boston College vs. St. Lawrence
Saturday, 4:30 p.m. ET, Verizon Wireless Arena, Manchester, N.H.
Boston College Eagles
Record: 26-11-1, 18-8-1 Hockey East (second)
Seed: No. 5 overall, No. 2 Northeast
How in: Hockey East tournament champion
2006 NCAA tournament: NCAA runner-up
A season ago, a struggling Boston College team waited until the 11th hour to find its stride. Fortunately for the Eagles, that stride took them all the way to the national championship game and within a goalpost of pushing the title tilt to overtime.
This year, the Eagles decided not to wait as long.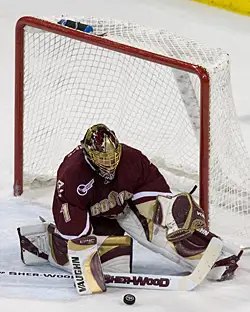 Though faced with the same difficulties as a season ago, lacking consistency night in and night out and, more importantly unable to produce much offensively, Boston College somehow did a complete 180 in early February.
A strong performance in a 3-1 victory over Harvard in the opening round of the Beanpot — the same Harvard team that had smacked the Eagles, 4-0, in early November — is the closest thing one can find to a turning point for BC's season. A week later, BC would lose to BU, 2-1 in overtime ("We played really well in that game," said BC head coach Jerry York) in the Beanpot championship game. Since that time, though, it's been smooth sailing.
The Eagles enter the NCAA tournament riding a 10-game winning streak, which includes two wins against Maine, one over BU, and three against the No. 1 seed in BC's region this weekend, New Hampshire.
"There was a period in January when we lost three straight games," said York. "At that time we were a real bubble team for the NCAAs. We just kind of tried to get better and better. From that low period, we've really come on strong."
Over the span of its last 10 games, BC has outscored opponents, 44-18, including a 21-5 margin in the four games of the Hockey East tournament — the widest scoring margin since the Maine outscored opponents, 29-8, in 1990 (though ironically lost the championship that year to BC). To say that the BC offense has turned into a juggernaut is certainly an understatement.
What's most noteworthy, though, for Boston College is the major lineup change that York made heading into the quarterfinal series on March 8. By now, leading scorer Brian Boyle's move to defense is well-document as is the performance of rookie Ben Smith, who assumed Boyle's role of top-line center between Nathan Gerbe and Brock Bradford.
Boyle adds another dimension to the BC blueline. His offensive creativity and ability to move the puck are complemented well by partner Mike Brennan's solid defensive skill.
Up front, the Smith-Gerbe-Bradford line has received strong support during the Eagles' win streak from BC's second line of Dan Bertram centering Joe Rooney and Benn Ferriero. The Smith line accounted for 10 goals and 22 points in the Hockey East playoffs, while the Bertram line added another seven tallies and 16 points.
As much as thing have changed recently for the Eagles, the one constant has been goaltender Cory Schneider. For the third straight season, Schneider's numbers have been solid, and this year include a 2.19 goals against average, a.923 save percentage and a 26-11-1 record. That led analyst Bob Norton to sing Schneider's praises during the ESPN Selection Show on Sunday, and Norton's comments are certainly seconded by York.
"I think Bob Norton is absolutely correct that Cory Schneider is the backbone of our team," said York. "He's one of the real reasons we've won 10 straight."
The Eagles will face St. Lawrence in the opening game of the tournament with a potential rematch of the Hockey East championship game against New Hampshire looming in the regional finals.
York and his team, though, won't even talk about that rematch until St. Lawrence is in the rear-view mirror.
"We'll have to do a lot of research on them," said York about St. Lawrence, which hasn't faced off against the Eagles since the national semifinal game in the 2000 NCAA Tournament, a 4-2 BC win. "We haven't played them this year, but I've watched them on tape.
"Joe Marsh is a long-time veteran coach at St. Lawrence and I'm sure that he'll have a well-prepared opponent for us."
St. Lawrence Saints
Record: 23-13-2, 16-5-1 ECACHL (first)
Seed: No. 12 overall, No. 3 Northeast
How in: At-large
2006 NCAA tournament: none
St. Lawrence escaped last weekend's ECACHL tournament disappointed and a bit bruised in the ego department, but none the worse for wear in claiming an NCAA berth in the Northeast. The Saints were soundly thumped by Quinnipiac in a 4-0 semifinal loss, but rebounded to edge the gritty Dartmouth Big Green in the consolation round in what was essentially an elimination situation for each team.
"I thought we pressed a little bit, but we turned it around, we showed some resiliency," said head coach Joe Marsh.
"We're thankful for this opportunity."
The inconspicuous team from Canton, N.Y., is used to playing the underdog role — heck, they played it all year, even from atop the standings. Marsh instilled in his team a two-pronged philosophy of always playing like you have something to prove, and never playing to the scoreboard… which is to say, playing just as hard if you're up 3-1 as if you're down 3-1.
The underappreciated attitude was bred of the preseason polls, which picked the Saints to finish sixth according to the coaches, and seventh in the media. The perceptions of St. Lawrence as a pack of overachievers persisted even into ESPN2's NCAA tournament selection show, where viewers were hard-pressed to catch a positive reference to the program's season, or history.
"I understand that we're an 'afterthought,'" said Marsh. "There was always a certain amount of [underdog] motivation all year long," stemming from that first preseason survey.
Marsh is unconcerned with what little attention his team is getting, but admits that "you can use [the snubs]" in the locker room.
"You can use it; you can tap into the psyche of the team. There's a kind of circle-the-wagons mentality" among the players, he said. But really, "we're not concerned with anything but bringing our intensity, and playing our best."
The entire roster is expected to be in playing shape come Saturday's matchup with Boston College, including versatile forward Kyle Rank, Hobey Baker finalist Drew Bagnall, and frosh sensation Mike McKenzie. Freshman Alex Petizian played in 28 of the team's 38 games this season, stopping pucks at a rate of.916 and carrying a 2.27 goals-against average in the process. The Saints have run — and won — all year long on a potent mix of talent, chemistry and attitude, and are a very tough side to compete with when its transition game is clicking.
This is only the second winning season for St. Lawrence's senior class, and the school hasn't qualified for the NCAAs since the spring of 2001. Thus, it is a team light on experience. Granted, the Saints have won 11 playoff games in the last four seasons, but their appearances on the national level have been nil.
There are a few outstanding and compelling issues at work with the 2006-07 Saints. Have they accumulated enough lessons in the grueling ECACHL regular- and postseasons to make up for their NCAA greenhorn status? Can they succeed at ignoring the score and playing with a wild but controlled tenacity, like they did in Saturday's consolation… or will they get beaten at their own up-tempo game as they did on Friday? Can they harness the intangible benefits now that come with being a true underdog?
The key will lie as much in the Saints' ability to maintain their poise as it will in any other facet of their game. Friday night against Quinnipiac, the team took 10 penalties for 23 minutes, and ran itself ragged and breathless on the frequent penalty kills. Saturday afternoon, the Saints served four minutes' worth of minor penalties, with decidedly different results.
"We're playing with a lot of emotion, but controlled emotion," said Marsh.
That's Saints success, in a sentence.