The way the first semifinal in Rochester transpired should come as no surprise. Kevin Jarman's goal 7:40 into overtime broke a scoreless tie and gave Massachusetts 1-0 win over Clarkson and a berth in the East Regional championship game.
While it was just the third time in NCAA tournament history that a game had ended scoreless through regulation, the play of both netminders this season made it clear that goals were going to be hard to come by in this game.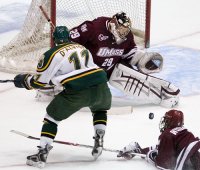 UMass goaltender Jon Quick made 33 saves for the shutout, his third of the season. He came into the game already holding the school record for most saves in a season (now at 1020) and sporting a .928 save percentage and a goals against of 2.20. Quick has played in all but two games for the Minutemen this season.
At the other end of the ice, Clarkson goaltender David Leggio had almost identical numbers coming into the contest: a .929 save percentage and a 2.20 GAA. Leggio also played in all but two games this season. He made 37 saves, which also set a school single season record (1037).
"We had some Grade A scoring chances," said Clarkson coach George Roll. "Both goalies were on the top of their game."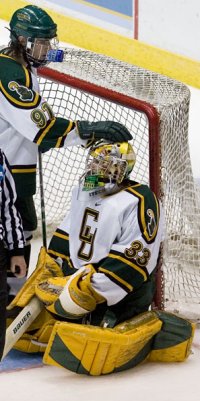 But in the end, after sixty-seven minutes and forty seconds of scoreless hockey, Clarkson and Leggio blinked first.
"There's a fine line between winning and losing," said Quick. "We learned that last week [3-2 double overtime loss to New Hampshire in the Hockey East semifinals]. It came down to a bounce of the puck."
Leggio echoed his counterpart's comments.
"I thought I had it covered," he said. "But it squirted out and (Jarman) made a nice play to put it over me."
Both goalies seemed cool and collected throughout, even with so much riding on each save.
"It was exciting," said Quick. "I was just doing my best to keep my team in the game. It was a tie game the whole game with good action and both teams battled hard. Anyone who watched will tell you that it was an exciting game."
UMass coach Don Cahoon had high praise for his goaltender, who recorded his nineteenth win of the season, also a school record.
"He's a very gifted athlete," he said. "Most people know and recognize that his athleticism is unparalleled as far as I can see. There are a lot of good goalies who are well schooled and have had great games and put together great seasons, but I don't know if there's a better athlete at his position."
Quick, a sophomore, will play at least one more game this season, while Leggio, a junior, will hang up the skates until next year. Both played a game to remember.