Ed Gosek, who led Oswego State to a 23-3-3 record and the school's first NCAA Division III Men's Ice Hockey title, has been named the winner of the 2007 Edward Jeremiah Award, given annually to the Men's Division III Ice Hockey Coach of the Year.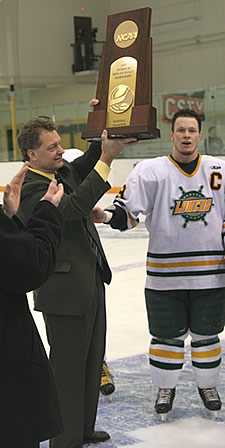 Gosek, who completed his fourth season as head coach of the Lakers after 13 seasons as an assistant, becomes the second Oswego coach to win the honor. George Roll also earned that distinction in 2003.
Earlier this week, Gosek was named All-USCHO D-III Coach of the Year.
After compiling the best regular season record in school history, Oswego captured the NCAA title by going up against the NCAA Division III iron. First came a 3-0 quarterfinal win over Norwich University. Then a 4-3 overtime win over St. Norbert in the NCAA semifinals at Superior, Wis. Finally, another 4-3 win in overtime, this time ending Middlebury College's streak of 24 consecutive post-season wins and three consecutive NCAA titles.
Gosek, an Oswego native, graduated from Oswego in 1983. His career record in four seasons is 78-25-11. The Edward Jeremiah Award is named in honor of the great Dartmouth College head coach and was first presented in 1970. The runner-up for this year's Edward Jeremiah Award was Terry Watkins of the University of Wisconsin-Stout.
College hockey's Coach of the Year recipients are chosen by members of the American Hockey Coaches Association (AHCA). Winners will receive their awards at the annual AHCA Coach of the Year Banquet, held in conjunction with the AHCA Convention in Naples, Fla. This year's banquet is scheduled for Saturday, April 28.
2007 Edward Jeremiah Award Nominees
Bill Beaney, Middlebury [email protected]*
Mark Ostapina, Milwaukee School of Engineering
Chris Brown, Augsburg
Chris Potter, Wesleyan
Tim Coghlin, St. Norbert College*
John Rolli, UMass-Dartmouth
Brian Dickinson, Brockport
Neil Sinclair, Skidmore College
Ed Gosek, Oswego*
R. J. Tolan, Wentworth
Keith Levinthal, Manhattanville*
Terry Watkins, UW-Stout
*Frozen Four Participant; @ Former Jeremiah Award Winner