Part VI: Wesleyan
(This series reads best in sequence: Part I – Beginnings, Part II – Youth Hockey, Part III – Summer Hockey, Part IV – High School and Part V – College Selection.)
October, 2003
Just weeks into Ryan's first semester at Wesleyan, a bombshell rocked the hockey team. Buddy Powers, the former head coach at Rensselaer and Bowling Green who had signed on to replace Duke Snyder, resigned for family reasons. The school would have only weeks to find a replacement, a daunting task since it had taken half a year to replace Snyder. Making matters worse, October is not a time when candidates typically are available.
Rumors flew, ranging from the ominous to the absurd. The school would just kill the hockey program. The senior captains would coach the team.
In time, the replacement committee selected Chris Potter, a former assistant at Brown who would be assuming his first head coaching position.
Seniors and freshmen dominated the Cardinals roster with only a sprinkling of sophomores and juniors. Mindful of this, Potter gathered the four top freshmen — Will Bennett, Taylor Evans, Mike Barbera and Ryan — and told them what to expect.
"I'm going to be all over you four," Potter said. "It's too late to change any of the seniors' habits. So you four are going to get the brunt of it."
They very much got the brunt of it. Potter stayed all over them. His intent was to make them the best players they could become, but at times the flames of his fire scorched.
It was a difficult adjustment. At every other level, Ryan had been a coach's dream; now, he often felt like a coach's pincushion.
The seniors responded best of all to Potter's fire. Having played for three years under the laid-back Snyder, arguably becoming too comfortable with losing in the process, they used the scorching to elevate their games.
A sleeping giant going into the season, the Cardinals finished with a 9-10-4 record. Senior goaltender Jim Panczykowski earned the Joe Concannon Award as New England's top American-born Division III player. Will Bennett took down the NESCAC Rookie of the Year Award. And Potter was named NESCAC Coach of the Year. The Cardinals qualified for their first playoff berth since the 1999-2000 season.
Except…
There would be no playoffs. A preseason party in which the freshmen were introduced to the team — incorrectly referred to as an initiation — led to a late-season investigation based on concerns of hazing.
My own stance on hazing is unflinching. The Vermont players who tormented Corey Latulippe after he made clear that he wanted no part of it were the worst of teammates and deserved the scorn showered down on them. Their actions were despicable. If we care anything about individual rights, a prospective athlete should be able to say no and not be a pariah.
The Wesleyan preseason party included no hazing. Zero. Nada. Ryan considered it one of the most fun nights he'd ever had. To a man, the freshmen felt that the seniors made them feel very much at home.
There was, however, underage drinking. Not by all freshmen, but certainly most. Members of the administration with an agenda, having imagined hazing charges with all the fervor of 19th-century astronomer Percival Lowell drawing maps of nonexistent canals on Mars, settled for the lesser offense. The 10 seniors deemed culpable would be banned from the final two regular season games of their careers and the team would withdraw from the playoffs.
For Wesleyan, a school which prides itself on acceptance of virtually any lifestyle or alternative behavior no matter how bizarre — an alumnus once said that after Wesleyan every other possible environment feels normal — to act shocked, I say shocked, at underage drinking seemed the height of hypocrisy.
Since the penalty didn't match those meted out to other groups for similar offenses, the school newspaper, The Wesleyan Argus, asked the administration's public relations mouthpiece if the team was being held to a different standard. The response was telling.
"There are cultural issues," the mouthpiece said. "The fact is, teams party together. One of the strengths of having a team atmosphere is that there is a social aspect that goes along with that. If you are involved in a show with someone you are with them for a period of weeks and not four years. The networks are different and the pressures are different. In the abstract, no it doesn't matter if it crops up around a team or in another activity. In practice it operates in ways that reflect social pressure to drink in team situations."
Which, in translation, seemed to say that, yes, Lifestyle Group X and Theatre Group Y would have gotten very different penalties, and in the past had gotten very different penalties, ones far less severe than seniors losing the last two regular season games and the first playoffs of their careers.
I don't dismiss the problems that can arise from substance abuse. I've seen lives quite close to mine destroyed by it. But for a sports team to lose its playoffs because of the same underage drinking that happens on virtually every campus in the country is an out-of-proportion penalty tantamount to hard time for jaywalking. If you do that on every campus in every sport you can forget about bowl games in football, brackets in basketball and a 16-team NCAA tournament in hockey. There won't be enough eligible schools.
Although I'm not privy to the inside story within the current Wesleyan administration, it seems that whatever tensions existed with the hockey program have since abated. The loss of the playoffs three years ago is now water under the bridge.
Except for one thing. Those seniors were denied the precious athletic commodity of a playoff to end their careers, what was to be their first at Wesleyan. I still feel badly for those kids. As they stood in the stands while their younger teammates amazingly defeated Connecticut College in tribute to them, I made a point of going to each senior, shaking his hand and thanking him for his treatment of Ryan.
In some cases, it hadn't been easy for upperclassmen to watch rookies come in to fill significant roles that they had assumed would be their own. Those seniors were the best of teammates in every sense of the word.
---
On a personal basis, Ryan's freshman year exceeded expectations. He began the season with the initial goal of making the team, assuming nothing in terms of ice time and roles on such a senior-dominated squad. But in almost every way, he hit the ground running.
The first official day of practices ended with everyone splitting into two teams and playing three-on-three with the losing group consigned to sprints. Ryan scored the game-winner, which certainly made him popular amongst half his teammates. And since it was a tradition for seniors to dump a bucket of water on freshmen at least once during the season, the rookie who made some of them do sprints became the first target. So even the losers had fun.
(Only the local Super 8 hotel suffered. Brenda and I had driven down for Parents' Weekend, and brought Ryan's bag back to our room, attempting to dry his soaked equipment and jerseys. When we returned from dinner, the smell in the room might have knocked a skunk unconscious.)
Two weeks later, the Cardinals traveled to Salem State, conveniently located in our back yard, for their season opener. By game time the stands were loaded with aunts, uncles, cousins, a grandmother, the Pingree hockey team with coach Buddy Taft, other former classmates and even parents of former classmates.
They got to watch Ryan take a regular shift on what was either the second or third line and play on the second penalty kill unit, the latter a stunning achievement considering the seven senior forwards on the roster.
The following afternoon, Ryan was introduced in the starting lineup. In the third game, he assisted on his first goal; in the fourth, he scored.
By any standard of measurement, this was a heady start. As the season rolled on, Ryan would score big goals in upsets of Babson and Amherst. He'd continue to play an important role on the penalty kill and even saw a brief stint on the power play at the left point. Admittedly, there also were times when the emotional roller coaster plummeted, but overall the season was a personal success. His freshmen year wasn't one of waiting his turn. Ryan contributed.
---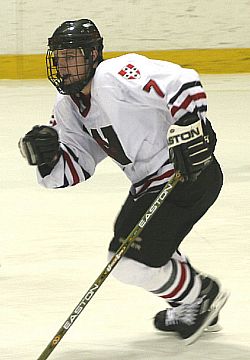 His contributions on the penalty kill expanded even further with the graduation of all the seniors at the end of the season. On a typical kill over his final three years, he'd be on the ice for the first 35 or 40 seconds, get a breather and then return for the final 30 seconds or so.
When the Cardinals finished with the NESCAC's top penalty kill in his junior and senior years despite finishing eighth and fourth, respectively, Ryan could take considerable pride in that accomplishment. Of course, it didn't happen without exceptional goaltending and strong defensemen, but there was no question who the top forward on the PK was.
Would it have been more fun to have been on the top power-play unit? Or even the second power-play unit? The forward who doesn't enjoy scoring more than defense probably hasn't been born.
Did Ryan think he could have been productive on the man advantage? Sure. In his senior year, he probably got eight shifts total on the power play, but made the most of those opportunities with two goals. That said, his special teams role was on the penalty kill.
If you're truly a team player, you recognize that there are many ways to help your team win. Some roles are more glamorous than others. Or more fun. Or easier. But a successful team requires not just the stars, but also players who will thrive outside of the limelight.
Ryan was one of those guys.
Beyond special teams, a similar defense-oriented role unfolded. At every other level, his playmaking skills had been valued every bit as much as those displayed in the defensive end. Year after year, his assists outweighed his goals three- or four-to-one.
At Wesleyan, however, the reverse held true. His goals outstripped his assists for the first time in his life. The lone exception came in his junior year when for six games he was paired with Will Bennett and Taylor Evans — the line of my dreams, to be sure — for a successful stretch drive to the playoffs. Otherwise, Ryan's linemates were rarely the Cardinals' top offensive threats.
Even so, he produced. As a senior, his six goals and five assists in 24 games might at first glance seem modest totals, ranking eighth on the team. That first glance, however, ignores the difficulty of scoring while even strength in this era and the dominant role of the power play. In reality, only the three forwards on the Cardinals' top line produced more even strength points than Ryan, whose typical linemates averaged less than one goal per year.
The lesson to be learned, then, is that it's not enough at the next level to excel at just one facet of the game. Had Ryan been exclusively a playmaker, he'd have had almost no role at all at Wesleyan. Instead, he brought multiple skills to the table with those as a penalty killer, three-zone player and leader rising to the fore.
---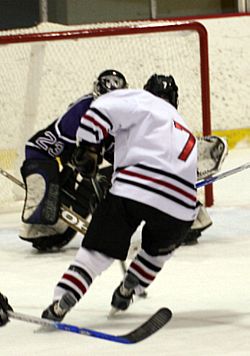 Which is not to say there weren't individual offensive highlights. The best one came in Ryan's sophomore year.
Wesleyan had jumped out to a 4-0 lead over Castleton, including a goal from Ryan, but the Spartans came back with two to make it a game again, 4-2. That comeback proved short-lived. Ryan scored his second goal to take back the momentum and then completed the hat trick 37 seconds later in picturesque fashion, cutting in from the right and then pulling the puck around the goaltender while being hauled down by a defenseman and backhanding it into the top of the net.
When minutes later the two teams came off the ice for the intermission between the second and third periods, a fan leaned over the railing, pointed to Ryan and yelled, "That was sick, man! That was sick!"
It doesn't get much sweeter than sick.
---
Before the offseason heading into Ryan's senior year, his teammates voted him co-captain with Will Bennett. Once again, he had earned the respect of those with whom he shared the locker room.
The previous two years had been rebuilding ones after losing their Concannon Award-winning goaltender, five of their top six defensemen, and six of the top nine forwards. Potter had brought in strong, skilled recruiting classes each year, but the holes were too large and too numerous to overcome. Wesleyan finished with a 4-18-3 record in 2004-2005 and then 7-13-4 the following year.
Seniors like Ryan, however, looked like they might go out with a bang. Another strong recruiting class had arrived, the Cardinals had graduated no player who regularly dressed and they'd lost a boatload of one-goal games the year before. It wouldn't take much to turn those tight losses into wins.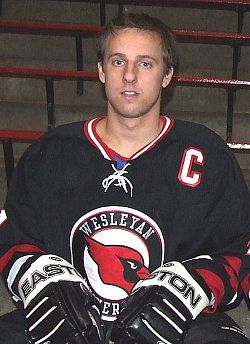 Unfortunately, the season got off to a rocky start as the Cardinals went 1-3-1 in their first five games. They then caught fire, however, going 10-1-3. They defeated perennial powerhouse Norwich for the first time in history. They took three of four points on the road against Williams and Middlebury. They hadn't beaten Williams since 1982 and had lost to Middlebury 30 straight times.
The Cardinals took over first place in the NESCAC standings and became a nationally ranked team, unprecedented feats in Wesleyan hockey. Players and parents alike were suddenly scanning the D-III PairWise Rankings and looking up the NCAA Tournament selection criteria.
In the end, the Cardinals couldn't hold onto first place and fell out of the national rankings. They would have to settle for fourth place instead of first, the margin between the two a paper-thin two points. Even so, it marked Wesleyan's first NESCAC home ice berth.
The seniors, who had endured tough times over the past couple years, had gotten some payback for those dues.
---
As that season kept flying by, I dreaded the end to what I considered a wonderful journey. People who didn't know me would ask, "Won't you be glad when you don't have to drive down to Connecticut each weekend or go on some of those long road trips?"
They might as well have been speaking in Urdu because their language was not mine. Brenda and I didn't have to go to Ryan's games. We loved to go. We never wanted to see it end.
The end, however, did come. Playing at home as the number four seed in the NESCAC playoffs against number five Amherst, the Cardinals fell behind 1-0 on a second period goal that we thought should have been whistled dead. Try as they might, the boys couldn't get the equalizer.
As the second period gave way to the third and the minutes ticked away, I begged the hockey gods, "Give him one more game. Give him one more game."
This wasn't about my desire to watch Ryan play again, as intense as that might be. It was that I knew that he loved this game, played it with a passion and didn't want it to end.
The clock read three minutes left and we still couldn't score the goal to tie the game.
Give him one more game. Give him one more game.
Two minutes left.
One more game. Give him one more game.
A minute left.
My eyes had been misting over, but the floodgates broke when Amherst scored an empty net goal with 25 seconds remaining to end all hopes.
Ryan doubled over, as if he'd been sucker punched in the gut. Vicariously, I felt that pain.
The Wesleyan students, who had brought squid to throw out on the ice when the Cardinals scored, let them fly anyway and a penalty was assessed. Ryan, still doubled over, waited to take the faceoff as the squid were cleaned off the ice.
The puck went into the Amherst defensive zone and the seconds ticked away. Just before the final buzzer sounded, Amherst's toughest defenseman, its leader in penalty minutes, got the puck and Ryan hit him with a check, clean but hard.
That final act symbolized, I thought, Ryan's entire hockey career. The little kid with the big heart had taken on whatever was thrown his way, had never given up and had fought until the very end.
---
After the game, we went to our regular haunt, Iliano's, for Italian food and pizza. We'd been there a while when some Wesleyan students who were fans of the team walked in.
They chatted with Ryan and one of them said, "Hey, Captain, I loved watching you play." Ryan thanked him for the kind words and for his support.
Hours later, I realized that the fan's sentiment would become my own epitaph for Ryan's hockey career.
And so with those same words I end this series about a remarkable kid who I love with all my heart, admire with all my mind and will be proud of for all of my days.
"Hey, Captain, I loved watching you play!"
---