Boston College goaltender Cory Schneider announced today that he will forego his senior season with the Eagles to sign with the Vancouver Canucks, according to BC head coach Jerry York.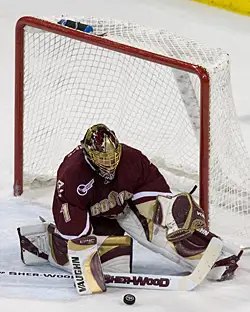 Schneider, a first-round draft choice of the Canucks in the 2004 NHL Entry Draft (26th overall), played in 99 games over three seasons with the Eagles amassing a 66-26-7 record, a 2.09 career goals against average and a .925 career save percentage.
He led the Eagles to back-to-back national championship game appearances in the last two seasons, falling, 2-1, to Wisconsin in 2006 and, 3-1, to Michigan State in 2007.
"I've truly enjoyed each of my three seasons at BC and want to thank Coach York, his staff and the fans for everything they have done." Schneider said in a press release. "It's been my goal to move on to the next phase of my career and I'm excited to now be a part of the Vancouver Canucks organization."
It took just three seasons at the Heights for Schneider to leave a permanent mark. His 15 career shutouts are the all-time career record for the Eagles. He also holds the single season marks for shutouts (eight, 2005-06) and saves (1111, 2006-07).
Schneider's departure leaves the Eagles without any experience in goal heading into the 2007-08 season. Joe Pearce, who graduated from BC this past season, was the only other goaltender to see time in the BC net last season, though he made just two appearances for a total of 13 minutes. BC has two freshmen goaltenders arriving for the 2007-08 season, Andrew Margolin from the Taft School and John Muse from Nobles & Greenough.