The Seawolves are one of those teams that you can feel getting better, but haven't yet found those final few pieces.
And, until they do, the team will continue to be picked to reside in the league's basement. However, coach Dave Shyiak's squad does have some bright spots to look forward to this year, considering last year was an improvement of sorts.
For example, last year was:
• The first time the Seawolves debuted in a national poll (USA Today/USA Hockey Magazine; 15th on Nov. 6)
• The first time UAA had a winning record at home in five years (9-8-1)
• The first time the team had four 10-goal scorers in a single season in over a decade (Justin Bourne, Jay Beagle, Paul Crowder, Josh Lunden)
• The first time the Seawolves were unbeaten in non-conference play in a decade (4-0-2)
The team also came within one game of the WCHA Red Baron Final Five last year, handing the Minnesota Golden Gophers their first-ever first-round playoff game loss at home since the new Mariucci Arena opened.
Coming into this season, Shyiak plans to take these and other positives from last year and improve upon them.
"I really liked our first half; we started off real well," he said, before adding that the team still has many things to improve upon. "We've got to continue to do well at home — we had a winning record at home — and we've got to do better on the road and our special teams have to get better."
"Obviously we want to get out of the basement and improve in the standings in the league, so that's kind of where we're at right now."
Up Front
Though the Seawolves weren't the greatest offensively last year — ninth in the conference — they do have half of those aforementioned 10-goal scorers coming back in sophomores Paul Crowder and Josh Lunden, who also finished second and third on the team in points, respectively.
Senior Merit Waldrop, UAA's career leader in points with 41, also returns to add some veteran leadership, as do fellow seniors Peter Cartwright, Chris Tarkir and Blair Tassone. Shyiak hopes that at least one will step up to help assuage the loss of last year's leading scorer, Justin Bourne (10-21-31)
The team also gains a transfer in junior Brian Bales, who comes to the team from the CCHA's Bowling Green Falcons. Fans can also hope for immediate impact from freshmen Winston DayChief, Tommy Grant and Craig Parkinson, all of whom ranked among the top five in points on their respective junior teams last season.
On the Blue Line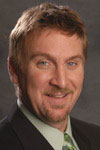 The Seawolves are probably the most set here, led by senior Luke Beaverson and junior Mat Robinson.
Look for the returning leading point-scoring defenseman, sophomore Nils Backstrom, to step it up offensively. The Swede is probably the Seawolves' best option to replace Chad Anderson's production last year, and will get the chance playing once again on the team's power play and penalty killing units.
In the Crease
Losing Nathan Lawson will hurt the Seawolves, but Shyiak is confident in sophomore Jon Olthius' capability to step up.
"Jonny Olthius is going to get thrown in there, but he did get 10-11 games last year and I thought he proved himself in some of those games so he's going to get the green light to be our main guy," he said.