The 2007-2008 CCHA: The Kids Are All Right
Our fourth-place team can beat your anyplace team.
So there. Phthhhhht!
Thanks to the sweet, improbable postseason juggernaut that was the 2006-07 Michigan State Spartans, CCHA fans can now in all good conscience make that claim, loudly and often … at least for another 185 or so days.
Why not? With their 3-1 win over the highly-favored Boston College Eagles, the Spartans brought a national championship back to the beleaguered CCHA for the first time since Michigan won in 1998, and broke the WCHA's five-year stranglehold on the NCAA title.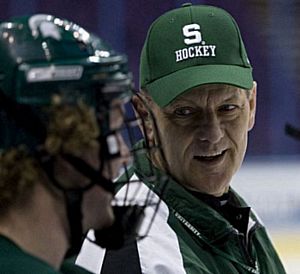 "The thing I'm most proud of is that we played our game," said Spartan head coach Rick Comley. "We beat people who had more tools than we did, and we beat teams with different styles."
And the case can be made that the Spartans gained the valuable experience they needed for that title run right in their own backyard, at home in the CCHA.
During the 2006-07 regular season, the Spartans lost at least once each to Bowling Green, Miami, Michigan, Notre Dame, Ohio State and Western Michigan, tied Nebraska-Omaha and Ferris State, took two one-goal games from Northern Michigan and Alaska, and one one-goal contest from Lake Superior State — and needed overtime for the Lakers and one of the meetings with the Nanooks.
MSU went 3-4-2 against league opponents in February to end the regular season and lost 5-2 to Michigan in the CCHA semifinals before the five-game run to the NCAA title that started with a win over Lake Superior in the CCHA third-place game.
The CCHA has long preached the power of parity, and no one has beaten that drum louder than Comley. At the start of the 2006-07 campaign, Comley said, "There's not a building that we go in, or a team that comes into our building that you don't have to fight for your life."
This year, with the most recent national championship to his credit and the rest of last season's results to back him up, Comley's rhetoric rings truer than it ever has. "I think you could take that [CCHA preseason] poll and turn it sideways because from what I've seen, every game is a one-goal game and you have no idea who's going to win on a given night."
Just ask Jerry York. Or Tim Whitehead. Or Jeff Jackson. Or Jack Parker.
Including MSU's 4-0 record en route to the championship, the CCHA went 6-2 in the NCAA tournament last year, a welcome turnaround from the league's past three postseason showings, during which the CCHA won just three NCAA tourney games. In 2005-06, the Spartans were the only one of four CCHA representatives to win an NCAA tournament contest, when the league went 1-4 in postseason. In 2004-05, with just two teams in the tourney, the CCHA was 1-2; with five representatives in 2003-04, it was 1-5.
National championships bring more than just bragging rights to a given league. Because of MSU's win, the CCHA gains a legitimacy it's been lacking for several seasons. Because of MSU's win, every team in the CCHA has one new pitch for recruiting. Because of MSU's win, every single team that played the Spartans so tightly at least once last season has a little more confidence — and that's every single team in the CCHA.
And because of MSU's win every team in the league knows just how hard it has to work to win a national championship, including the defending national champions themselves.
The Merry-Go-Round
In spite of Notre Dame's regular-season title and Mason Cup victory, and even though Miami has established itself as a steady presence near the top of the league standings, the CCHA is defined by its three tiers of citizenship: three or four teams at the top always including MSU and Michigan; six or so teams who will finish mere points apart in the middle and who all jockey for home ice; two clubs destined for league wins in the single digits.
In that respect, nothing changes this year.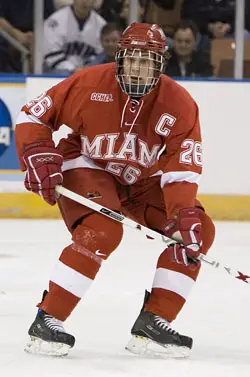 The Spartans have returned to prominence and although nearly everyone picked Michigan to finish below one of the top two spots, we all know that the Wolverines will be in the hunt. MSU, UM, Notre Dame, Miami … that leaves eight teams to wrestle for the rest, and realistically six teams to spin the wheel for Nos. 5 through 8 — or Nos. 3 through 8, if two of the projected top four find themselves among the mere mortals because of injuries or sketchy goaltending.
That is not to say, however, that top-tier status will be easy to maintain.
One of Ferris State's 10 league wins came at the expense of Notre Dame with the nearly unstoppable David Brown in net for the Irish. Sure, the Irish lost once in-season to the Spartans and once to the respectable Nebraska-Omaha Mavericks, but without their Hobey Baker finalist's .931 save percentage this year, two or three more league losses could make the difference between two weeks of playoffs and a first-round bye.
Miami is primed to have a dream season, but last year the second-place RedHawks took just one point in two games from 11th-place Alaska in Fairbanks.
Michigan — which struggled with goaltending all season but could score seemingly at will — lost six games in once-impenetrable Yost Arena and found itself congratulating last-place Bowling Green.
And we know about the Spartans.
Keep Away
What makes the league so exciting this year is the goaltending watch. Only three teams return goaltenders who had genuinely competitive league save percentages a year ago: Miami, Michigan State, and Western Michigan. Three others — Alaska, Michigan, Nebraska-Omaha — return goalies who were at times adequate.
Everyone else begins the season with an enormous question mark between the pipes. For some — Ohio State, Bowling Green — the question is whether their go-to men can improve enough to be more competitive. For others — Notre Dame, Lake Superior State — the question is one of replacing world-class netminding.
And for many teams, goaltending is often compounded by struggling defense. This has been the mark of many of the lower CCHA squads in the past several seasons, as most teams have figured out how to put together a competitive offense.
You're It!
Michigan State's NCAA title taught us one more very important lesson, the value of leadership. Before the tournament, no one — not even many among the CCHA faithful — knew who Chris Lawrence was or gave the Spartan fourth-liner and captain much thought. But Lawrence's intangible qualities became mightily apparent down the stretch, and now no one can question the single-goal scorer's contribution to the MSU championship last year.
Every team is looking for chemical magic, and each in surprisingly different ways. The Lakers, a team beaten down bodily but not spiritually last season, finished 2006-07 with just 19 skaters, and head coach Jim Roque is keeping his squad small this year for reasons that have as much to do with the locker room as any. The Buckeyes, too, were plagued by injuries last year, but head coach John Markell is carrying as many as 30 skaters this season, a roster that boasts nine native Ohioans, players who — as Markell likes to posit — will "play for the crest on their sweaters."
For any of the six teams not from Michigan, recruiting locally can be difficult. This year, five Nanooks proudly hail from the state of Alaska.
In all, this year's CCHA looks like it has a realistic chance to build on accomplishments from recent seasons, and not just those on the national level. While every coach and every team sets its sights on the NCAA tournament, the play within the league for the past two years has been first-rate, and that gives every fan something to cheer about.
What Michigan State, Miami, and Notre Dame may have shown us last year, however, is that the elevated play within the league may be translating into something even more exciting.
Maybe.
Here's a look at each team, in my predicted order of finish. Individual team previews can be accessed by clicking on each team's name. As always, my No. 1 pick is probably the kiss of death. My apologies in advance to the national champs, the city of East Lansing, and the whole state of Michigan.
Head coach: Rick Comley
2006-07 record: 26-13-3, 15-10-3 CCHA
2006-07 CCHA finish: fourth; defending NCAA champions
2007-08 predicted ceiling/basement: first/fourth
Ready to play: The Spartans return five of their six top goal scorers and the core of an entire championship team. "Well, another year and I think we're all excited about it," said Comley. "I think it's going to be a fun year." And what can be more fun than defending your title, with most of the kids you had in April?
Head coach: Enrico Blasi
2006-07 record: 24-14-4, 16-8-4 CCHA
2006-07 CCHA finish: third
2007-08 predicted ceiling/basement: first/fourth
Ready to play: Miami, too, returns a loaded team, including a goaltending tandem that arguably is the best in college hockey. "We're going to continue to focus on our daily improvement and worry about the things that we can control," said Blasi. That is the team's mantra, handed down by Blasi and embraced by every single person associated with RedHawk hockey. Obviously, it works.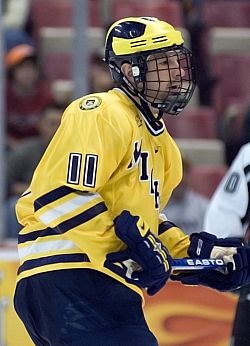 Head coach: Red Berenson
2006-07 record: 26-14-1, 18-9-1 CCHA
2006-07 CCHA finish: second
2007-08 predicted ceiling/basement: first/fourth
Ready to play: The Wolverines are fielding the largest rookie class in Berenson's tenure, but since when is that a worry at Michigan? "This will be a big year for Michigan in terms of a challenge," said Berenson, but it could be a big year for Michigan if the Wolverines are steady in net. Even though the cast of characters has changed a bit, the ability to score goals hasn't.
Head coach: Jeff Jackson
2006-07 record: 32-7-3, 24-4-3 CCHA
2006-07 CCHA finish: first
2007-08 predicted ceiling/basement: first/sixth
Ready to play: Now that the Irish have shown the world what they can do, the honeymoon will be over in South Bend. At a school with the athletic traditions of Notre Dame, the only way to go is up. "I would like to think we are going to have a great season this year," said Jackson, "and hopefully consistency will be part of building this program into something special." And what's good for the Irish is good for the CCHA.
Head coach: Mike Kemp
2006-07 record: 18-16-8, 13-11-4 CCHA
2006-07 CCHA finish: fifth
2007-08 predicted ceiling/basement: fourth/sixth
Ready to play: The Mavericks have lost some impressive firepower and experienced yet more turnover among the coaching staff, but Kemp and UNO have proven that if they have the potent combination of goaltending and chemistry, the Mavericks are a team that can do nearly anything. Said Kemp, "We have some big shoes to fill in our program losing Scott Parse, who was our four-time team MVP, three-time First Team All-CCHA selection, and holder of every scoring record in our school's history." Maybe so, but UNO has a lot of history yet to write.
Head coach: John Markell
2006-07 record: 15-17-5, 12-12-4 CCHA
2006-07 CCHA finish: seventh
2007-08 predicted ceiling/basement: fourth/eighth
Ready to play: With 14 rookies, this Ohio State team can fly completely under the radar with few expectations. "We want that youthful energy right now," said Markell. "Yeah, they're going to make mistakes. They're scared in a good way." Are Buckeye fans scared in a good way? There's more to this team than a large freshman class.
Head coach: Jim Culhane
2006-07 record: 18-18-1, 14-13-1 CCHA
2006-07 CCHA finish: sixth
2007-08 predicted ceiling/basement: fourth/eighth
Ready to play: In spite of the strides the WMU program seemed to take last season, the year ended on a down note when the Broncos lost their first-round playoff series to Alaska, two games to one. "You learn from your experiences," said Culhane. "We battled so hard to have home ice [that] we're left collectively with that as a program." The early departure of the league's Rookie of the Year is another blow, but what remains is more than solid.
Head coach: Bob Daniels
2006-07 record: 14-22-3, 10-16-2 CCHA
2006-07 CCHA finish: ninth
2007-08 predicted ceiling/basement: sixth/10th
Ready to play: This season, Ferris State is all about realizing potential. The second half of 2006-07 was good for the Bulldogs, who want to build on that momentum and find consistency in every position. Said Daniels, "Up front is the real question," but defensively FSU needs more solidarity as well. With a highly-touted incoming freshman goalie, however, the Bulldogs may realize more than expected.
Head coach: Jim Roque
2006-07 record: 21-19-3, 11-14-3 CCHA
2006-07 CCHA finish: eighth
2007-08 predicted ceiling/basement: sixth/10th
Ready to play: There's no question that the Lakers are one of the hardest-working teams in the CCHA, but how will their efforts translate without Jeff Jakaitis in net? "We've been blessed at Lake State with great goaltending for a lot of years," said Roque, "and I expect that to continue." But as with any team, goaltending only goes so far. Last year, even with the goaltender who had the second-best save percentage in the nation, the Lakers finished eighth in the league with the 11th-place offense.
Head coach: Walt Kyle
2006-07 record: 15-24-2, 10-17-1 CCHA
2006-07 CCHA finish: 10th
2007-08 predicted ceiling/basement: sixth/10th
Ready to play: The enigmatic Wildcats will continue to look for improvement this season in the same areas they addressed last year. NMU's roster includes just eight juniors and seniors. Said Kyle, "We have a group of upperclassmen … who are really unproven, haven't done a lot in their career, but we feel very comfortable with them." With a young team, some promising goaltending, and a good work ethic, the Wildcats are another squad that may exceed expectations.
Head coach: Scott Paluch
2006-07 record: 7-29-2, 5-22-1 CCHA
2006-07 CCHA finish: 12th
2007-08 predicted ceiling/basement: eighth/12th
Ready to play: With just five league wins last season and 13 for the past two campaigns, the Falcons are well aware of their cellar-dwelling status. This is a team that needs statistical improvement in every area; there can be no more moral victories for BGSU. "We put ourselves in that situation, and now it's our responsibility to get us out," said Paluch. From the net on out, there's nothing left to do but improve — and soon.
Head coach: Doc DelCastillo
2006-07 record: 11-22-6, 7-16-5 CCHA
2006-07 CCHA finish: 11th
2007-08 predicted ceiling/basement: eighth/12th
Ready to play: Everyone knows that Alaska has talent, but it is, as always, consistency that is an issue for the Nanooks. A new head coach can bring much-needed freshness to any program, but that would imply that the departed coach, Tavis MacMillan, was problematic — and he wasn't. "It's kind of a transition time for myself and a transition time for the team," said DelCastillo, who comes to Fairbanks with a solid pedigree.