While every team in the league taught us something during the 2006-07 season, Michigan State showed us two universal truths:
1. Rick Comley is psychic.
"I think in our locker room, we believe in what's there. We believe that we have the opportunity to be a good team, we believe that if we go through the process properly and if we do everything it takes to be a good team by the end of the year, then we'll be rewarded."
So said Comley at the beginning of the 2006-07 season.
2. I am psychic.
"Before the early departure of Spartan captain Drew Miller, I would have put money (were I a betting woman) on Michigan State in the 2007 NCAA title game. And I'm still not convinced they won't get there."
So said I, at the beginning of the 2006-07 season.
Why didn't I go to Vegas?
No, this isn't an I-told-you-so moment, because very few CCHA and MSU fans took for granted what transpired in St. Louis. After all, the Spartans took a brief detour to end their regular season, finished fourth in the league standings, and lost their CCHA semifinal game.
So, what else have we learned? Chemistry may be the most important, intangible, unteachable thing a championship team needs.
Follow the Leader
Anyone who spent 30 seconds with last year's Spartan captain, Chris Lawrence, could see why he made such a great leader. For one thing, Lawrence never took for granted his college hockey experience.
At the press conference following MSU's defeat of Boston College, Lawrence did something I'd never seen a winning captain do: he hoisted the trophy up and plopped it onto the table for all to see. Then he told the story of how he bawled his eyes out that morning, realizing that this was to be the last game of hockey he'd play at this high a level.
Then he told us that his teammates gave him grief for the tears.
It was typical Michigan State hockey, and no question an attitude that filters down from above.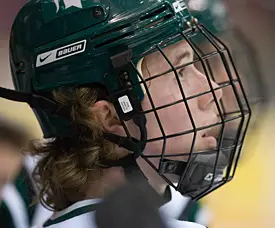 It's Comley who is more relaxed in his approach these days, reveling in the resources a Big Ten school has to offer, sharing the joy of the birth of his granddaughter with the college hockey community, smiling readily, speaking confidently. Comley was never high-maintenance and he remains fiercely competitive, but the ease and security that have come with a certain age (that would be 29, for those of you keeping track at home) wear well on Comley, and this self-possession tempers the whole, unpretentious Spartan program.
That's no easy feat at a school like Michigan State, and one of the reasons why many of us had psychic inklings when Comley took the helm.
Red Light, Green Light
The Spartans return every eligible player from last season but one. Although would-be senior Jim McKenzie signed with Ottawa, returning such a talented group from last year's title team gives MSU every chance to contend for a conference championship and perhaps do more postseason damage.
The Spartans' best and most underrated weapon is junior goaltender Jeff Lerg, whose .913 overall save percentage may not have compared, on paper, to the likes of the Hockey East giants he toppled in the NCAA tournament, but whose .949 postseason save percentage spoke volumes. Lerg is good goaltender who rises to heights of tournament greatness, and for a guy dismissed for his height, he doesn't carry a hint of Napoleonic attitude.
Lerg's cousin, senior Bryan, returns as the team's leading goal-scorer, and every Spartan but McKenzie who produced goals in the double digits last season returns for another go.
Defensemen Tyler Howells and Chris Snavely are done with their collegiate careers, but the Spartans bring 19-year-old Jeff Petry to the blue line. Petry had 18 goals for the Des Moines Buccaneers (USHL) in 48 games last season. A second-round pick by the Edmonton Oilers in 2006, Petry is the son of former major-league pitcher Dan Petry, who won a World Series with Detroit in 1984 … three years before his Spartan son was born.
Comley made the comment that this year's Miami RedHawks are a team made for this season, but there can be no other team better poised for success than this year's Spartans.
"I think it's going to be a fun year," said Comley.
Home Free
And it's a good thing, too. At a school like Michigan State, the only good follow-up to a national championship is another one — or at least another run at one.
"I do like my returning team," said Comley, "but we have a lot to prove, as you do every year."
It's Comley who has been preaching the parity in the CCHA for years, and his vigilance may pay off with a team that knows it won a national championship, but also knows what it had to do to get there.
"We enjoyed winning, we're confident, we believe in ourselves, but if we don't play hard, we can lose to anyone on any given night," said Comley, whose Spartans went 3-4-2 in February of last year to end the regular season.
"I know what the chart says, but I just think it's going to be a heck of a year," said Comley. "You better play well every night, or you're going to lose hockey games."