What can you say about a team that emerged from relative obscurity to capture both the regular and postseason 2006-07 CCHA championships? Two things:
1. How can Notre Dame survive without goaltender David Brown?
Brown had the best goals-against average (1.58),second-best save percentage (.931) and top win percentage (.808) in the nation last year.
2. How can anyone say that Notre Dame's success was due solely to Brown's career season?
While Brown had the year of his career last season, one critical number of his wasn't far off from 2005-06, when Notre Dame went 13-19-4. His save percentage for that year was .915, and in his rookie year it was .925.
Sure, in Brown's sophomore year, his save percentage was .870, but he was splitting time in net that year and the Irish — with just five wins overall in 2004-05, Dave Poulin's last year as head coach — were completely lost that season.
Without taking anything away from Brown's contributions, there can be no question that Notre Dame was more than the sum of David Brown last season.
Follow the Leader
There can also be no underestimating the impact of the coaching change on Notre Dame hockey. In just his second season, Jeff Jackson took a team that had had five wins just two seasons before to the No. 1 spot in the league, a feat that had been accomplished only three times in league history.
Jackson brought former Providence coach Paul Pooley to South Bend with him, and wisely kept long-time Irish assistant Andy Slaggert, who is responsible for recruiting Brown and most of the other guys who contributed to UND's Cinderella year.
"There are a lot of positive things going on in the hockey program," said Jackson. "I would like to think we are going to have a great season this year and hopefully consistency will be part of building this program into something special."
Red Light, Green Light
In addition to Brown, the Irish also lost seven other contributing seniors, including half their defensemen, among them Wes O'Neill.
The only offense that exited was forward Jason Paige, whose 11 goals and 11 assists gave the senior a career season of his own.
"We did lose seven seniors that all played a regular place in our lineup and will be difficult to replace from a character standpoint, leadership standpoint," said Jackson.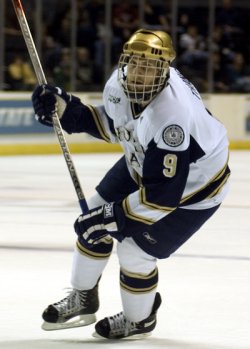 The players who remain, however, are solid citizens. The top five Irish scorers return, including juniors Erik Condra and Garrett Regan, senior Mark Van Guilder and sophomores Kevin Deeth and Ryan Thang. Condra is the leading returning scorer.
Newcomers up front include Robin Bergman, who had 26 goals in 52 games for Cedar Rapids (USHL) and Christiaan Minella, who had 24 goals for Sioux City (USHL) last season.
"Last year is behind us and we have a really strong returning group of forwards," said Jackson. "We are just as excited about the incoming freshman class that we have coming in. That should give us some stability, I'm sure with a few bumps early on, to try and improve our back end with a couple freshman defensemen and young goaltending.
"We are excited about the prospects up front with Erik Condra, Ryan Thang. Kevin Deeth and Mark Van Guilder returning."
The Irish fielded the best defense in college hockey last season, and while O'Neill is a genuine loss for Notre Dame, UND has some more than one weapon at the blue line, too.
"On the back side, I think that Kyle Lawson and Brock Sheahan will be two of the better [defensemen] in the conference," said Jackson.
And even though the Irish proved they were more than just David Brown in net, they still have to replace David Brown in net.
"We expect our goaltending to be good," said Jackson. "I think Jordan Pearce, a junior, is somebody that has potential to be a great goaltender in the CCHA. We have an outstanding freshman in Brad Phillips that we think will be good in time."
Joining Pearce (.895 SV%, 2.01 GAA) and sophomore Tom O'Brien — who saw no play his rookie year — will be rookie Brad Phillips. Phillips, who was a seventh-round draft pick for Philadelphia this year, went 15-15-2 with the U.S. Under-18 team last season, with a .912 save percentage and a 2.33 goals-against average.
Home Free
The Fighting Irish made the Joyce Center a difficult place for any opponent last year, losing at home just twice, and tying twice. This year, with an experienced team that now knows how to win, South Bend will be an equally difficult road trip for CCHA opponents.
But think what it will be like in the near future.
"We are excited about the prospects and we are excited about a new building in the next couple of years," said Jackson.
Ah! A new building for the new Irish. And yet another selling point for the CCHA.