Had Boston College goaltender Cory Schneider returned for his senior year, the Eagles would have been the near-prohibitive favorite to win Hockey East and potentially the team to beat nationally. Even with Schneider's departure for the pros, they are the league co-favorites with New Hampshire based on a stellar group of forwards and solid, veteran blueliners.
"We have to see how everything goes as far as chemistry, as far as injury and as far as all the intangibles," BC coach Jerry York says, "[but] on paper, this is a team that certainly holds their own with the ones I've coached over last few years."
That's saying a lot since the Eagles have made the NCAA tournament the last five seasons, the Frozen Four the last three, and the national championship game the last two.
"We have some really top-end offensive players and we're very solid defensively," York says. "I think [freshman goaltender] Johnny [Muse] is going to give us enough strength in goal."
Up front there's considerable firepower. Juniors Nathan Gerbe, Benn Ferriero and Brock Bradford all return having scored at least 45 points last season.
"[They] highlight an outstanding junior class for us," York says. "They've had a lot of the big game atmosphere over the last few years. I also think that the senior Danny Bertram is ready for a breakout year. He'll be a real leader."
Not to mention sophomore Ben Smith, who took off after assuming a larger role when Brian Boyle moved to defense, scoring ten points over the final eight games.
Not counting Boyle's late-season switch to the blue line, BC returns all seven of its defensemen from last year. Senior captain Mike Brennan leads a veteran group of fellow-senior Brian O'Hanley, juniors Brett Motherwell, Anthony Aiello, Tim Filangieri and Tim Kunes, as well as sophomore Carl Sneep.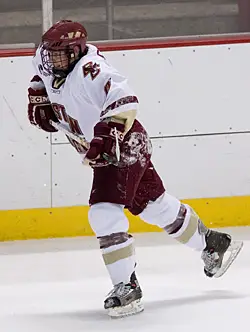 "We're very solid defensively," York says. "Our captain Mike Brennan is just rock solid on defense and has the chance to become one of the really significant captains at BC."
As if that weren't enough depth, the group will be augmented by freshman Nick Petrecki, an NHL first-round pick. File that one under: The Rich Get Richer.
"I would think that Nick will evolve into a pretty good player during his freshman year," York says. "He brings a lot of size and strength. He's got a chance to become a very good player for us."
The focus, however, will be on freshman goaltender John Muse. He's no last-minute band-aid brought in to replace Schneider. BC recruited Muse hard with the understanding that he'd play a year of juniors if Schneider returned (so as to not burn a year of eligibility), but come right away if Schneider turned pro.
"He's our key recruit out of that class," York says. "I think he's going to be a significant player for us. He's got a good frame of mind. He's ready for it. He's excited about it.
"He reminds me a little bit of Scott Clemmensen when he came in as a freshman. Matti Kaltiainen played a lot as a freshman. So it's not unusual that a freshman can step in and play well. We think Johnny can do that."
An opening three-game gauntlet of Michigan, Minnesota (if it defeats Rensselaer) and North Dakota beckons. Baptism by fire for Muse; a stern reality check for the veterans.
"It's good for the team," York says. "We've got to get prepared for Hockey East and the challenges it has."