The Red Cedar River runs through campus no matter how hot or cold it is in East Lansing.
As much can be said for the pulse of Michigan State hockey, which is a year-round passion in the town that had produced five Millers (two of whom won the Hobey Baker Memorial Award) and two national championships going into the 2006-07 season.
A few years ago, that pulse flatlined a bit. The most recognizable face of the program, Ron Mason, had stepped aside to become the athletic director. Several candidates were out there. Michigan State alum and national title-winning coach Jeff Jackson was available, but the job went to Rick Comley. People were nervous.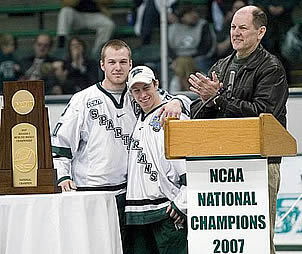 Comley, who has made his fame as a hockey coach despite being a great baseball player as a kid in Ontario, took the job from a legend. As the joke goes in college sports, don't follow a legend, follow a cheater. The logic is that you'll never eclipse the legend, but the cheater probably will have left you some great players to start with.
Mason was a legend, the all-time record-holder for wins by a coach in the history of college hockey. However, he and his protégé, Comley, had the same number of national title rings. Comley's Wildcats of Northern Michigan had slain the big bad Boston University Terriers to start the 90's. The little guy from the little school on the banks of the Gitchee Gumee in Michigan's Upper Peninsula had the same amount of success as the mighty Spartans from downstate in the same time period.
When Mason hired him, it somewhat fulfilled a prophecy for Comley. He figured he and Mason, for whom he played his college hockey for at Lake Superior, would coach together one day, with Ron as the head coach and Rick as his assistant. Sounded great, the teacher and the student united for a last go-around before they retired.
The student took over, and now five years later, he has taught everyone a lesson. Like Mike Eaves did at Wisconsin, Comley calmly replaced players on the roster with players he recruited that fit his vision and style. Out with the old, in with the new. Five years later, Michigan State was once again a national champion after a 21-year hiatus. For Comley, whose team knocked out BU, Notre Dame, Maine and Boston College, it justified the trust that the administration had put in him.
It also presented him with a challenge, one that he had not dealt with for 17 seasons. He entered the season as the defending national champion. That takes a special mindset to handle, and the challenge was not to downplay it with his team while not sitting there and focusing on being the defending national champion.
"Last year, we weren't the best team over 40 games," said Comley, who is prepping his squad for a mid-season test from Notre Dame in a home-and-home series this weekend. "We were the best over the last four."
MSU put it together at the right time. While not loaded with a roster of NHL players (and having lost David Booth to graduation and Drew Miller to early departure), the Spartans built around a diminutive asthmatic goalie in Jeff Lerg and a dynamic line of three juniors in Tim Kennedy, Justin Abdelkader, and Tim Crowder. Lerg's cousin Bryan, a gifted left winger, became the embodiment of the work ethic that MSU relied on to win it all.
Comley knows the deal and he knows how to run a hockey team. He is not panicking but realizes that Miami, Michigan and Notre Dame have demonstrated that they will be major obstacles in the road. Comley wants to be in a position where he is not looking at an at-large bid. He wants to know in early March that his Spartans will be one of 16 competing for that national title that he owns at the moment.
Comley's guys have had as good a first half as he has had at Michigan State. He has had great second halves. He has the ingredients to make another run, despite the feeling that he is missing the business-like demeanor that his team had last season.
This could be MSU's year again, but Denver, CC, North Dakota, UNH, Northeastern, Miami, Michigan and Notre Dame all pose threats to a repeat. Comley said in the preseason that he was focused on becoming a really good team, and feels they are not far from that. However, he has not downplayed the national title run to his team.
"Who wouldn't use that intangible to get your point across?" Comley asked. "The great thing is when watching film with the players, or in a meeting regarding our play, I can say we did x, y and z when we beat Boston College or Maine in April, but we're not doing it now. That's an advantage a lot of coaches would want."
Comley is not cocky, he is confident. He isn't rah rah, but he is emotional. His best quality is his honesty and his ability to hold people accountable, and that is why his teams have been successful at MSU. He once told me that if players play to the level he thinks they can, there will never be a problem between coach and player. Last April, they did.
He doesn't want to make people forget Ron Mason. He doesn't want people to forget his era of MSU hockey, the era of Kip Miller, Rod Brind'Amour, Joe Murphy and Craig Simpson. What he wanted to do was show the administration that the faith they had in him was justified, and that was most of the smile he flashed on the ice in the aftermath of their dramatic win over Boston College in St. Louis last April.
The second half tells a lot about Michigan State. They have a lot of Notre Dame and Michigan and they have some ground to make up. One thing they do have is a coach who has been there. There is no way you rule out that he won't be there again.
Comley has achieved what he wanted to at MSU, to an extent. Don't think for one second he is satisfied. His eyes are on another national championship.
From where he sits, he doesn't have to look far.