Wayne State has never had a true home rink and last weekend added to the list of places it has called home with a game at the Palace of Auburn Hills.
Located 45 minutes north of Detroit, the Palace houses the NBA's Detroit Pistons and WNBA's Detroit Shock and is more of a concert venue than a hockey rink.
Last Saturday, the Warriors played Niagara in the first game of the College Hockey Faceoff and got out to a 4-1 lead in the second period — and wound up losing, 6-5.
"Being down 4-1 was not the ideal spot to be in on the road," NU head coach Dave Burkholder said. "But our two captains led us like they have all year."
Those two captains — senior Matt Caruana and junior Vince Rocco — combined to figure in five of the Purple Eagles' goals and singlehandedly took over the game from early in the middle period on.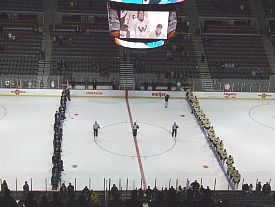 "Me and 'Rocc' need to lead this team and they followed us tonight," Caruana said Saturday. "The past couple weeks we've split with teams and we knew we had to step it up this second night. We came together."
"Winning the third period was the turning point when we went in only down 4-3," said Rocco. "I stood up in the room after the second and basically said it's time. (Goalie Juliano Pagliero) played well and has been great for us. We've had slow starts all year and tonight, Wayne State capitalized, but we never had the feeling of being out of this game. Not once."
Freshman Adam Avramenko started in net for Niagara, but was pulled after Stavros Paskaris' second goal made the game 4-1 five minutes into the second period.
"I've played long enough to know what's expected of me when the coach gives you that look and says, 'You're in,'" Pagliero said. "You just turn a switch and get out there. I don't know that me coming in had anything to do (with rallying), but we responded and it triggered something."
Tyler Ruel and Derek Punches scored in the first period for WSU with a Kyle Rogers goal sandwiched in the middle. Paskaris then scored his pair, followed by two from Rocco.
"That line (Caruana-Rocco-Kyle Rogers) won the game for us," Burkholder said. "And it was good to see (Les) Reaney get off the schneid. We've been on Caruana and Rocco to be more consistent and looking at their stats, you might not think that they have been. But to respond they way they did tonight, that just shows you what kind of leaders those guys are."
Ryan Annesley and Caruana scored in a 1:26 span early in the second and Reaney added an insurance goal before Derek Bachynski brought the Warriors to within a goal at 18:16. It was Pagliero's only goal he allowed and he finished with 14 saves.
"In the second, we just let them back in it," WSU head coach Bill Wilkinson said. "Then there was a gap in the third where we just couldn't shut them down, couldn't defend, couldn't do anything. This loss will hurt because we had the game under control and just gave them opportunities. We won't dwell on this and we'll continue to build in practice. We can't rest. We'll get ready to play again."
Freshman Mike Devoney, who beat Northern Michigan in his first two NCAA starts two weeks ago, took the loss in goal making 17 stops and was out of position for a couple goals and bailed out by his defensemen (including a Matt Krug sliding stop) on several others.
"You can't blame Mike," added Wilkinson. "No one was used to this rink and the bounces, so no, I'm not disappointed in the way Mike played."
The rink, constructed for the WSU-NU game and the Michigan-Notre Dame nightcap, was nearly empty for the CHA game, but filled up nicely for the CCHA contest. Still, the on-ice conditions were average at best.
"The ice was choppy after the first 10 minutes or so," noted Caruana. "You just try and get the puck deep and not get too fancy."
"There's no NHL team here (the IHL's Detroit Vipers played there from 1994-2001), but it's an NHL-style building and I think all the kids enjoyed the experience," Wilkinson said.
Friday night, Armando Scarlato scored with 2:49 to play to give Niagara its first comeback win of the weekend.
"We gutted out two games this weekend," added Burkholder. "We stuck to our game plan both nights."
Wayne State hosts Alabama-Huntsville this weekend at the Taylor SportsPlex and NU travels to face No. 12 Quinnipiac.
"It'll be good to get back to ECAC play," said Burkholder. "They have one of the nicer buildings in the NCAA and hopefully, this sweep of Wayne State can start us on a roll."
UAH Gets First Home Win Of '07-08
It took a reunion of the 1998 Alabama-Huntsville Division II national championship team to inspire the 2007-2008 team to get their first home win of the season last Saturday night.
The Chargers played with the fire and grit the '98 team did and rallied for a 3-2 comeback win over visiting Yale. It was UAH's first win at home since beating Niagara March 2, 2007.
Captain Scott Kalinchuk scored in the first period, but then UAH went down 2-1 going into the third period.
Matt Sweazey and Joe Federoff scored on separate power plays in the third period to give UAH the win. Blake MacNicol picked up the win in net with a solid 30-save performance.
"We got into a goofy setup that kind of worked," Alabama-Huntsville head coach Danton Cole told USCHO. "We put our forward in a different place and we just kept working the puck around until we found a guy in the right place.
"They feel pretty good. I'm more excited for them than I am for the win. Last weekend (against Bemidji State) was tough, but they rebounded well."
Friday night, Yale started the series with a 3-2 win of its own.
Wearing black and blue third jerseys as part of a team fundraiser, UAH got goals from Kalinchuk and Chris Fairbanks (first collegiate goal) and 27 saves from MacNicol.
"We did most things quite a bit better," Cole said to USCHO. "In the end, though, there's another word for coming close: losing. It's tough on our guys, because they haven't won a lot, but they went down 2-0 and didn't bat an eye."
Beavers Beaten In Colorado
Bemidji State traveled to Colorado last weekend to face two top-five national powers in Colorado College and Denver.
The Beavers didn't win, but played well enough to win both and even had a third-period lead against Colorado College.
Bemidji State sophomore forward Chris McKelvie recorded the first natural hat trick at BSU in more than 50 years, but it was not enough as No. 3 Colorado College erased a 4-2 deficit with a trio of third-period goals to escape with a 5-4 victory Friday night.
The last time the Beavers faced the Tigers was just a year ago when BSU split with the then-No. 8 Tigers.
"Sure, it's disappointing," Beavers head coach Tom Serratore said. "Any time you lose a 4-2 lead going into the third period, it is unacceptable. I don't care who you are playing."
Heading into the second period, the Beavers trailed 2-1, but 5:31 into the stanza, McKelvie netted his fourth goal of the season to kick-start the three-goal outing. He added two more before the 19:19 mark of the second to record the fastest natural hat trick in BSU history since Rich Budge scored three goals in a span of 11:25 on Jan. 30, 1966.
"Chris played well," said Serratore. "His goals were all gutty goals, well-earned and well-deserved. He had a heck of a game."
Emil Billberg scored BSU's other goal and Matt Dalton posted 24 saves.
Tyler Scofield and Blaine Jarvis each scored Saturday night in a 4-2 loss against the No. 4-ranked Pioneers.
"Give credit where credit is due," Serratore said. "(Denver) is a good hockey team. They are big and strong and tough down low. We had some good play tonight, but they were the better hockey team."
Orlando Alamano turned away 28 DU shots in the loss.
Two More Warriors To Transfer
Just a week after word that WSU defenseman Matt Krug will transfer to Robert Morris leaked, it appears he'll be joined by current Warrior freshman defenseman Brock Meadows in Pittsburgh.
With the Colonials losing six senior defensemen after this season, Krug, Meadows and current Robert Morris freshman Denny Urban will suddenly find themselves in go-to roles for RMU.
Wayne State freshman defenseman Eric Roman, who earned his first NCAA point with an assist last Saturday against Niagara, has reportedly committed to D-III Adrian College in the MCHA. Adrian, a first-year hockey program, has a brand-spanking-new arena on campus, the Arrington Ice Arena, and was No. 13 in the USCHO D-III poll this week.
Roman will join former junior teammate Justin Stadler on the Bulldogs. Both played in the North American Hockey League last season for the Alpena IceDiggers.
Due to NCAA regulations, no one can formally comment on the transfers until the said players enroll at their respective new schools.
BSU, WCHA Schedule Agreement
Bemidji State University and the WCHA announced last Friday a future scheduling agreement involving the Bemidji State men's hockey program that, if nothing else, gives the Beavers hope for a future in the WCHA.
Beginning with the 2010-2011 season, and in conjunction with the opening of the Bemidji Regional Events Center, the WCHA will include in its annual composite schedule guaranteed home contests at Bemidji State.
"We're pleased that we have been able to successfully pursue this agreement with the WCHA," Bemidji State president Dr. Jon Quistgaard said. "We view this agreement as the first step in developing an even closer relationship between Bemidji State University and the Western Collegiate Hockey Association."
"This is a positive step for Bemidji State University and its hockey program," said BSU director of athletics Dr. Rick Goeb. "It helps us in reaching our goal of attaining more home games and additional games against the one of the premier hockey conferences in the country — the WCHA."
It is Bemidji State's goal to play an annual 12-game nonconference schedule against members of the WCHA with an even split of home and road contests, but no specific details regarding the scheduling agreement have been finalized.
CHA Rumors Abound
The future of the CHA may be resting in Atlantic Hockey's hands as rumors are out there that two unnamed schools (reportedly Mercyhurst and Canisius) may flee the AHA and join Alabama-Huntsville, Bemidji State, Niagara and Robert Morris next season.
CHA commissioner Bob Peters was on KKBJ's "Sports In The Round" show Wednesday night and made mention of this scenario, but did not mention which two AHA schools would potentially join the CHA.
As always, stay tuned to this slow-developing situation.
USCHO.com/CSTV Poll
(Jan. 21, 2008)
Niagara and Bemidji State received votes.
Players of the Week
(Jan. 21, 2008)
Offensive
Vince Rocco, NU
Rocco recorded six points in Niagara's sweep at Wayne State. He had the game-winning assist as the Purple Eagles rallied from a 2-1 deficit for the win on Friday and then was part of five consecutive Niagara goals in Saturday's come-from-behind victory. He assisted on NU's first goal, scored the next two and then assisted on the fourth and fifth markers. He finished the weekend with a plus-minus rating of +4.
Defensive
Armando Scarlato, NU
In Friday's victory, he scored the game-winning goal that snapped a 2-2 deadlock late in the third period. After NU fell behind on Saturday, he assisted on the Purple Eagles' first goal. Scarlato finished the weekend with a +3 plus-minus rating.
Rookie
Andrew Coburn, UAH
Coburn tallied three assists and five shots on goal in the Chargers' split with Yale. He assisted on UAH's first goal on Friday then recorded two assists on Saturday including one on the game-winning goal.