No lengthy intro needed this week — it's tournament time!
Let's see what the crystal ball reveals this year. The one used last year was sent back to the manufacturer labeled "defective" as it failed to predict an Alabama-Huntsville championship run.
Here are the facts: The winner of the tournament this weekend at Niagara gets an automatic bid to the NCAA tournament. Prior to UAH winning last year, Bemidji State, this year's Peters Cup regular-season champions, won in 2005 and 2006 and Niagara went to the dance in 2004. Wayne State had its dynasty from 2001-2003.
So what happens this year? Here goes nothing …
Friday
No. 4 Wayne State vs. No. 5 Alabama-Huntsville
The Warriors' final hurrah? They were 3-1 this season versus the Chargers, but only outscored UAH by a 12-10 margin. It's hard to see WSU going down here as the non-seniors will no doubt be feeling the desperation in the air. Alabama-Huntsville had a rough year, but in a year or so, the Chargers won't be in the play-in game.
Pick: Wayne State advances to play another day.
Saturday
No. 1 Bemidji State vs. WSU/UAH winner (Wayne State)
BSU played both WSU and UAH six times this season due to the unbalanced schedule and went 5-0-1 versus Huntsville and 4-2 against the Warriors. The clock strikes midnight for the Warriors here, though, and this writer blares Scandal's "The Warrior" in the basement all night. Bemidji State isn't a top team year after year for nothing and with extra rest, the Beavers stick to the game plan and play the Randy Orton role of legend killer by disposing of Wayne State.
Pick: Bemidji State moves on to the finals.
No. 2 Niagara vs. No. 3 Robert Morris
The marquee game of the weekend no question. NU won the six-game season series with a sweep two weeks ago. RMU may not have lived up to expectations this year, but the tournament is a different animal. This game will come down to a battle of special teams and goaltending. The Purple Eagles have had success with both, but so have the Colonials. This game is hard to call, but the Purps end the careers of the 14 RMU seniors.
Pick: Niagara squeaks by.
Sunday
No. 1 Bemidji State vs. No. 2 Niagara
Watch this game and tell me why the future of the CHA is in trouble. It's No. 1 and No. 2 for league supremacy. You've got the class of the CHA going at it here and 60 minutes may not be enough. Juliano Pagliero vs. Matt Climie in net — it doesn't get any better. Each team scored 71 goals in conference play this season, yet Niagara scored 118 goals overall — 22 more than the Beavers. To reiterate — three full periods will not solve a thing.
Pick: The Purple Eagles take the championship in a dramatic double overtime classic. A 1-0 or 2-1 final score sounds about right.
Wayne State Splits Last Home Series
Wayne State looked like it would close the regular season on a high note after taking a 3-2 win Friday night in overtime against Niagara.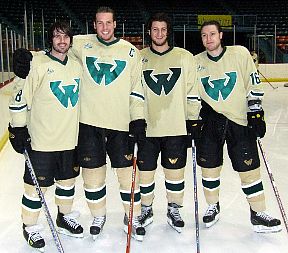 Then came the 7-3 drubbing Saturday night and it was business as usual for the Warriors — losing games and as soon as the tournament ends, losing a program.
During Saturday's game, there was a brief pregame ceremony with a plaque presented to WSU head coach Bill Wilkinson by Dennis Denno from state senator Buzz Thomas' office.
And that was it. No ceremonial puck drop. No celebration. No fireworks. No sendoff music at the end of the game (well, sort of — keep reading). Not even an appearance from the school's president or athletic director.
"It was very somber," said former Wayne State captain Keith Stanich, who attended the game with a handful of ex-WSU players. "It was the exact opposite of the first game we ever played here (standing room-only, wall-to-wall media, lengthy opening ceremony). Tonight was just very somber."
It's also hard to get amped up with only 375 fans (if that) in a building that holds 5,600 for the last-ever home game. Hey, at least the Chuck-A-Puck winner took home $88. Longtime public address announcer Tom Balog's rousing rendition of "New York, New York" was a nice touch, too.
The game Friday, won on a Derek Punches goal 79 seconds into the extra period, came on the heels of an article in that morning's Detroit Free Press that discussed a possible Wayne State-Detroit Red Wings partnership that would fund a rink on campus.
The article and the idea surrounding it did not impress Wilkinson.
"The mentality of the administration was not pro-athletics," Wilkinson said in the paper. "Not just hockey — athletics."
The Warriors snapped a three-game skid overall and a five-game winless streak against the Purple Eagles dating back to February 2007 with the Punches heroics.
Brock Meadows had a goal and an assist and senior Stavros Paskaris extended his point streak to seven games with a helper on Punches' game-winner. WSU captain Mike Forgie also scored for the Warriors to go along with a 19-save outing from goalie Brett Bothwell.
"It was a good confidence-builder (for the tournament)," Wilkinson said. "The last two times we lost to them 6-5 and 3-2, two one-goal games, and tonight another one-goal game. It was good to have us come out on the right end of it."
Ted Cook and Egor Mironov scored NU's goals, Tyler Gotto added two helpers and Adam Avramenko totaled 28 saves for the Purple Eagles.
Saturday night, Niagara scored three goals in the first period en route to the win that brought NU to 20 wins on the season, the third team in the last five seasons to do so.
Cook, Paul Zanette and David Ross each tallied a pair for the Purple Eagles with Mironov adding a solo.
Niagara was outshot 40-21 over the three periods. Juliano Pagliero got the start and the win, making 31 saves over two periods before Avramenko entered the game.
Vince Rocco, Ryan Annesley and Derek Foam both had two assists for Niagara.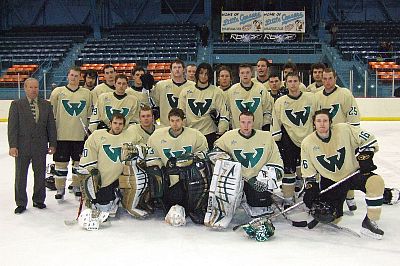 "Offensively, we worked really hard and most nights when you work hard you sometimes get the bounces and they went our way tonight," said Niagara head coach Dave Burkholder. "Offensively, we didn't have a lot of grade-'A's,' but the ones we did we certainly made the most of."
Punches, Derek Bachynski and Tylor Michel each lit the lamp for the Warriors, while Paskaris assisted on all three and Jeff Caister notched a pair of helpers. Bothwell steered aside just 14 shots.
The mood in the locker room Saturday night was like what Stanich said. The players wished a better fate was in the cards.
"It seemed like we scored a goal and they came right back down and put another in the net," Paskaris said after the game. "That's going to kill you when you score a goal and they come back the next shift and put one back in."
As a side note, NU's second-leading scorer Matt Caruana was held without a point against Wayne State all weekend.
Does it all end this weekend, or does WSU put on the glass slipper?
All bets point to the Warriors riding out barefoot.
Colonials Take 3 Of 4 From UAH
Robert Morris sent its 14-member senior class out with three points last weekend with a win and a tie against Alabama-Huntsville.
The Colonials used five second-period goals to defeat the Chargers, 5-2, Friday night and recorded its single-season record 15th victory.
Branden Gay, Jason Towsley, Denny Urban, Logan Bittle and Ryan Cruthers scored for RMU in the middle period with Urban and Bittle tallying on a five-minute major to Brennan Barker.
Neil Ruffini, captain Scott Kalinchuk and Andrew Coburn were UAH's goal scorers.
Joel Gasper was called for a five-minute major with 1:57 left on the clock for checking from behind, but UAH could not capitalize.
Christian Boucher earned his 15th victory of the season, making 20 saves on 23 shots for the Colonials and added an assist.
Cam Talbot and Blake MacNicol made 26 saves for Alabama-Huntsville.
Saturday night, the Colonials took advantage of the momentum they gained from the pregame senior ceremony by jumping on top of the Chargers, 2-0, with a pair of goals just 19 seconds apart. Nathan Longpre and Cruthers did the job for RMU.
Kyle Goodchild and Matt Sweazey scored to take the tie for UAH, with Sweazey's coming at 17:47 of the third period.
Boucher made 27 saves, while MacNicol stopped 36. MacNicol matched his season high with 36 saves marking the 12th time this season that he has made 30-plus saves.
Beavers Score Another Outlaw, Two Canucks
North Iowa Outlaws defenseman Tyler Jundt has verbally committed to play for Bemidji State next season and will join teammate Shea Walters with the Beavers.
In the process, the Williston, N.D., native becomes the first Outlaw this season to commit to a Division I school and the latest in a long line of North American Hockey League skaters to go D-I.
"Tyler is a very deserving player and has worked a long time to earn a Division I scholarship," Outlaws head coach Dave Boitz said. "I think he has all the attributes to play and succeed at the next level. Bemidji is getting a great player and young man."
For Jundt, the chance to play NCAA Division I hockey is a dream come true, and he hopes the Beavers will be successful in their bid to join the WCHA.
"I grew up in North Dakota, so playing for the Fighting Sioux was always a dream, but a program like Bemidji State is second to none," said Jundt. "I'm looking forward to playing for the Beavers and against some tough competition."
Jundt added that the coaching staff, campus, school and team all factored into his decision and it's nice to get the burden off his back.
"I went there on a visit (in late February) and really enjoyed myself," Jundt said. "My visit with the coaching staff was great and I really liked the direction of the program. The rest of the visit with players, school officials and just walking around the campus made my decision easy.
"It's just nice to know where I'll be next season and that will help me focus more for what we want to accomplish this season as a team."
Goalie Dan Bakala (Calgary Royals, Alberta Junior Hockey League) and forward Brent Tamane (Toronto Jr. Canadiens, Ontario Provincial Junior Hockey League) this week also committed to the Beavers for this fall.
Tamane, 20, registered 26 goals and 60 points in 40 games in Toronto, including five power-play goals, a dozen power-play assists, three game-winning goals and three shorthanded helpers.
On a bad Calgary team, Bakala was the goalie of record in 14 of the Royals' 19 wins during the regular season. The 20-year-old also had two shutouts with a 3.52 goals-against average, a decent .895 save percentage and a 14-28-1 overall record.
Colonials Get Nods From EJHL Goalie, NAHL Forward
Robert Morris has commitments from Baystate Breakers' goalie Brooks Ostergard and St. Louis Bandits' forward Tom Brooks.
A 20-year-old from Chargin Falls, Ohio, Ostergard posted a 21-14-3 record this season in the Eastern Junior Hockey League with four shutouts, a 2.72 goals-against average and a .919 save percentage.
Last year with the Breakers, Ostergard went 9-1-0 with a 1.56 goals-against average, a .955 save percentage and three shutouts.
Brooks, a St. Louis native, turns 21 on March 29 and has eight goals and 15 points in 30 games in the NAHL this season with a plus-5 rating and 15 penalty minutes. He missed 23 games with a sports hernia.
He also won an NAHL title in 2006 with the Texas Tornado.
"Tom has worked extremely hard during his junior career to get where he's at today," said Bandits head coach and general manager Jon Cooper. "It's great to see his perseverance and dedication pay off with a commitment to Robert Morris. Coach (Derek) Schooley has found a gem in Brooks."
Brooks' commitment makes it a half-dozen for St. Louis this season.
Blue Jackets Re-sign Murray Through 2011
The Columbus Blue Jackets re-signed former BSU captain Andrew Murray to a three-year contract through the 2010-2011 NHL season last week.
"Andrew has been a solid addition to the Blue Jackets since his recall and we are very pleased that he will continue to be an important part of our hockey club in the future," said Columbus general manager Scott Howson.
Murray, 26, made his NHL debut with the Blue Jackets at Nashville on Dec. 27 and scored his first career goal in his third game on Jan. 2 at Anaheim. He has tallied five goals and two assists for seven points with two penalty minutes and an even plus-minus rating in 25 games this season. He has also collected 13 goals and 15 points in 34 games with the Syracuse Crunch, Columbus' AHL affiliate.
"It's great to see rewards come to people who deserve it," said Beavers head coach Tom Serratore. "Andrew is not only a great hockey player with a tremendous work ethic, (but) he is a great person and a consummate role model. He's everything you could ask for in a hockey player."
A native of Selkirk, Manitoba, Murray was Columbus' 11th pick, 242nd overall, in the 2001 NHL Entry Draft.
With BSU, Murray tallied 115 points and 131 penalty minutes in 128 career games from 2001-2005 and was a First Team All-CHA selection as a senior when he notched 16 goals and 38 points in 32 games.
WSU's Katz To Catch On With Broncos
Jared Katz wears No. 7 for Wayne State and he's now the seventh current player to reportedly transfer for next season, when he will head west across Michigan to Western Michigan.
The diminutive forward (5-foot-6, 142 pounds) was a favorite of Wilkinson during his two years in Detroit.
"He's a quick little bugger, isn't he?" said Wilkinson. "He's all about hard work and has been coming through for us lately. I always say it's the size of the heart and not the size of the body that makes a difference."
Defensemen Matt Krug (Robert Morris), Meadows (Robert Morris), Caister (St. Lawrence) and Eric Roman (Adrian), forward Chris Kushneriuk (Robert Morris) and Bothwell (Union) have all reportedly picked their 2008-2009 squads.
League Awards Handed Out This Week
All-Rookie Team
F — Matt Read, Bemidji State
F — Nathan Longpre, Robert Morris
F — Andrew Coburn, Alabama-Hunstville
D — Denny Urban, Robert Morris
D — Ryan Adams, Wayne State
G — Adam Avramenko, Niagara
First Team All-CHA
F — Ryan Cruthers, Robert Morris, Sr.
F — Vince Rocco, Niagara, Jr.
F — Stavros Paskaris, Wayne State, Sr.
D — Jeff Caister, Wayne State, So.
D — Cody Bostock, Bemidji State, Jr.
D — Ryan Annesley, Niagara, So.
G — Juliano Pagliero, Niagara, Jr.
Second Team All-CHA
F — Matt Caruana, Niagara, Sr.
F — Travis Winter, Bemidji State, Jr.
F — Chris Margott, Robert Morris, Jr.
D — Tyler Gotto, Niagara, So.
G — Matt Climie, Bemidji State, Sr.
Player of the Year: Ryan Cruthers, Robert Morris, Sr.
Rookie of the Year: Matt Read, Bemidji State, Fr.
Student-Athlete of the Year: Joel Gasper, Robert Morris, Sr.
Coach of the Year: Tom Serratore, Bemidji State