Elmira Soaring Eagles (19-3-5 overall, 10-2-3 in ECAC West)
After starting the season undefeated in its first 19 games, some might say that the Elmira Soaring Eagles backed into the NCAA tournament. Elmira went a rather mediocre 2-3-3 over the last month as the ECAC West beat up each other down the stretch.
However, the Soaring Eagles built a good enough résumé to retain their ranking in the East Region, and were rewarded with the top seed.
"I didn't know how it was going to shake out," said Elmira coach Tim Ceglarski. "I don't know if it was surprising or not, given our record against teams in the region and overall record against Manhattanville. I thought there was a very good chance we remained in first, but there was also a chance that Plattsburgh would jump ahead of us. We're excited about the way things worked out."
Adding to Elmira's uncertainty was a 1-0 home loss to rival Manhattanville in the ECAC West championship game last Saturday. Manhattanville used strong neutral ice play and a red hot freshman goaltender to stymie Elmira — and remind the Soaring Eagles that it is "one loss and done" from here on out.
"We can take a lot from the Oswego book from last year," said Ceglarski. "If there is any such thing as a good loss, and learn something from it, then by all means we'll take what happened on Saturday."
Elmira's last NCAA appearance was two seasons ago, when they rode an incredible late season surge all the way to the NCAA semifinals before finally bowing to Middlebury in a heartbreaking 2-1 loss. The experience gathered by the veteran players of that team will be an important asset for Elmira this time around.
"The most important things are to enjoy every minute of the week, the experience, the opportunity, and the buzz," said Ceglarski. "They need to enjoy every single minute of it and share that with the younger guys. But at the same time, take it like every other normal day, just practice and prepare for the next game. Our veterans were pulling guys aside on Sunday after we got the call, and the younger guys began to understand what it is all about now."
Elmira is 6-9-2 all time in NCAA Quarterfinal games. They last met Trinity at Plattsburgh's Cardinal Classic on December 30th, 2005, when the Bantams beat Elmira 6-3 in the first round of the tournament.
"David Cataruzolo down at Trinity obviously has his team playing great down the stretch and has a great goaltender," said Ceglarski. "At this time of year, anyone has a chance to win the whole thing and that is how we have to approach every game."
Trinity Bantams (16-10-2 overall, 8-9-2 in NESCAC)
1854 miles!
That is the total miles the team will have traveled on a bus to win three NESCAC conference playoff games and one NCAA play-in game as well as take them to the home of their quarterfinal opponent, Elmira, and back this weekend.
The Trinity Bantams have become the college hockey version of the New York Giants showcasing their love of the road and ability to overcome the hostile crowds and play their best game at the right time of the season.
Coming off their dominating 7-3 win over the ECAC Northeast champion UMass-Dartmouth, Trinity has moved on to travel this week to play Elmira in an interesting quarterfinal match-up. There is no time to be tired now.
During the course of the season and during a rather intense practice session, head coach Dave Cataruzolo noticed that freshman goaltender Wes Vesprini wasn't quite himself. When he asked his netminder what was going on, Vesprini responded that he was tired.
Through the remainder of the season it has become a running joke between coach and goalie where he always asks the question only to get the smile from Vesprini or a laugh at the though to of being tired at this time of the season.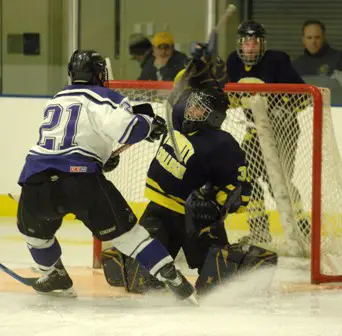 Following the NESCAC championship game, the coach asked his netminder how he felt about the outcome and of course got the patented response: "Coach, I am tired."
This team has traveled a lot in the playoff and NCAA run and certainly their seven goal output on Wednesday is their second highest total for the season. They finally have a goal scorer with more than 10 goals and player with 20 points in senior Matthew Crum who moved to those totals with three points including a goal on Wednesday.
With only eighty goals scored in 28 games played, the Bantams are averaging 2.85 goals per game despite putting over 1,000 shots on goal and outshooting their opponents in aggregate in every period including overtime sessions throughout the season.
Don't expect a lot of crooked numbers on the board against Elmira as the game is likely to be very close checking and tough physically which is characteristic of the ECAC West.
The Bantams will need to continue getting exceptional netminding from freshman Wes Vesprini (11-3-1, 2.14 goals against average, .930 save percentage). Vesprini has won eight games in a row including beating Middlebury and Colby twice each during the late season run.
"We alternated goalies almost all season," noted head coach Cataruzolo. "Wes really got hot down the stretch and has carried it into the post-season. Our guys have a lot of confidence in either goalie but really understand how big Wes has played in these
win-or-go-home games. It really has been a team effort but it starts in goal."
No one is saying they are tired now and the goal is to keep doing the things that have been successful in this late season run and look for the bus mileage to pile up to 2,352 which means they will be making a round trip to Lake Placid for the Frozen Four — a trip they made once before in 2005.