Minnesota senior Tom Pohl is in intensive care following surgery resulting from an injury suffered in the Golden Gophers' double overtime victory over Minnesota State on Sunday in Mankato.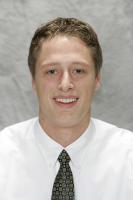 Pohl sustained a skull fracture when his head hit the boards in front of the team's bench at 6:09 of the second period. The injury resulted in bleeding on the brain and Pohl was airlifted to St. Mary's Hospital in Rochester. Successful surgery was performed to stop the bleeding and stabilize the fracture. Pohl remains at the hospital for further observation.
"We are very fortunate that he has tremendous medical care," said Minnesota coach Don Lucia, who is in Rochester with Pohl and his family. "We're looking forward to him returning to school at one hundred percent and our thoughts and prayers remain with Tom and the Pohl family."
The senior forward has played in 34 games this season for the Golden Gophers.