At the start of the Hockey East playoffs, Boston College was struggling, having won only two of its last eight games, a tailspin that started with two losses to league-leading New Hampshire. If the Eagles hoped to get back to the Frozen Four, they needed one player above all to perform: Nathan Gerbe.
Like his team, Gerbe, who had been hot in January, had struggled somewhat. Until the last game of the regular year against Northeastern, Gerbe had been held to a goal and three assists during the Eagles' losing streak, well below his normal production of 1.4 points per game. However, like many great players, Gerbe stepped up when he was needed.
In the first game of the Eagles' quarterfinal series with Providence, Gerbe scored two goals in a 5-1 win. In the second game. Gerbe scored a jaw-dropping goal on a penalty shot late in the first period.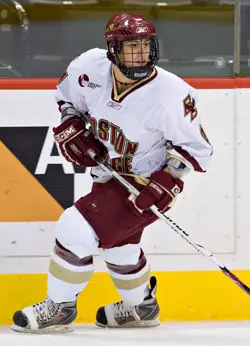 Gerbe skated down the right side, cut across the crease, and, as Friars' goalie Ryan Simpson moved right, Gerbe did a 360-degree spin and backhanded the puck along the ice under a diving Simpson, giving the Eagles a cushion that they rode to another 5-1 win, sweeping the series.
Asked if Gerbe is key to the Eagles' fortunes in the postseason, Eagles' coach Jerry York doesn't hesitate.
"Oh, there's no question. We have a lot of good players, but he's one of our real important cogs. He's going to have to play through all that checking and different shadows he sees every game, and I think he's getting even better at it."
Gerbe started skating when he was two, playing on the backyard pond with his two brothers. Gerbe, the youngest of six children, acknowledges his brothers as being very helpful in helping him when he got started.
"That's kind of how hockey came into my life, just from watching my brothers, and I drew an interest in hockey from that. They helped me a lot on the pond skating-wise and skills-wise."
Gerbe made the transition to organized hockey by the time he was six, and always played forward. Unlike many other youngsters, Gerbe concentrated exclusively on hockey, not playing other sports.
"I think I'm a competitive guy, so I always wanted to take it to the next level," said Gerbe. "When I was a kid, I always wanted to play with older kids. I think when I really started to take it seriously was when I went to the National Team Development program in Ann Arbor when I was 15."
Unlike many of his fellow Michigan players, Gerbe never really wanted to play at Michigan, though when the time came to choose a college, he did look at Michigan and Minnesota. Gerbe grew up admiring players like Brian Gionta, and dreamed of following in Gionta's path at Boston College.
For York, who first noticed Gerbe playing for Omaha in the USHL, this was good news.
"I was there watching some other players and he was 15 years old and he just jumped out at me," explains York. "One of the coaches, I think it was Ron Rolston, called me and said Nathan had really expressed interest in Boston College because of Brian Gionta. That's been kind of a role model for him. He wanted to attend the school that Brian had attended, so I have to thank Brian for that."
"I always wanted to come to BC," said Gerbe. "The coaching staff has done a great job here with the success, and the players that have been here before, like Brian Gionta, Ben Eaves, Patrick Eaves, those guys always stood out to me and I liked watching them and they were a huge reason why I wanted to come here."
One of the first things people notice about Gerbe is his size. Gerbe stands only 5-foot-5, yet makes up for it by being one of the fastest players on the ice.
"I've always been small and if you're a fast kid you can always get away with a lot in the game, getting by guys without getting hit, and I always took that into consideration," says Gerbe. "I think it's something I always worked on, trying to gain more speed and strength, and so far it's worked out."
For his part, York never thought Gerbe's size would be a negative at Boston College.
"Every game I saw him play, he was the best player on the ice in the games I saw," said York. "I did not think twice about his size because he was just so effective, so strong on the ice. There was never any question of him being too small to play in Hockey East; he was always the best player. Those are the easy recruits, where someone jumps at you."
Though he uses his speed effectively, Gerbe is not afraid to mix it up physically in front of the net. When asked how he can go to the net and fight off defenders who have six or seven inches on him, Gerbe says it's mostly mental.
"It's definitely a mental attitude and it's getting better each year. I do a lot of mental focus work with Father Tony Pena here at school, and he's done a great job at keeping me focused in each game. You just have to go in there with all the strength you have and try to get a piece of the puck. You always want to shoot the puck as quick as possible and trick the goalie so he never knows when you're releasing it. "
Gerbe quickly established himself as a force for the Eagles, finishing his freshman year eighth on the team in scoring and following that up by finishing second his sophomore season. York knew he had landed a good player, but didn't anticipate that he would be so effective so quickly.
"I thought it would take him at least half a year to get accustomed to moving up to the college ranks, but he, right from the get-go, was a real factor in games," said York. "Now he's a difference-maker in games, but at that point I think he was a factor early in his career, and then he just got better and better. Certainly right now he's become one of those players who can change the outcome of a game."
Coming into his junior year, Gerbe and his teammates were among the favorites in Hockey East. They had fallen just shy in the national championship in Gerbe's first two years, losing to Wisconsin the first time and then in a heartbreaker to Michigan State in 2007.
The team set a goal of trying to get back to the Frozen Four, and created a motto to help them focus on the little things.
"Our team saying is 'mind the gap.' It's just that little edge that it can give us, just mind it. If it can be a bad game, just get over it. We've talked about it this year, the last two years losing in the finals, it's just something we need to capitalize on. We know we're capable of doing it; we just have to have the confidence in ourselves."
Of course, the Eagles immediately faced adversity. Gerbe was paired on a line with another talented junior, Brock Bradford, but Bradford broke his arm in the first game against Michigan. Bradford returned for four games in January, then broke his arm again. Gerbe acknowledges that the injury affected his play.
"I mean, it was nice when Brock came back," said Gerbe. "It relieved a little pressure for me. He's a huge help for our team and being on the same line helps too. When you lose him again, it kind of hurts. You don't want to lose him twice in a season and the whole year is gone. I think that was a bit of a problem for me; I tried to do too much. I just have to rely on other players and play the same game I always do."
In addition to losing Bradford, earlier in the year Gerbe was publicly singled out by Hockey East commissioner Joe Bertagna and suspended. Bertagna took the unusual step of suspending Gerbe for a play on which he wasn't penalized, saying Gerbe had previously been warned.
Gerbe can be a bit of an agitator on the ice, and it makes him effective. However, Gerbe is also — more so than most players — the focus of the opposing team in any game with Boston College. Opposing teams are relentless in trying to shut Gerbe down and take him off his game, and York feels that has affected how Gerbe is perceived.
"I've watched some real high-caliber players here, like Jason Krog, the Hobey Baker candidate from New Hampshire, and Chris Drury from BU, and my own Brian Gionta, and I don't think any one of them has been checked where every game they are the focal point of the other team, and there is extra attention paid to him," said York.
"They shadow him so closely. I didn't notice that as much with those other types of players, but he, every game has battled through really intensive checking from the other team. They want to shut Nathan down, so it's really even more impressive how well he's played and his statistics based on how much everybody's game plan is, 'Let's really cover this guy closely.'
"If you watch Krog and Drury and Gionta, they never got the scrutiny that this young guy has gotten from other teams, and that's part of the game, I understand that, but every single shift someone's bumping him and taking a run at him or someone's really trying to get him off his game, so he's had to battle that all the time. For the most part, he's done a very good job of it, but it's been hard, there's no question."
As an upperclassman, Gerbe has taken some steps towards becoming a leader on the team. While it is not a natural role for him, it is something he feels he can do to help his team.
"I always try to lead by example; I always try to work hard and let the younger guys see that. I try to talk a little more in the locker room, just giving plays to certain guys and be an inspiration. For the most part, I try to stay quiet and focus on the game rather than being talking all the time."
Gerbe was drafted by the Buffalo Sabres in 2005, and attended their camp this summer. While several big names have jumped early, including former Eagles Patrick Eaves, Krys Kolanos, and Cory Schneider, Gerbe hasn't thought about it yet.
"It's not something you want to talk about during the year. When the season's over, they'll probably end up wanting to talk, or I'll end up wanting to talk. It's just not something you want to focus on during the year, but when the year's over, it's something you think about."
For his part, York knows that players leaving early for the NHL seems to be a part of the college game, but is hopeful that Gerbe will continue to follow in the path of Gionta, who currently plays for the New Jersey Devils.
"He has a bright future, I think, at the NHL level, whether it's next year or two years from now. We'll try to wade through that, look at that and the pluses and minuses, but certainly I know he's followed Brian Gionta all the way here, and Brian played all four years here, so in terms of his career, I hope that will be a path he might choose."
Whether Gerbe stays or goes at the end of the season, he feels that his experiences at Boston College have taught him a lot.
"I would never regret my decision ever coming here with the coaching staff that's here and just the staff in general. Coach York's been a great inspiration for me. Every day he comes in the locker room with a great attitude, being happy and excited about each day and each practice.
"It's great for a young kid to watch that, because you come in the locker room tired and guys maybe don't want to be there today or tomorrow, and it's great when your coach is coming in every day excited, and I think it definitely lifts the team up a bit."