The Denver Pioneers are still, so far, unbeatable at the Xcel Energy Center.
Unfortunately for them, they're not around enough for that to really become a feared fact.
As successful as the Pioneers have been since the tournament moved back to St. Paul in 2001 — seven consecutive 20-win seasons, three national tournament appearances and two national championships — Friday afternoon's game marked only the fifth time Denver has played at the Xcel Center, and they improved their record in the building to an impressive 5-0 with a 3-1 win over North Dakota.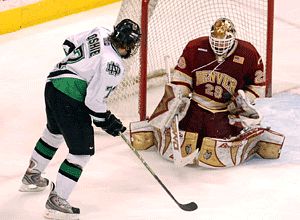 It started in 2002, in the second edition of the Final Five at the "X," when goaltender Wade Dubielewicz led the top-ranked Pioneers to victories over archrival Colorado College and the hometown Minnesota Golden Gophers to claim their second Broadmoor Trophy in four years.
That experience resulted in a trip to Ann Arbor in the national tournament to face Michigan, an experience which rarely ends well for the visiting team.
For the next two seasons, Denver was kept away from St. Paul, losing twice at home in 2004 to the Tigers in the first round of the WCHA playoffs, but going on to win the national title anyway.
The second appearance finally arrived in 2005, as the Pioneers completed the triple score of the MacNaughton Cup, Broadmoor Trophy, and the NCAA title behind players like Gabe Gauthier and then-freshman goaltender Peter Mannino.
But since then … nothing.
"It's been a tease missing it the last couple of years," Mannino said. "It's disappointing, because we've worked so hard to get back here after we won it that first year. To come up short was very frustrating, but it's turned into excitement.
"It's the last chance for me, so I'm here to work hard for the guys and win us a championship."
So who are the unbeatable Pioneers looking for in Saturday's Broadmoor Trophy title game — the rival Tigers, who won the season series, or the upstart Gophers, with 19,000 partisans in the seats?
"If there's any way we could get a bye, that's perhaps what I would like to request," coach George Gwozdecky said with a smile.