Can Michigan be stopped?
The Wolverines come into the NCAA tournament on a mini-roll after having won their last four in a row, including a nailbiter last Saturday to claim the CCHA tournament title and the overall top seed in the NCAAs.
The unanimous No. 1 in the season's final USCHO.com/CSTV poll is the undisputed favorite in the East Regional as well, but Michigan's semifinal opponent, Niagara, will be playing within driving distance of its campus and is motivated to represent the CHA well as that league faces challenges for next season.
The other game at the Times Union Center Friday pits two teams not particularly happy with their recent performances in St. Cloud State and Clarkson.
Both should be well-rested, as the Huskies lost in the play-in game at the WCHA Final Five last Thursday while the Golden Knights got the weekend off after being upset in the ECAC Hockey quarterfinals. Both are also battling history, with SCSU never having won an NCAA tournament game and Clarkson none since 1996.
The winners of Friday's semifinals will meet Saturday to decide the first berth in the Frozen Four. Will it be Michigan? Or can one of the other contenders raise its play and stop the Wolverines' momentum?
Michigan vs. Niagara
Friday, 7:30 p.m. ET, Times Union Center, Albany, N.Y.
Michigan Wolverines
Record: 31-5-4, 20-4-4 CCHA (first)
Seed: No. 1 overall, No. 1 East
How in: CCHA tournament champion
2007 NCAA tournament: Lost in regional semifinal
The Michigan Wolverines captured the CCHA's automatic NCAA tournament bid with their eighth Mason Cup and their first since 2005, but they certainly didn't need the hardware to secure an invitation. The only thing uncertain about last Saturday's conference title game was who would emerge the No. 1 overall seed, Michigan or the Miami RedHawks.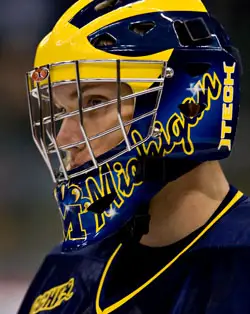 "It was a good weekend for us," said UM head coach Red Berenson. "It was good hockey for the league, too. We had a great crowd."
That is the understated perspective of a man whose team is traveling to an NCAA-best 18th consecutive tournament, a man who for only the second time in his career became this year's CCHA Coach of the Year.
But this year is perhaps a little sweeter for the Wolverines, who were picked fourth in both the CCHA coaches and media preseason polls, owing to the youth of their squad and the past inconsistencies of junior goaltender Billy Sauer.
And that may be the reason why Berenson himself jumped into the air behind the bench when the buzzer sounded on Michigan's 2-1 win over Miami last Saturday, exhibiting a rare, ear-to-ear postgame grin — one that was, of course, gone by the time the press conference began. Berenson is, if anything, all business.
When asked what his team needs to improve upon going into this tournament, after winning both CCHA titles, losing fewer games than anyone in the country and amassing the nation's best win percentage, Berenson said, "I can give you a laundry list."
"We're not as good in certain areas as we were a couple of months ago," Berenson continued. "Let's face it; Billy Sauer kept us in the game at the end on Friday. He didn't have much work early in the game. Then against Miami, he was the difference again. We were being outplayed and outshot."
Sauer, a weakness for the Wolverines a year ago, has emerged as the most improved player in the league. His 1.97 goals-against average is seventh-best in the nation, and his save percentage of .924 is 11th-best. Last year, Sauer's 3.03 GAA was 52nd-best in the nation, his .896 save percentage 51st.
In Friday's 6-4 CCHA semifinal win over Northern Michigan, Sauer was spectacular at the end of the third period, when the Wildcats — the underdog workhorses of the tournament — threw everything they had at him. In Saturday's 2-1 win over Miami, Sauer kept Miami's top offense off the board until the 19:21 mark in regulation.
"It's good to know that he can be a difference-maker," said Berenson. "At this time of year, goaltending is the difference."
A year ago, it was a high-powered offense that kept the Wolverines competitive; this season, Michigan combines the nation's second-best offense (3.98 goals per game) with the fifth-best defense (2.08 GPG), adds solid goaltending and sprinkles in something intangible — youthful enthusiasm. UM routinely dresses nine freshmen, two of whom — forward Matt Rust (11-10–21) and defensemen Scooter Vaughn (0-4–4) — played with broken bones last weekend.
Berenson said he won't know until the tournament is over how his NCAA newcomers will respond, but he managed to sound both practical and optimistic when discussing the freshmen. "In every situation we've put them in, they've done well, whether it's the GLI or the Ice Breaker. Then when we faced Minnesota and Wisconsin in the [College Hockey] Showcase, they played well. Then last weekend.
"I don't think it's going to faze them."
Although the Wolverines are young, UM's veterans have shown real leadership this season. Senior captain Kevin Porter (28-28–56), this year's CCHA Player of the Year, is fourth nationally in points per game (1.40), seventh in goals per game (0.70) and third in power-play goals (14). He and classmate Chad Kolarik (28-20–48) have combined for 56 goals, more than any other duo in the country. All told, Michigan has seven players with 10 or more markers.
If the Wolverines have one weakness, it's special teams. UM is 13th nationally on the power play (.204), 14th on the penalty kill (.862). Berenson said two more areas need improvement going into the regionals. "I think our D-zone coverage can be better, our forechecking can be better."
As for the trip to Albany, said Berenson, "I think it's a good draw. I don't know that there's a bad draw. If you're going to play in the tournament, you have to prove it on the ice."
Niagara Purple Eagles
Record: 22-10-4, 12-6-2 CHA (second)
Seed: No. 15 overall, No. 4 East
How in: CHA tournament champion
2007 NCAA tournament: none
Niagara is going into Friday's night's East Regional against top-ranked Michigan knowing that it's the underdog, and is not expected to do much versus the Wolverines.
But the Purple Eagles still intend to show up in Albany, N.Y., about five hours east of the NU campus, and do what got them a College Hockey America title and an NCAA berth.
"We had a spirited week of practice and it's nice to finally be here," Niagara head coach Dave Burkholder said. "This is just another work week for us."
Winning the CHA tournament and getting to the NCAA dance was extra-special for the Purple Eagles as it meant every senior class has won a championship. NU also made the NCAA tournament in 2000 and 2004. This year's team is one Burkholder said can hold its own with any team in the country.
"We've had a terrific season," said Burkholder. "We were 10-4-1 and nationally ranked at the Christmas break, but then came back and lost four of five, including two at Cornell. Aside from that little lull, we finished strong. Right now, we're focused on working hard for Friday night."
Juliano Pagliero will get the nod in net for Niagara, as he has for much of the season. CHA tournament MVP Ted Cook, with a goal in six straight games, is also ready for Michigan.
"'Pags' has been a pillar for us," noted Burkholder. "We'll need him to bring his 'A' game. Cook has been a different player in practice this week. He's been scoring goals like crazy and finishing all the drills. He's on a roll."
Senior co-captain Matt Caruana has seen his share of ups and downs with Niagara, but doesn't hesitate when asked to describe this year's squad compared to other years.
"The guys are so close on and off the ice and this is by far the deepest team I've ever been on in my four years here," Caruana said. "Maybe in other years we had two lines, but this year we roll four lines and lately, our third line has been our best line.
"We're going into this game with Michigan with no intimidation, no pressure. The first 10 minutes will be important and if we can weather the storm for those first few minutes and keep them off the scoreboard, we should be all right."
Burkholder also said that Caruana and fellow captain Vince Rocco put the pressure on themselves to get to regionals.
"Winning the [CHA] tournament at home, they both took it personally to lead this team there," said Burkholder. "Now they've done that and the burden is off. They've prepared this team for the next step."
"We're treating this just like any other road game," added Caruana. "The older guys are getting the younger guys ready to go. We've watched video of Michigan and we don't want any five-on-fours against us. I think special teams will be big in this game."
This will be just the fifth meeting between NU and Michigan over the years, and the Wolverines hold a 3-1-0 advantage over the Purple Eagles after their last win in Nov. 2003. Hobey Baker hopeful Kevin Porter captains Michigan and even though he went pointless last weekend during the CCHA championship, Niagara cannot afford to give him any room.
"I think containing Kevin Porter has been an issue for every team that's played Michigan," said Burkholder. "You can't game plan for him. When we have the puck, we need to take care of it. Michigan was ranked No. 1 for more weeks than any other team, so that tells you something. They're the fastest team in the nation in transition and have a lot of talent.
"We just need the Niagara team to show up [Friday] night."
St. Cloud State vs. Clarkson
Friday, 4 p.m. ET, Times Union Center, Albany, N.Y.
St. Cloud State Huskies
Record: 19-15-5, 12-12-4 WCHA (fifth)
Seed: No. 8 overall, No. 2 East
How in: At-large
2007 NCAA tournament: Lost in regional semifinal
The Huskies have been an enigma for most of the season, doing well statistically but struggling to gain wins. St. Cloud went through a particularly rough stretch in the first half of the season, going on a six-game skid in late November and early December, losing each game by one goal.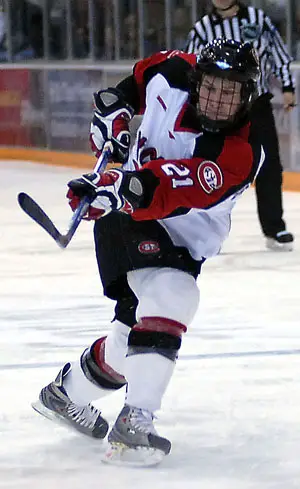 SCSU broke the snide against Colorado College, winning 4-2, but couldn't gain momentum over the holidays and went on another winless slide (0-2-1) to end January.
February would bring better things, however, as the Huskies went 6-2-2 to end the regular season and swept Wisconsin to get to the Final Five, losing to what probably should have been a tired Minnesota squad in the play-in game.
Head coach Bob Motzko said it looked like his team had "stage-itis" in the first period, something he knows they'll have to combat in Albany.
"For one, we've played in it a year ago for most of our guys in the same type of situation," said Motzko," so we've got that to lean back on. And two, the fact that we just lived through it last weekend, we weren't happy with it, so we're excited we get another chance at it right now. We get to play again … we get a chance to redeem ourselves, too."
Play again they will, hoping to lose the stigma of "one-and-done," as the Huskies have never won an NCAA tournament game. However, tell Motzko that and he thinks it's part bluster.
"Our group is, we've been going at it together for three years and we're 0-1 in the NCAAs and some of the losses for our program — I'm sure the same for Clarkson — the kids were 10 years old, so some of the hype that comes back on the losing record doesn't really pertain to these teams," he said.
"I think the fact that both of us lost a year ago, that will sting for both teams. I think the fact that we've played each other four times the last two years, there's a familiarity right now so there's no unknown and I think that's going to set it up to be a good hockey game," Motzko continued. "I think it sets up that whoever plays the best is going to have a chance to win.
If the Huskies are going to have success, it'll be offensively, as they have the league's leading scorer in sophomore Ryan Lasch (25-28–53) as well as his teammates sophomore Andreas Nodl and freshman Garrett Roe (each 18-26–44). And, while it's always hard to replace an All-American in goal, sophomore Jase Weslosky has performed admirably down the stretch, compiling a 2.12 goals against average and .931 saves percentage for the season.
While some other teams have been turning to their role players to step up, Motzko knows he'll need his stars to shine if his team wants a spot in that elusive regional final game.
"Your best players have to be your best at the end of the year — there's no question. I don't care what team you are in the NCAA tournament," he said. "Obviously you have to have good goaltending to win in the playoffs, but our top players who we've relied on either offensively or defensively are going to have to perform. I don't think you can dodge that bullet. I don't think any team can dodge that bullet."
For any team coming into a regional, the Frozen Four is the ultimate goal. As for the Huskies? As long as they can dodge the semifinal bullet that is Clarkson, anything after that will be just gravy.
Clarkson Golden Knights
Record: 21-12-4, 15-4-3 ECAC Hockey (first)
Seed: No. 10 overall, No. 3 East
How in: At-large
2007 NCAA tournament: Lost in regional semifinal
The Golden Knights are hoping to reverse their 2006-07 postseason fortunes after a rude interruption of plans in '08.
The Knights had their smooth-running season thrown completely off the track in the league quarterfinals, as eighth-seeded Colgate took down the regular-season champs on their home ice. This came only two weeks after Clarkson had successfully defended its right to the Cleary Cup against hard-charging Princeton in one of the best games of the year.
"It took a few days to get over not making it to Albany [for the league championship]," said head coach George Roll. "We gave them three or four days off, told them to stay away from the rink" after the series loss.
Last year, the Green and Gold took home the Whitelaw Cup as league tournament champs, but were promptly bounced from the NCAA tournament by fourth-seeded Massachusetts 1-0 in overtime. It was a disaster for the Knights, who entered the game as the Rochester regional's top seed and a true offensive powerhouse.
"Last year, it all happened so quick," said Roll. "It all went so well [last year]. This year, there's a little bit more adversity."
"This year has a completely different feel. We're getting a second chance … there's a hungrier edge to it," he said.
The Knights never faced much of a struggle on their trip to the top this year, only losing consecutive games twice (once in the regular season, and to Colgate in the quarters), while stringing together two four-game winning streaks and a five-game unbeaten string. The Knights even played St. Cloud State back in December, splitting a weekend in the North Country 1-4 and 3-2. This year's deuce followed up last year's pair at St. Cloud, wherein the Huskies swept their ECAC visitors by an 11-2 aggregate.
"There's some familiarity there," said Roll, who compared this game to last year's, when the Minutemen and Golden Knights had squared off in an early-season tilt that preceded their NCAA matchup.
"The biggest thing is their power play," he said of SCSU's strong points. "They move the puck very well. We've got to stay disciplined … we've done a better job of that this year."
While the early departure from the ECAC Hockey scene may have bruised their collective ego, at least the Knights had a chance to heal from their more tangible aches and pains. Roll predicts a healthy roster, but a more top-heavy lineup against the WCHA interloper.
"We'll shorten the bench a little bit more, especially on the back end," he said, preferring to roll three lines up front instead of going four-deep.
The Knights have a tough task ahead of them, and having only won a single NCAA game in the last 17 years (beating Western Michigan 6-1 — in Albany — in 1996) doesn't ease the pressure any. They last appeared in the Frozen Four back in 1991, falling to Boston University in St. Paul, Minn.
In order to beat the Huskies, Clarkson will have to play from the goal out, protecting a perfectly legitimate David Leggio (21-11-4, 2.24 GAA, .918 sv%, five shutouts) — and doubtlessly hoping he can protect them once or twice — before attacking with quick passes and opportunistic sprints from the wings. Leading scorers Matt Beca (10-24–34), Steve Zalewski (21-12–33), Chris D'Alvise (12-17–29) and Nick Dodge (12-14–26) will need to carry that load.
Don't be fooled by their league or their last two games; the Golden Knights know how to win … the only difference this weekend is the size of the stage.