The WCHA — er, Midwest Regional commences Saturday in Madison, Wis., and the most notable storyline in the days leading up to the games themselves has been the presence of the host among the teams competing there.
In a twist which had some muttering darkly about conspiracy theories, Wisconsin became the first sub-.500 team in recent memory to reach the NCAA tournament. The Badgers not only made the field, they did so as a No. 3 seed per the PairWise Rankings, leading to an intraconference game against Denver, the newly-crowned WCHA tournament champion.
The game being where it is, the Badgers and Pioneers get the marquee late assignment, meaning the first contest of the regional will see North Dakota and Princeton face off. The Tigers are in the NCAAs for just the second time in school history, and are rewarded with a stiff test against a team that features two Hobey Baker finalists.
The Fighting Sioux are the favorites to advance by seed, but lost to Denver in the WCHA semifinals. Should the regional final pit the same two teams, it will be interesting to see how the wheels spin the second time around. In any case, the Midwest champ will round out the Frozen Four Sunday evening.
North Dakota vs. Princeton
Saturday, 2 p.m. CT, Kohl Center, Madison, Wis.
North Dakota Fighting Sioux
Record: 26-10-4, 18-7-3 WCHA (second)
Seed: No. 3 overall, No. 1 Midwest
How in: At-large
2007 NCAA tournament: Lost in national semifinal
Even in years when it seems the Fighting Sioux start out struggling, they somehow always make it into the national tournament. Head coach Dave Hakstol knows how to get his team to the big dance and this year, thanks to finding some winning ways in the second half of the season, is no different.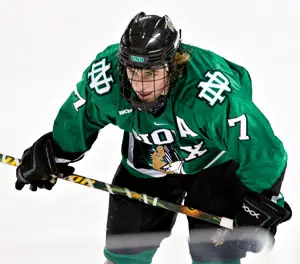 Early on, the Sioux seemed to be plagued by inconsistency, splitting almost every weekend, though it was a predictable inconsistency — on the road, lose Friday, win Saturday; at home, win Friday and lose Saturday.
It wasn't until a home series against Michigan Tech in mid-January when the Sioux finally figured out a way to make the bounces go their way and win both nights of a weekend, going on a school-record 17-game unbeaten streak (14-0-3) to end the regular season and threaten for a share of the MacNaughton Cup.
The Sioux saw Michigan Tech again in the first round of the WCHA playoffs, needing three games to advance to St. Paul, where they were unable to grab momentum on numerous occasions against Denver and ended up losing, 3-1.
However, UND came back with a needed 4-2 win against Colorado College in a meaningful third-place game to snag the last No. 1 seed in the NCAA tournament. Moreover, it was a game in which the Sioux put in a full 60 minutes of hockey.
"It's not so much about the win," said Hakstol. "It's about performance. You have to be playing well going into the national tournament; you want to go into it on a good note and that comes down to performance. We were playing against Colorado College; they're a very good team and on any given night, you might play well and not come out with a win. But the win was important; our performance from simply our standpoint was more important."
The Sioux's top players turned in good performances in the win, with Hobey Baker candidates Jean-Philippe Lamoureux (1.65 GAA, .934 sv%) and T.J. Oshie (18-23–41) leading the way.
"[Oshie]'s like any good athlete," said Hakstol after the game. "He takes responsibility for the team's performance."
Oshie is officially banged up with a lower-body injury, but you'd never be able to tell with the way he plays. Even injured, he's one more cog in a potent Sioux lineup that includes the likes of forwards Ryan Duncan (36 points), last year's Hobey Baker winner, and Chris VandeVelde (32 points) as well as defensemen Chay Genoway (26 points), Taylor Chorney and Robbie Bina (each with 24 points).
Combine the offensive and defensive power with the holder of the league's goaltending crown, and you've got yourself a good hockey team — one that is more than able to make it to its fourth Frozen Four in as many years.
However, Hakstol isn't thinking about playing in Denver in a few weeks. Instead, he's focused on one game and one game only — against Princeton.
"I'm not really worried about anything but one game Saturday afternoon and that's what our team is worried about," he said. "It's a series of one-game shots. You start looking past one game, you're going to get yourself in a lot of trouble.
"We're having a very good week in practice, this team is preparing itself well; I like the two or three days of practice that we've had so really, we want to feel good going into Saturday's game and there's not a lot of concerns past that."
Just excited to be in the tournament, Hakstol and his squad will take it one game at a time — a smart strategy that may just vault his squad to Denver.
Princeton Tigers
Record: 21-13-0, 14-8-0 ECAC Hockey (second)
Seed: No. 14 overall, No. 4 Midwest
How in: ECAC Hockey tournament champion
2007 NCAA tournament: none
Looking up at the quartet of Guy Gadowsky, Landis Stankievech, Zane Kalemba and Mike Moore on the interview stage after last Saturday's ECAC Hockey championship game, this correspondent's first impression was,
Boy, are these guys happy.
Like the Cheshire cat, the grin just seemed to spread from the coach's right ear to somewhere out on South Pearl Street. And for good reason; the Garden State Ivy had just claimed its first league tourney title since 1998, making it only the second ever for the storied program from Hobey Baker Rink. Kalemba may well have won the trophy for his team, earning Most Outstanding Player honors in stopping 61 of 62 shots in the weekend wins over Colgate and popularly-favored Harvard.
"I've never seen a performance like that before," said Gadowsky, the Princeton bench boss in his fourth year on the job.
But pearly whites notwithstanding, don't confuse Princeton with a team that's just happy to be playing at all. This cat's got claws, too.
The Tigers rolled up second place in ECAC Hockey for their best finish ever, and their fourth straight year of improvement under Gadowsky's tutelage. Lee Jubinville (12-26–38), Brett Wilson (15-20–35) and Cam MacIntyre (12-18–30) each buried a dozen goals or better in the reduced Ivy schedule (a 29-game cap in the regular season). Senior defenseman and captain Mike Moore added 17 assists, but also leads with an ultimate blend of character and skill on the rear.
Gadowsky has frequently praised him for his leadership and work ethic, saying "there's not a defenseman in the league I'd rather have than Mike Moore. He's a great leader and a great player."
The blueliner has been especially valuable given the youth around him: Moore is the only upperclassman defender — not senior, but upperclassman — on the Princeton roster. But by the end of the season, Moore felt that maybe roles had been evened, if not switched outright.
"At the start of the season, we had a good weekend, but then kind of faltered a bit," he recalled. "But that was good for us. We learned to pull the same way … we started playing Princeton hockey. It became awesome to see; everyone's leading out there.
"They're leading me as much as I'm leading them," he summed.
At the very back, the numbers for Kalemba (19-10-0, 2.36 GAA, .918 sv%, five shutouts) don't begin to reflect the composure of the sophomore netminder. Pitching three shutouts in this year's playoffs earned him a prestigious spot in the record books, as no one in ECAC history had it done before. The trio also put him even with the most career playoff shutouts, now shared by Kalemba, David McKee (formerly of Cornell), Bud Fisher at Quinnipiac, and David Leggio at Clarkson.
"He wins. He finds a way to win," said Gadowsky, plainly and simply. "He plays his best when it's a tight, one-goal game … pressure just doesn't get to him," he said, speaking of his 'keeper with Gerry Cheevers-like praise.
Kalemba allowed just five goals in his last five games, including the three shutouts. He's also only surrendered eight goals in six games, finishing five of those six with 90 percent save rates or better.
The Tigers are a slap-happy team, living on fast rushes and tons — tons — of shot attempts. The power play is basic: gain the zone, shoot the puck, dig for rebounds. It is tempting to call it an offense-or-nothing team, but that does a grave injustice to the evolution of both the defensive unit and Kalemba.
"They're a good skating team, that forces you into a lot of turnovers," assessed Harvard head coach Ted Donato of Princeton after the title game. "They have a lot of difference-makers … and an X-factor in Kalemba; he's certainly on a roll."
He pretty well summed it up.
Denver vs. Wisconsin
Saturday, 5:30 p.m. CT, Kohl Center, Madison, Wis.
Denver Pioneers
Record: 26-13-1, 16-11-1 WCHA (third)
Seed: No. 7 overall, No. 2 Midwest
How in: WCHA tournament champion
2007 NCAA tournament: none
At the start of the WCHA playoffs, few prognosticators would have picked the Denver Pioneers to win the Broadmoor Trophy. The Pioneers had struggled in the second half of the season, and entered the playoffs on a three-game losing streak, having been convincingly swept by archrival Colorado College.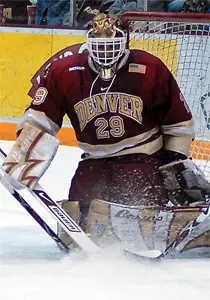 However, the Pioneers swept Minnesota Duluth in the first round, then continued their winning ways at the Xcel Center, where they have a six-game winning streak in the WCHA Final Five.
Now, at the start of the NCAA tournament, the Pioneers are hoping to keep another streak alive. Denver, which didn't qualify for the tournament the last two seasons, currently has an eight-game unbeaten streak in the NCAA tournament.
The Pioneers' first-round opponent is Wisconsin, an irony considering that it was Wisconsin's 7-2 pounding of Denver on January 12 following the controversial bad call the night before in Denver's 3-2 win that started a mid-season slide, a slide the team feels has made them stronger.
"We went through a real rough spell there, and it can't but help you, I think," said Pioneers' assistant captain Tyler Ruegsegger. "We came out of it, and it brought us closer together as a team. We've seen some things now, some adversity and stuff, that will make us stronger people and a stronger team."
Echoes captain Andrew Thomas, "I mean, we went through some adversity. It's funny, because you look at that and that kind of judges when you hit your peak. We're at the point where we've gone through our injuries, our sicknesses, our departures."
If the Pioneers are to progress far in the tournament, senior goaltender Peter Mannino will need to continue to show the brilliance he displayed at the Xcel Center. Like his team, Mannino struggled a bit down the stretch, and was even pulled in his final regular-season game.
"I think after the CC series, we had a good week of practice, a good couple meetings, knowing that it's over," said Mannino. "The regular season, we weren't content or overly happy. We finished third place, which is an average year for us, and we knew that at that point, it was over, the season was over, let's put it behind us, and that's kind of our mindset right now. The Final Five is over, we've got a new series of games now."
Denver is led by underclassmen, including 13 freshmen. Early departures of players like Matt Carle and Paul Stastny from Denver's last championship team have forced the young players to lead.
Tyler Bozak finished first on the team in scoring, and Anthony Maiani, who stands only 5-foot-7, led the team with four game-winning goals, including a huge one that he scored unassisted in the waning minutes of the Pioneers' semifinal game against North Dakota in the Final Five.
"I think one of the great things about playing in this league is you have an opportunity, especially the younger guys, you have an opportunity to experience what it's like to play in front of large crowds and pretty hostile environments pretty much every second weekend, or every weekend that you travel . . . and so I think that prepares you for the playoffs," said Pioneers' coach George Gwozdecky.
Of course, freshmen have played a key role in prior championship seasons. Three years ago, Mannino backstopped Denver to its second national championship as a freshman. For Mannino and his classmates, the return to the NCAA tournament is something they are excited about.
"Especially getting there and winning it the first year and then missing out the last two years, it was very disappointing and frustrating," Mannino said. "It's an honor, making the NCAA tournament, and now we want to do something with it, give it our best effort."
Wisconsin Badgers
Record: 15-16-7, 11-12-5 WCHA (sixth)
Seed: No. 12 overall, No. 3 Midwest
How in: At-large
2007 NCAA tournament: none
For coach Mike Eaves and his Wisconsin Badgers, the weekend of the Final Five required a lot of waiting. Against long odds, the right results came up and the Badgers, who finished the season with a losing record, qualified for the NCAA tournament.
"Last week, we actually, on Tuesday, Wednesday and Thursday, we kind of mapped out what needed to happen, so the boys would have an understanding of what needed to happen," said Eaves. "The tumblers kind of fell together, and here we are, we're getting ready to play in the national tournament."
"It was a long weekend for us, kind of sitting around seeing what happened with other teams," said Badgers' captain Davis Drewiske. "The only thing I can tell you is, for every guy in the locker room is we feel we have a second chance here, second life, and we're trying to take advantage of it."
The Badgers are an enigma. The team has, at times, played excellent hockey. They split their series with both other WCHA teams in the Midwest regional, but suffered some poor losses to teams like Ohio State.
In addition, the Badgers have only played four games over the last month, and were swept by St. Cloud in the first round of the WCHA tournament. Obviously, for a team that only a week ago looked to be done for the season, the inactivity presents a challenge.
"That's a tricky situation, a tricky riddle to solve," said Eaves of coming back prepared. "We had a week off before we played our opening round of the playoffs up in St. Cloud, and we thought we had prepared pretty well, and we went up there and we were rusty.
"What we are trying to do is re-evaluate what we did in that week off, and hopefully we're doing some more intelligent and prudent things this week that will help us not have that rust, because we can't afford to have rust Saturday night."
The Badgers are the third-youngest team in the tournament. Freshman phenom Kyle Turris led the team in scoring with 33 points, and if the Badgers are to avoid another early exit, he is one of the players who needs to produce.
Some fans might feel that facing Denver is almost poetic; after all, it was a botched call on a last-second goal against Denver on January 11 that almost cost Wisconsin its spot in the tournament.
"There's a little bit of irony there I guess, but I think that it helps," said Drewiske. "It's a team we've seen before, we know what to expect, we know they have great goaltending, and we know they play hard. I think it's a good thing for us to be playing a hockey that we're a little more familiar with, and here at home.
For seniors like Drewiske, who are returning to the NCAA tournament for the first time since they won it in 2006, the opportunity to play host in their final year is something they treasure.
"It's what we talked about all year," said Drewiske. "We just want to play at home in the NCAA tournament, and we have a chance to be where we want to be. It may not have happened the way we expected it to, but we have a great chance. We understand that we can beat anybody, and anybody can beat us."