It is that time of year. Time to decide who wins the Hobey Baker Memorial Award. The voting members will convene next week for a conference call to discuss the 10 candidates.
Like last season, here is a comprehensive review of all 10. The Hobey Baker committee establishes certain criteria but the diverse group that votes see many other positives and negatives of each candidate based on the hockey experience each member brings to the table. Also, not every member has seen every player because of geography.
You, the fans of this great game, can use this analysis to debate who wins this award. Do goalies get fairly evaluated versus scorers? Do defensemen really get a fair shake? Is there merit to choosing a senior just because he is a senior? T.J. Hensick had a great year last year and so did David Brown, but Ryan Duncan was better even though he was a sophomore. It is laid out here for you to evaluate and decide.
The interesting exercise here is to see if you think you know who really had the best season. Review all the candidates and then crunch numbers and evaluate unbiasedly to see if the person you thought was your winner still is after careful evaluation. "Fan" is short for "fanatic," so take your allegiance out of it and prove that college hockey fans understand how to evaluate quality as opposed to just cheering for your team. It would be very easy to say Nathan Gerbe is a good ol' eastern boy, so I'm picking him. Not the way it works in big-boy land so be honest with yourself.
So outside of the committee criteria, here is a look at each player's on-ice performance regarding some criteria used by scouts and coaches to evaluate players. They include (for skaters) road points, points in rivalry games, points against ranked opponents or in tough road buildings, multiple-point games, multiple-goal games, point streaks, games in which points were registered and playoff performance. For goalies the number of wins, who they beat, and other like categories will be examined similar to the criteria for skaters.
Another criterion is the level of competition. Its fair to say the WCHA, with six teams in the field of 16 (and one could argue Minnesota State belonged in there somewhere) might get weighed a little heavier than Atlantic Hockey. The CCHA was a demanding conference this season, also.
So while very impressed with Simon Lambert's season, can you equate his performance game-by-game with that of Gerbe? I'm not making judgments, I'm just pointing out how strength of schedule and depth of the team factor in a comparison of individual accomplishments. Then again, Gerbe is surrounded by high-end players, a lot of whom will be professionals. Lambert isn't, so he probably is responsible for a little more of his own success than Gerbe might be? Fair or unfair?
Last year these criteria helped crown Ryan Duncan with the Hobey Baker Memorial Award. Who does it lend a hand to this year? These are my own unofficial criteria and do not necessarily reflect the sentiments of the entire committee. Have fun with your evaluation and try to put your fandom aside. That way you'll really come out with a true winner.
Nathan Gerbe, Junior Forward, Boston College (39 GP, 28-29–57)
Gerbe and the Eagles finished fourth in Hockey East and then took beat both top-seeded UNH and second-seeded Vermont to win the Hockey East championship. They enter the Worcester regional this weekend as the No. 2 seed and will face the Minnesota Golden Gophers.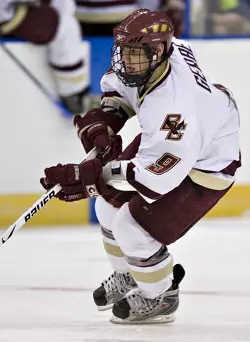 Gerbe passed Michigan's Kevin Porter last weekend to claim the top spot in the nation in scoring. He had three assists in BC's remarkable triple-overtime come-from-behind win against UNH and a goal and an assist in the championship win against Vermont. He led Hockey East in scoring and goals, was tied for second in power-play points with 9-13–22 and those nine PPGs were tied for first in the conference. He led Hockey East with 3-1–4 shorthanded and tied for second with four game-winners. Nationally, he narrowly edged out Ryan Cruthers with a 1.46 points-per-game average. A draft choice of the Buffalo Sabres, he has played in two consecutive NCAA title games, losing to Wisconsin and Michigan State.
Stats Analysis: He registered points in 26 of 39 games this season and on 17 occasions he hit the multi-point plateau. On the subject of multi-point games, here's a good one; he finished the season with a streak of five multi-point games which include playoff games against Providence (two), UNH, and Vermont. In that stretch he had 11 points.
During one stretch during the season he went on a nine-game point streak in which eight games were multi-pointers, and he racked up an incredible 27 points in those nine games for a 3 points-per-game average. In that span he scored in every game, and had a hat trick against Boston University and a four goal game at Harvard (who were the ECAC playoff runner ups).
Everyone in Hockey East considers BC a rival, but we'll list BU, Harvard, Northeastern, UNH, Maine, and Vermont as rivals for BC and in 20 games against those teams he had 27 points, which is good. BC's No. 1 rival is BU and his line against the Terriers was 6-3–9 in four games. In 16 games away from Conte Forum Gerbe posted 13 goals and 14 assists, just under two points per on the road.
He went scoreless in two big early-season tilts against Michigan in Minnesota and home versus North Dakota (the game was called after two periods for bad ice). He also was blanked in a two-game weekend against UNH but managed five points in two games at home against Vermont — but was shut out up there. However, he showed up in the playoffs with nine points in four games and that counts big-time.
Ryan Jones, Senior Forward, Miami (40 GP, 30-17–47)
Jones and the RedHawks finished second in the CCHA to Michigan but did spend a chunk of time as the No. 1 team in the nation. They swept Bowling Green, beat Notre Dame, and lost to Michigan in the CCHA playoffs. They'll head to Worcester as the No. 1 seed and play Air Force in the opening round.
Jones had a great season and finishes his NCAA career as a premier power forward. Despite the loss of longtime linemate Nathan Davis for parts of the season, Davis continued to roll. Motivated by a young girl with cancer, he has grown his hair long and is having it cut at season's end for the Locks for Love foundation.
He has never missed a game, is a four-time all-CCHA selection and was First Team all-CCHA this year. In the CCHA Championships at Joe Louis Arena, Jones was on the ice for the game-tying goal against Notre Dame with four seconds to play and helped create traffic in front of Jordan Pearce on the goal. He also helped create the game-winner, on which he assisted in OT. He had nine shots and was plus-2 in two games at the Joe with one assist.
Jones finished second to Michigan's Kevin Porter in CCHA scoring and sits tied for seventh nationally with BC's Joe Whitney, but his 30 goals lead both Porter and Gerbe for the top spot overall. Of his totals, 11-4–15 came on the power play giving him 25 points at even strength in a good defensive conference. He had seven game-winning goals.
Stats Analysis: Jones had points in 26 games overall and on the road his line read 13-8–22 in 22 games away from Steve Cady arena. He didn't have a long point streak but he did have streaks of four games with points on five occasions. His best rip was 6-4–10 over one span in games at Michigan State, two at home vs Canisius, and one vs Alaska.
He had a seven points in four games later in the season starting at Alaska, including two home games against No. 1 Michigan, and a hat trick at Ferris. The hat trick was his third of the season which included a four-goal game at Northern Michigan. Miami is another team that is used as a measuring stick in the CCHA, so road and rivalry games are tough. The Ohio schools (BG and OSU) and Michigan fall into the rivalry category and in those games he went 4-2 in nine games.
The big games in the CCHA for Miami were games against the other members of the "Big Four" (Michigan, MSU, Notre Dame) and in those contests he posted 3-1–4 in eight games. Now remember Miami has pretty balanced scoring so low totals in these last two areas aren't as alarming as one might perceive. He had five multi-goal games and 12 multi-point games. He's had three points in four games in the playoffs as Miami has gone 3-1. The only game the RedHawks lost is the one in which he was shut out, a 2-1 loss in the CCHA title game to Michigan.
Lee Jubinville, Junior Forward, Princeton (33 GP, 12-26–38)
Jubinville and the Tigers finished second in ECAC Hockey and beat Yale two games to one in a best-of-three quarterfinal matchup. They then beat Colgate and Harvard in the ECAC final four to advance to the Madison regional as a No. 4 where they'll play No. 1 North Dakota.
Jubinville, who plays home games in Hobey Baker Rink at the same school Baker attended, was the ECAC Player of the Year, a first-team all-star, and the Ivy League Player of the Year. He led the team with a plus-10 rating.
Stats Analysis: He had points in 23 of 33 games and announced early in the season that he was here to play by starting off with seven points in the first three games at Yale, at Cornell, and at Colgate, three tough buildings. Later in the season he hit a groove, registering eight points in a four-game scoring streak, and after being blanked at RPI, he went on a nine-game point streak, adding 13 more points to his total. In that span he had four multi-point games.
Away from Baker Rink he went 5-15–20 in 17 games. In this conference, weekends against Cornell/Colgate and Harvard/Dartmouth are good barometers of your success; throw in the Clarkson/St. Lawrence duo and Jubinville did well against those upper-echelon teams.
Simon Lambert, Senior Forward, RIT (37 GP, 21-30–51)
Lambert's Tigers finished second to Army in Atlantic Hockey by two points this season. They were eliminated in the AHA playoffs by eventual playoff champion Air Force after knocking out Holy Cross. He had a pair of three-assist games against Holy Cross but was shut out by the Falcons.
Lambert is fourth in the nation in scoring but Chad Kolarik, Joe Whitney and Ryan Jones are candidates to pass him during the regionals depending on their team success. The team captain, Lambert is a two-time AHA first-team selection.
Stats Analysis: Points in 28 of 37 games this season, and away from Rochester, he posted a line of 8-13–21 in 18 games and in one stretch had points in seven of 10 consecutive road games. He had 16 multi-point games and four multi-goal games. He ended the season with an 11-game point streak that saw him put up 22 points.
Jean-Philippe Lamoureux, Senior Goalie, North Dakota (39 GP, 25-10-4, 1.65 GAA, .904 sv%)
To say Lamoureux is on fire would be the ultimate understatement and it's a very realistic possibility he could win four more to end his career. Going into this weekend, Lamoureux leads the nation in goals against average (1.65) and is tied for second nationally in save percentage (.934) while playing all but one game (against Bemidji State on Feb. 24) against what is rated the toughest schedule in the nation by both the PairWise RPI and KRACH systems.
He started quickly and is finishing even better. Lamoureux started by shutting out the defending champs from Michigan State, then came east and blanked BC and Northeastern on back-to-back nights in Boston. He has 55 consecutive games and this season his goals against and save percentage are what NCAA goaltending legends are made of. Those four shutouts in his first five games are a WCHA record that might never be broken. He was named to the WCHA second team.
Lamoureux led the Fighting Sioux to a 26-10-4 record and a second-place finish in the WCHA, four points behind Colorado College. Lamoureux won the WCHA goaltending title this season with a 1.74 goals against average in league play, just ahead of Colorado College's Richard Bachman. The Sioux enter the Madison regional as the No. 1 seed and will play the No. 4 seed, Guy Gadowsky's ECAC Hockey champs from Princeton.
Stats Analysis: In 39 games, he has given up one goal on 16 occasions, including two at Denver, UNH at home, two at Minnesota, one at Duluth and one at home to St. Cloud, and three overall to Michigan Tech. Seven occasions saw two goals, including at St. Cloud, home against St. Cloud, and playoff games at the Xcel Center against CC and Denver. Only three occasions saw four or more — UNH was one and Denver was another. The Gophers were the third.
He does benefit from a good defensive team and has only needed to make over 30 saves on five occasions, but Lamoureux gets tested and responds. He was 11-5-2 on the road and road wins include games at Wisconsin, Denver, Minnesota State and St. Cloud. Toss in Northeastern also. He has put together win streaks of eight and five games this season. When looking at rivalry games, Minnesota is the biggest rival to North Dakota and Lamoureux gave up six goals in a split in Minny.
He also split at Wisconsin, Denver, and St. Cloud. Six teams in the 26-team tourney show how good the WCHA is, and how hard it is to win there which needs to be factored in here. Lamoureux's workload also is impressive, as he knew he couldn't have a night off.
Ryan Lasch, Sophomore Forward, St. Cloud State (39 GP, 25-28–53)
Lasch was one of three Huskies to lead the WCHA in scoring and he was the kingpin with 53 points, trailing only Porter and Gerbe nationally. His Huskies finished 19-15-5 overall and tied Minnesota State for fourth place in the WCHA. He is the lone sophomore in the running, but as we well know, a sophomore won it last year so nothing is impossible.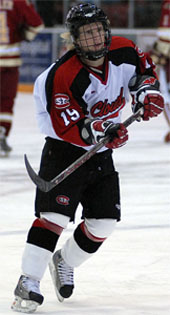 Lasch is an undrafted NHL free agent who should garner some attention as his career continues and he further cements himself as a big-time scorer at this level. He has 13 power-play goals and five game-winners this season. The Huskies were an opening-game K.O. by Minnesota at the WCHA Final Five, but head to Albany, N.Y., as the No. 2 seed and will play ECAC Hockey's regular-season champ from Clarkson.
Stats Analysis: He might have been the nation's most consistent scorer with points in 34 of 39 games this season, and 16 of those were of the multi-point variety. In 19 games on the road he had 10 goals and 12 assists for 22 points including big series at Tech (three goals), Colorado College (2-1–3), and Wisconsin (1-2–3). As mentioned, consistency was a staple of his game as he had consecutive game scoring streaks of 10 and 11, and is currently on a nine-game rip in which he has amassed 12 points.
Those other streaks were impressive as well. The 10-gamer included seven multi-point games (four on the road) and the 11 games saw him rack up a pair of multi-goal games and a hat trick against Harvard. St. Cloud could call any game in Minnesota a rivalry game, especially the Gophers. In 10 games against teams in the State of Hockey, Lasch went 3-7–10, which is solid. He certainly showed up against the big boys as he put up 5-3–8 against CC and NoDak but was shut out by Denver in St. Cloud. St. Cloud is 2-1 in the postseason, and he had goals in both wins over Wisconsin and a pair of assists in the loss to Minnesota.
Jeff Lerg, Junior Goaltender, Michigan State (39 GP, 23-11-5, 2.23 GAA, .925 sv%, 4 SO)
Is there an award Lerg hasn't won yet this season, or at least been nominated? He's already bagged the Michigan's Best Award, an honor that he now shares with Brendan Shanahan, Steve Yzerman, Tom Izzo, Grant Hill, Jim Leyland and Barry Sanders. Lerg led the league in shutouts, wins, and save percentage and was voted the league's top scholar-athlete as well as a CCHA first-team all-star.
He spent so much time on stage at the CCHA awards banquet you'd have thought he was one of the hosts. He'll be in New York in early April as a finalist for the Sullivan Award as the top amateur athlete in the United States. Imagine adding a Hobey to that season. The Spartans finished third in the CCHA but were beaten by upstart Northern Michigan at home in the CCHA's second round.
Overall on the season, he owns a .925 save percentage (11th nationally), 2.23 goals against average (17th), and 23-11-5 record (.654, seventh) He ranks first in the nation in minutes played (2345:01), and sixth in percentage of team minutes played (96.1 percent). Lerg is first among all Division I goaltenders in saves (1,072) and faces an average of 27.5 shots per game, the third-most of any CCHA netminder and 13th nationally. Only two goalies ranked in the top 15 in saves per game play for teams that are better than .500 (Lerg and Kevin Regan of Hockey East champion New Hampshire).
Against the other top three teams in the CCHA (Miami, Michigan, Notre Dame), he owns a 1.84 GAA and .943 save percentage, with a shutout at No. 1 Michigan on Jan. 25. Those three rank first, second, and 21st nationally in team offense. Against the CCHA's top 15 overall scorers (excluding the three skaters who play for MSU), Lerg has allowed just seven goals and 14 assists for 21 points in a combined 28 games. He did not allow a goal to any of the conference's top four goal-scorers (Porter, Jones, Whitmore and Chad Kolarik of Michigan).
The Spartans enter the tournament in the Colorado Springs regional as the No. 3 seed and will play host CC in the semifinals. Lerg comes in as the defending national champion goalie and is the only goalie in the league to play in every CCHA contest of the season. He is a six-time CCHA Goaltender of the Week, the most weekly awards of any netminder in the conference
Stats Analysis: In 39 games, he's allowed one goal against eight times, and two on 11 occasions, so that's just about half a season with two or less allowed and the CCHA has some scoring in it. Since Jan. 1, he owns a 1.91 goals against average and .937 save percentage, with four shutouts. Three of his four shutouts have come on the road — at Ohio State (Jan. 19), at No. 1 Michigan (Jan. 25), and Bowling Green (March 1). In CCHA contests, he ranked first in minutes played (1666:59), save percentage (.935) saves (786), shutouts (four) and goaltender victories (19); second in winning percentage (.714); third in goals against average (1.98).
Impressive outings also include two goals allowed in a home-and-home with Notre Dame in which MSU went 1-0-1. He went 10-6-1 on the road, and allowed six goals in a three game series loss to Northern Michigan. Three times he strung together three-game win streaks and he also had four- and seven-gamers. Michigan is MSU's undoubted rival and in three of four against the hated Wolverines he was great; in the last game at the Joe he looked average. He was 2-1-1 vs Michigan, 0-2 vs Miami, and 1-0-1 vs Notre Dame. Out of conference he had losses to North Dakota, Providence and Michigan Tech while posting home ties with Minnesota and Wisconsin in the College Hockey Showcase. He beat Colgate twice.
T.J. Oshie, Junior Forward, North Dakota (39 GP, 18-23–41)
It was his liney who won the award this year and now it's Oshie's turn. There might not be a more engaging kid on the list than Oshie, who is as comfortable on camera or in a press conference as he is splitting defensemen or making three moves in the crease to score a goal. He finished fifth in scoring in the WCHA, led the Sioux in scoring and was a league first-team selection.
He's a first-round draft choice of the St. Louis Blues and many felt he'd stay in STL after the Sioux were eliminated by Boston College last season, but he returned for his junior year along with several underclassmen at NoDak in a pledge they made to each other. He was also named to the WCHA Final Five All-Tournament team.
He leads the team in goals (18), assists (23) and points (41 points) while playing against the most difficult schedule in the nation. NoDak spent some time at No. 1 this season and finished third in the WCHA. The Sioux were beaten by Denver in the postseason tourney and head to the Madison regional for a date with No. 4 seed Princeton.
Stats Analysis: Oshie had points in 24 games this season and away from The Ralph he went 7-6–13 in 17 games including a hat trick at Michigan Tech. He also had 14 multi-point games and two multi-goal games. He had two good point-scoring streaks of eight and five games. We have established NoDak's chief rival as Minnesota, and in games versus the Gophers he had a goal and an assist in a two-game home set Minny but was blanked at Minny.
Against conference leader CC, Denver, and the two just behind them in Minnesota State and St. Cloud, he posted a line of 3-9–12 in 12 games. UND is 22-2-0 this season in games in which Oshie has a point. He has five GWG this season. Oshie was the Oct. 30 WCHA Offensive Player of the Week after scoring a hat trick in a win at Michigan Tech on Oct. 27, and had a career-long eight-game point-scoring streak from Dec. 29 to Jan. 26 with four goals and seven assists in the streak. He finished fourth in the WCHA in scoring with 29 points in league games (12g, 17a) and a 1.07 points-per-game average.
Kevin Porter, Senior Forward, Michigan (40 GP, 28-28–56)
There are just so many places you can start when it comes to Kevin Porter. He decided to pass up a pro contract to return for his senior season and he went from a great player to an elite one in the process. More than that, he developed into perhaps the best captain Michigan has ever had and that is saying something.
Porter's value on-ice is matched if not surpassed off-ice by the way he and Chad Kolarik took a young team of freshmen and returning but somewhat shell-shocked juniors and made them into a unified group with no agendas and only one goal: a national title. That has to count for something.
Porter enters the regionals with Michigan as a No. 1 seed in Albany; the Wolverines play Niagara in the opening round. Porter comes in off a busy night at the CCHA awards banquet where he was named the CCHA Player of the Year in addition to being a CCHA first-team all-star and leading the league in scoring. He was also a CCHA Best Defensive Forward Finalist.
Overall on a national scale, he is second in points (56) and fourth in points per game (1.40), tied for second in goals (28) and seventh in goals per game (0.70), tied for 10th in assists (28) and 20th in assists per game (0.74), and third in power-play goals (14). He captured the CCHA scoring title with a 22-20–42 line in 28 games, and was third in the conference in goals, tied for second in assists (20), second in power-play goals (11), and second in plus/minus (plus-23).
Porter has set career highs in goals (28) and power-play goals (14) and is the first Wolverine to reach 25 goals since Jeff Tambellini in 2002-03. Even more impressive, with 20 goals in 21 games, he became the fastest Wolverine to score 20 goals since 1993-94 when Mike Knuble achieved the feat in 19 games
Stats Analysis: He has points in 31 of 38 games, with point streaks of eight and nine games. He had a career-best tying 17 multi-point games, including five multi-goal games and five multi-assist games. Porter earned 9-9–18 in 15 games against ranked opponents and notched 17-12–29 in 21 road/neutral site games.
He has been assessed just 18 penalty minutes despite a hard-hitting style, and earned a plus rating in 23 of 40 games while going even in 14 others. In rivalry games, Porter has amassed eight points in nine games against Miami, Michigan State, and Notre Dame and went 3-3–6 in two games in the College Hockey Showcase against Wisconsin and Minnesota. He had one stretch where he had four straight multi-point games, registering 12 points in that span. In the playoffs through four games, he had a goal and an assist vs UNO in game one, and has been scoreless the past three games, all Michigan wins. UM is 19-1-2 when Porter scores a goal, 24-4-3 when he tallies a point.
Kevin Regan, Senior Goaltender, New Hampshire (31 GP, 23-7-1, 2.11 GAA, .933 sv%, 3 SO)
Truth be told, this could be my sentimental pick but this is about facts and not sentiment so he'll be judged on his season and not because he won the Waterloo Blackhawks a Clark Cup five years ago. However, Regan is a unique story in that this has been his best performance since maybe his freshman year and many, myself included, feel it's because he's the man in net for UNH, he knows it, and therefore he's established a groove and is dialed in.
It's his team and that has enabled him to hit the next level and push himself out of his comfort zone. — Regan was selected unanimously as Hockey East's Player of the Year, named an All-Hockey East First-Team honoree, was Hockey East Goalie of the Month in February, split Hockey East Player of the Week honors Feb. 25, and took home Hockey East Defensive Player of the Week honors seven times this season — most recently March 24 when he shared the award after setting a Hockey East semifinal record for saves by stopping a career-high 62 shots in a triple-overtime loss to Boston College on March 21.
At 23-7-1, Regan is the first goaltender in UNH history to post back-to-back 20-win seasons. His .933 save percentage is the second-best single-season mark in school history, trailing only his own .935 effort from last season. Regan's 23 wins and 2.12 goals-against-average rank him fourth on UNH's single-season lists in those categories. Regan has won 13 of his last 15 games, including an unbeaten month of February when he was 7-0-1.
The 18 wins and .940 save percentage are the second-best marks in a single Hockey East season, and he just won the Walter Brown Award, given to the best American-born player playing in New England. UNH, a No. 1 seed, was the regular-season champ in Hockey East and heads to Colorado Springs for a date with No. 4 Notre Dame.
Stats Analysis: Start here: he went 8-2 against the second- through fourth-place teams in Hockey East (BU, BC, Vermont). In a weekend series against then-national No. 5 UMass, he gave up five goals total in a home-and-home sweep that basically ended the Minutemen's season. He had eight games with one goal allowed, and another eight allowing only two, shut out BC at Conte Forum and his 62 saves, including 21 in OT against BC in the Hockey East playoffs, were quite a statement to how good a season he has had.
Out of conference he has a win vs CC and a split at North Dakota. Against Hockey East opponents, he posted an 18-4-1 record to go along with a 1.83 GAA and a .940 save percentage. In his last 18 games versus Hockey East foes, Regan has compiled a 16-1-1 record with a 1.55 GAA, .952 save percentage and three shutouts. In the conference, Regan ranks at the top of all the major goaltending categories both overall and in Hockey East play. Regan is first in GAA, save percentage, wins, shutouts (three, all in HEA) and winning percentage (.758/.804 HEA). Nationally, Regan stands with the elite as he ranks third in save percentage, third in winning percentage and 11th in GAA.