When Jeff Jackson joined the Fighting Irish staff three years ago, he had hopes of someday getting the hockey tradition at Notre Dame mentioned in the same breath as the football program.
"I just love the storied tradition. I've always been a huge Knute Rockne fan and obviously some of the great football coaches," he said after defeating Michigan State to move on to the Frozen Four. "My belief is that Notre Dame can have that same kind of storied tradition in hockey. It'll always be a football school, but so is Michigan, so is Minnesota and so is Wisconsin … but they're also hockey schools and that's what I want to see Notre Dame become."
Now, with the school's first win in the Frozen Four, he's taken the program higher and faster than anyone — much less himself — had thought.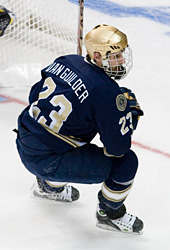 "I thought it was going to take us five years," he said, "but I didn't realize the type of kids that were in the program when I took the job and all that credit goes to [assistant coaches] Andy Slaggert and Paul Pooley for bringing those players in. I think it was just trying to change the culture."
Jackson attributed the beginning of the change to three things — work ethic, discipline and team chemistry.
"Those three things were the main focus during the first year and we started showing signs of progress in the second half of that first year," he said. "We went .500 in the second half [and then-Hobey Baker candidate David] Brown started to show what he was made out of."
The momentum the Irish built in Jackson's first year carried on to last season, when the team went from a below-.500 season to a mere seven losses.
"We started up last season in the same mode we finished the previous year in and we caught a couple people off-guard," he continued.
Couple Jackson's changes with pieces already in place — the players and other staffers — and you've got a recipe for a successful program.
"One of the unsung heroes of our program is the strength and conditioning coach [Tony Rolinski], and it just so happened that he and I were right on the same page," said Jackson. "We hit it off great, so 6 a.m. workouts got us right in the right direction and getting guys on board.
"I think the culture changed because [the players] wanted it to change; they wanted to be successful. These kids like [Mark] Van Guilder, I mean, this senior group and last year's seniors, those kids wanted to have some success so the were willing to buy into anything we were selling."
Van Guilder, this year's captain, was one of the players who bought in willingly and is more than happy for the reward on his investment.
"My freshman year, I was hoping to just maybe make the tournament … once," he said, "maybe play an NCAA tournament game. When Coach Jackson showed up my sophomore year, the whole attitude changed, the whole culture changed and it's been quite a turnaround.
"It's awesome for us seniors. We're going to look back at our career when it's all done," he said, quickly amending that they're not done yet. "We've come a long ways and we're really proud of that."
Van Guilder and his Irish teammates have solidified themselves not only in the Notre Dame history books, but the NCAA ice hockey history books as well, as the only No. 4 seed ever to make the Frozen Four, much less the championship game.
Saturday night, they have a chance to become the first to win it, putting Notre Dame hockey in the same breath as Notre Dame football and basketball.