Coming into this season, Boston College had a big question mark facing them. The Eagles had lost two consecutive national championship games, and junior goaltender Cory Schneider decided to forgo his senior season and sign with the Vancouver Canucks. If Jerry York's Eagles hoped to contend for the championship again, they would have to rely on an unproven goaltender, freshman John Muse.
"It's been awesome," said Muse. "I can't say that I thought that I'd play every minute when I started; it was a pleasant surprise. Luckily, we have a great conditioning coach and trainer who helps keep the legs fresh."
Muse stepped up beyond expectations in his first year. He played every game for the Eagles in his first season, and did something Schneider was not able to: backstop the Eagles to a national title. Muse was named the all-tournament goalie, and became the first freshman goalie to backstop a team to the national title since Peter Mannino led the Denver Pioneers to their second straight championship in 2005.
"John's been unbelievable," said Eagles' forward Nathan Gerbe. "He has a championship under his belt his freshman year, and that's a huge thing to say about him. Some goaltenders couldn't do that, like Cory Schneider and Scott Clemmensen, and those are two great goalies. John's an elite goaltender, and he's one of the most poised kids I've ever met. He's just calm and even when the puck's in our end; he never panics."
Muse made 20 saves against Notre Dame Saturday, several of them difficult stops from in close. The Irish had eight power plays, but were unable to convert on any of them. When they did get down low and put pressure on Muse, he made the big stops. Just as the Sioux found out Thursday, Muse thrives on the pressure.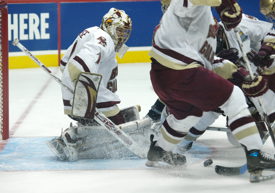 "He was awesome tonight," said Notre Dame captain Mark Van Guilder. "He's been awesome for a while. It's pretty special for a freshman to do something like that. I thought his team played awesome in front of him too and he made some big saves, and that was the difference."
Defenseman and Eagles' captain Mike Brennan has found Muse to be an asset to all the Eagles defensemen, something that was important Saturday when Carl Sneep was injured early in the first period.
"I think as a defenseman, when you have a goalie back there who's so confident and nothing fazes him, a goal goes in, nothing fazes him, and I think when you know that as a defenseman, you have confidence in him, you have confidence in your own zone and you know that he's going to be there when you have a breakdown, and that's exactly what he's done all year for us," said Brennan. "He's never wavered, and he's a big reason why we've won this national championship."
Early in the third period of Saturday's game, Notre Dame appeared to score to narrow the gap to one. The goal went to a lengthy video review, and was ultimately disallowed. It was ruled that the puck was kicked in. During the lengthy review, Muse remained focused.
"I didn't think it was a goal when I saw it," said Muse. "It looked like he moved his skates to direct the puck in the net, and luckily they saw the same thing and disallowed it. I just took it as they scored and we were up by one, and it was real nice that they disallowed it. I wouldn't have gone all crazy if they hadn't disallowed it."
For York, this win sets up an interesting symmetry. In 1984, York coached the Bowling Green Falcons to a national title with a freshman goalie, Gary Kruzich. Asked about any challenges involved in coaching a freshman goalie to a national title, York laughed.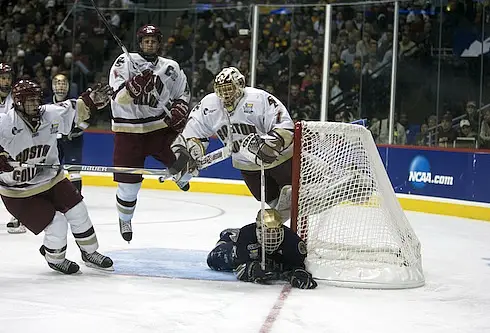 "I just try to stay out his way as much as I can," said York. "Both were excellent players and Gary went on to have a real fine career at Bowling Green. I think John Muse can do the exact same thing at Boston College. John is a real special guy. His poise, he never gets rattled. He played 15-20 games last year at the New England prep school level, and he played 44 games for us this year. When you choose Boston College, you're going to be under a lot of scrutiny. There's a lot of pressure on the team to perform and win, and our expectations are very high. To put him in that situation, he's handled it very well."
Having won the national title as a freshman, some might think that Muse has nowhere to go in his collegiate career from here. With many players leaving college early to pursue a pro career, including Muse's predecessor, Schneider, it might surprise people to know that Muse isn't thinking that way.
"I've got three more national championships to go from here," he said with a smile.
For York and the rest of the Eagles, that is certainly good news.