Last time it took four tries. This time, three.
Boston College had to pound on the door in 1998, 1999, and 2000 — suffering a succession of gut-wrenching losses — before finally knocking the thing down in 2001.
On this night, history came close to repeating itself as the Eagles shook off disappointments in the 2006 and 2007 title games to earn their third national championship.
Against Wisconsin in 2006, a Peter Harrold shot with one second left clanged off the post instead of sending the game into overtime. Last year, BC led Michigan State, 1-0, with barely more than 10 minutes remaining but surrendered a power-play goal that set up a heartbreaking Spartan game-winner with just 19 seconds left.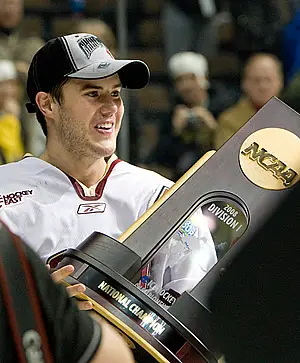 For many players, those bitter losses make this title all the sweeter.
"You draw on the experience of losing those two games and it really was heartbreaking," assistant captain Dan Bertram says. "We didn't want to feel like that again.
"It makes it that much sweeter. Now I can officially forget about those other two years and just remember this feeling."
Junior Andrew Orpik adds, "If we could have won three in a row, I'd take it. But losing two in a row the way we did is such a polar opposite to how unbelievable winning it feels now. I don't think it would feel as good if we hadn't known what it felt like to lose."
BC coach Jerry York, however, doesn't buy into the tastes-sweeter perspective. A player's four-year collegiate career gives birth to higher emotional peaks and valleys than that of a coach who has won 802 games over 36 years, second on the all-time list. The Big Picture means different things to a player and a coach who has rebuilt Boston College into a perennial powerhouse.
"Our goal is to be a player at the national level," York says. "To get to Frozen Fours, that's where we want to be. My feeling is if you get there enough times, you're going to win [your share of] them.
"If you keep going back, that's more important than winning just one time and then going to sleep for a while. We've been there [year after year].
"We want to achieve that level of play consistently. That's the difference between an outstanding team and an outstanding program. We want to be an outstanding program."
That's not to say there isn't a passion to hold that trophy every year. Of course, that fire burns.
"Our goal is to win it," York says. "But we're not going to win five national titles in a row. You can't do it. But if you're there, you're going to win them [sometimes].
"[Titles in] '01 and '08 — we'd like some more, but that's still pretty good. It sure was special in '01 and it sure is special now '08 to bring that trophy with us."
As for next year and the year after that, count on Boston College to be knocking on the door once again.