After enjoying success in the early rounds of the NHL Entry Draft for the past two seasons, U.S. college hockey was dealt a dose of reality on Friday as just four players with college ties were selected in the opening round of the 2008 NHL Entry Draft at Scotiabank Place.
Leading the way was the player most believe has the best chance to make an immediate impact at the professional level, Boston University's Colin Wilson. Wilson was selected seventh overall by the Nashville Predators after the Preds traded the ninth overall selection to the New York Islanders to get into a position where they knew they'd be able to land Wilson.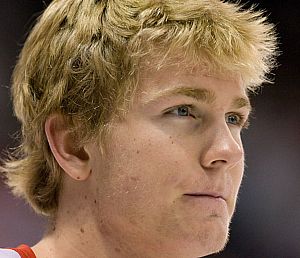 The fact that a team made a move and, in doing so, surrendered its second-round draft pick to the Islanders, made Wilson feel like he is headed to a club that truly wanted him.
"When people asked me who I wanted to go to, I told them I wanted to go to a team that has plans for me and really wants me," said Wilson. "Trading up from nine to seven definitely shows they have plans for me and they really wanted me. It's a big honor to be picked after [Nashville] traded up."
Wilson, who watched the Draft with his father Carey, his advisor Neil Sheehy and other members of his family, said that as soon as the Predators made the trade he was confident they were doing so to make sure they got their hands on Wilson.
"I had good feelings about them. I knew they had a couple of BU alums on [their staff] (including assistant general manager Paul Fenton, who announced the selection) and had heard good things. So when they made that trade to seven, I took a look at my advisor and parents and was like, 'I'm going there,'" Wilson said. "I got a few texts from some buddies like James vanRiemsdyk and Jimmy Hayes and they said, 'You're going now.'"
The top overall selection in Friday's Draft was hardly a surprise as Steven Stamkos was selected by Tampa Bay. The Lightning made it no secret that Stamkos was their man, launching a marketing campaign throughout the Tampa/St. Petersburg promoting their prized forward.
Two picks after Stamkos was the first American player drafted, Zach Bogosian. Despite playing his high school hockey at Cushing Academy in Massachusetts, Bogosian opted to play Major Junior hockey instead of college.
That left just three other collegians to make their way to the stage, a stark reduction from last year's 11 first-rounders with collegiate ties.
The Boston Bruins selected Denver freshman-to-be Joe Colborne with the 16th overall selection. Unlike Wilson, though, it's likely that Colborne will spend some time — possibly as much as three years, according to Bruins General Manager Peter Chiarelli — developing at Denver, something that suits both Colborne and the Bruins just fine.
"I decided to go to college because of the fact that you play less games [than Major Junior] and you spend more time practicing and in the weight room," said Colborne.
Currently listed at 6-foot-5 and 190 pounds, Colborne said he added as much as 35 pounds to his frame in recent years. And according to Chiarelli, his growth and development aren't anywhere close to complete.
"He may get to 235 pounds," said Chiarelli. "He's a good skater, fast and rangy. He's tall and he's going to get thicker on top.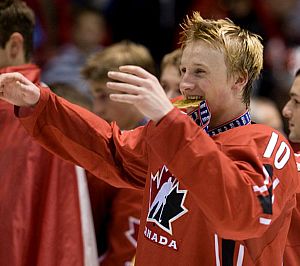 "He played almost 100 games last year and he was tired at the end. He would do what we want him to do but I'm not averse to him going to Denver and getting stronger physically and getting more mature mentally. It's a good environment for him."
Minnesota native and Wisconsin incoming freshman Jake Gardiner was the next collegiate player to hear his name called when Anaheim selected him one slot below Colborne at 17. The 6-foot defenseman said that he had a pretty good idea that he was destined to be selected by the Ducks.
"Before they picked they were giving me the nod," said Gardiner. "It's the best feeling I've ever had in my life."
The final collegiate first-round pick was also one of the biggest "jumpers," players ranked low but selected high, in Friday's opening round.
Michigan State freshman-to-be Daultan Leveille was listed 47th among North American forwards and defensemen in the final Central Scouting Service rankings, that after being ranked 89th in the in midseason CSS rankings. Leveille was picked 29th by Atlanta after the club traded its second-round pick with Pittsburgh to be in position to grab Leveille.
In a first round dominated by Major Junior players, Leveille said it was a good feeling to be selected after having turned down an offer to play in the OHL to instead attend college.
"Education has been important to my family, so that was always an option," said Leveille. "I can do well in school and I'll get a little more time to develop there."
With one round in the books, the attention now turns to the future of the top collegian, Wilson. He's made no secret that if the team that selects him — Nashville in this case — wants him to play next season, he's prepared to do so.
"I haven't talked to the team yet, but if [a contract for next season is] something that they're willing to offer me I think I'd definitely take that," said Wilson. "The reason I'm so happy and optimistic is because no matter where I go, it's going to be a good year.
"I talked to the coaches at BU and they talked about ice time and the fact the team is going to be great, so if I head back there I'll head back with a smile on my face and put everything into it. If not, and I'm in Nashville, that's every kid's dream happening for me at 18."
The 2008 Entry Draft continues Saturday (10 a.m. ET, NHL Network) with selections for rounds 2 through 7 to be made.