According to Bemidji State head coach Tom Serratore, the Beavers have a lot to prove this season.
"We're young, we have depth and we play 19 games on the road," said Serratore. "We'll find out what we're made of early on against Mankato and Air Force."
Goaltender Matt Climie graduated last spring and used his success at BSU to earn a two-year, two-way contract with the Dallas Stars. His departure produces a three-goalie battle between senior Orlando Alamano, sophomore Matt Dalton and freshman Dan Bakala.
"We're comfortable in goal," Serratore said. "All three are good goalies and we'll have to see what happens."
Senior captain Travis Winter also likes the situation in net — and knew the time would come when Climie wouldn't be the resident goalie.
"Orlando has filled in numerous times for us and Dalt's got some games under his belt," said Winter. "And we're also confident with Bakala. You lose guys every year and one thing Coach tells us is that the upperclassmen have to lead and take the leadership roles."
Winter is part of an offensive group that also returns preseason All-CHA picks Tyler Scofield and 2008 CHA Rookie of the Year Matt Read. On the back end, preseason All-CHA selection Cody Bostock is now a senior and is joined by junior Chris Peluso and sophomore Wayne State transfer Ryan Adams.
Wearing the 'C' this year is also a responsibility Winter doesn't take lightly, but also doesn't make it an individual honor.
"I was an assistant last year and saw what (Dave) Deterding went through," Winter said. "I have two great assistant with me this year (Bostock and junior forward Chris McKelvie) and it's like we're one big captain. The whole senior class is a great group of leaders and I hope the freshmen can learn from us."
"Travis is Travis," noted Serratore. "He knows what his role is and he knows what he does well. All of the upperclassmen will lead this team, not just one guy."
Winter went on to compare this year's team to his freshman year when he had a talented group of seniors to look up to and take lessons from.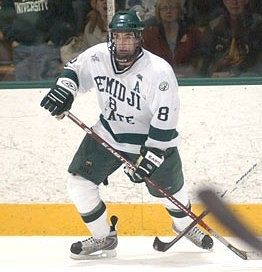 "We all got along then and we all get along now," noted Winter. "We're one big group and that's something that's good to see early."
North Iowa teammates Tyler Jundt and Shea Walters are new in town and should play right away along with fellow freshmen Darcy Findlay, Brent Tamane and Jamie MacQueen. The latter trio averaged 35 goals apiece last year in their respective junior leagues and Walters was third in North American Hockey League scoring with 84 points last season.
"In due time the freshmen will get their chance," said Serratore. "College hockey is a men's league and about how much a player can evolve. If you get production from freshmen, then that's a bonus. Our core guys will be leaned on this season and we're hoping some other guys will come out of the woodwork."
If those players emerge in mid-March and the others improve or hold steady, then perhaps a home-ice celebration will go down in Bemidji and another CHA championship will reside with the Beavers.