Michigan head coach Red Berenson has something he wants you to know.
"Even though our team finished in first place and we won the CCHA championship and we got to the Frozen Four, we still have something to prove this season," says Berenson. "We won everything but the national championship."
Ah. That little piece of hardware.
There is no mystery to Michigan's consistent excellence. It comes from the top down. Berenson has built the kind of hockey culture in Ann Arbor that nearly any team in the country would want to emulate.
"We've been lucky to obviously recruit good players," says Berenson. "I can't say we've been able to keep them. We've had a lot of players leave early but we've had a lot of players stay."
One player who opted out after only one season is forward Max Pacioretty, the 2007-08 CCHA Rookie of the Year. Last year, he played with seniors Kevin Porter and Chad Kolarik, and the trio was responsible for 78 of Michigan's 170 overall goals.
Actually, Pacioretty only netted 15 of those goals, with Porter and Kolarik splitting the remainder nearly evenly. They'll score more in San Antonio. They play a longer season in that league.
No Coincidence At All
Pacioretty walked out the door, but senior defenseman Mark Mitera decided to stay. This year's Wolverine captain and first-round draft pick of the Anaheim Ducks "had the opportunity to leave Michigan more than once," says Berenson, but has remained a Wolverine.
"He's our captain and a great example of a true student-athlete," says Berenson, "one of those top students who's also a top player. These are the kinds of kids that I think the CCHA should be proud of, the kids that stay and graduate and then move on and make us proud."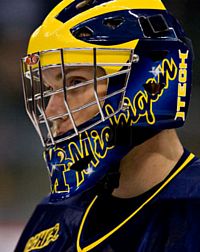 With such glowing praise from a man who doesn't offer what's not deserved, it's a wonder anyone leaves Michigan early at all.
Early departure may be the price of excellence, but there are always other talented players in Ann Arbor ready to emerge into the CCHA spotlight.
"When you lose a player, we're not a one-player team," says Berenson. "Last year, there were a lot of questions. We lost T.J. Hensick, Andrew Cogliano, Jack Johnson, but we wound up with a better team with Porter's leadership and Billy Sauer's emergence."
Also Not Coincidental
Last year, what had been a liability for the Wolverines for two years, the play of goaltender Billy Sauer, became one of the team's biggest assets. Sauer was 17 when he started in net for Michigan, and in his first two seasons of play, he averaged a .897 save percentage.
Last year, an older and more confident junior, Sauer's save percentage soared to .924. It certainly helped to have former UM goaltender Josh Blackburn back to mentor Sauer.
"It helps to have Bryan Hogan ready to take his job," says Berenson.
Brilliant.
Fact and Fate
"We have to replace our top line," says Berenson. It's a fact that Porter was key in every situation, with a plus-minus that was +35 overall, 15 power-play goals, and five game-winners. Kolarik had seven game-winning goals himself.
But putting together another top line shouldn't be to hard for a team that has learned to create its own fate, year in and out. Sophomores Louie Caporusso, Carl Hagelin, Aaron Palushaj and Matt Rust all had double-digit goal totals during their rookie years, and senior Travis Turnbull netted 15 goals.
The Wolverines also return veteran defensemen.
With Sauer in net and so many guns, this new shootout thing probably worries the Wolverines as much as the loss of Max Pacioretty.