Over the past three years, the North Dakota Fighting Sioux have pretty much been the team to beat in the WCHA, regardless of early departures or graduation.
Making the NCAA tournament in 10 of the last 11 years doesn't hurt, either.
Knowing the Sioux, they'll undoubtedly make it back to the dance again this year, but it will be a little harder as the Sioux have one gigantic question:
Who is going to replace Jean-Philippe Lamoureux?
What might help has been boiled down to a few buzzwords by coach Dave Hakstol — experience, balance and development.
"Probably the first time in four years we can look to our experience in our junior and senior classes as a real key for us early on and put that in combination with balance," said Hakstol. "I believe those two things will be very important for us in the first … half of our schedule.
"Most importantly for our team is going to be development. The development individually of our younger guys and our older guys, guys stepping into new roles, expanded roles and the development of the younger players; the freshmen coming in.
"That will hopefully lead to very strong balance on our hockey team," he said.
Up Front
One thing that helps out the Sioux is the return once again of 2006 Hobey Baker winner Ryan Duncan. There had been questions as to whether departed players T.J. Oshie or Jonathan Toews should have won the award rather than — or along with — Duncan, but Duncan has continued to put up good numbers, coming in second to Oshie last year in team scoring with 40 points.
In general, though, Hakstol doesn't believe anyone truly stands out on the team, but expects big things out of everyone else, including Andrew Kozek and Chris VandeVelde, who both had strong years last year.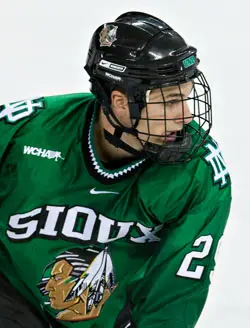 "Chris VandeVelde had a breakout year; he's going to be in a role where we expect him to take on more minutes this year, play a more significant role as potentially a number-one centerman," said Hakstol.
While the Sioux have some talented freshmen coming in with Toews' younger brother, David, and Jason Gregoire, Hakstol needs big years out of sophomores Evan Trupp, Brad Malone, Matt Frattin and Brent Davidson.
On the Blue Line
UND lost a few key guys on defense in Robbie Bina and Taylor Chorney, but still returns an older core that should help the Sioux well through their transitioning phase in net.
"On the blue line, we'll be led by a group of older guys, juniors and seniors," said Hakstol. "Zach Jones is an assistant captain for us; Joe Finley, senior and assistant captain for us; [and] Chay Genoway had a breakout sophomore year due to his dynamic ability."
Beyond those three, Hakstol will once again look to the sophomore class in Derrick LaPoint and Jake Marto.
In the Crease
In net is where things start to get really dicey for North Dakota. Before then-junior Aaron Walski manned the pipes against Bemidji State in late February, Lamoureux had started 55 consecutive games and finished most.
As a result, the Sioux get to roll the dice and gamble with either Walski, who has played in a total of three games thus far in his career, or one of two incoming freshmen in Brad Eidsness — the probable choice — or Graeme Harrington.