Some goalies relish facing a truckload of shots — and then there's Boston College's Molly Schaus, a junior from Natick, Mass.
For example:
• On Feb. 6, 2007, Schaus made an NCAA-record 73 saves as the Eagles outlasted Harvard, 4-3, in triple-overtime in the Beanpot semifinals.
• Schaus played in all 34 games as a sophomore and set a BC single-season saves record with 920. Her save percentage of .925 tied for fifth-best in the nation.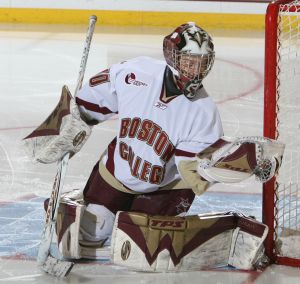 • Her single-season high in 2007-08 was 53 saves in a win over St. Lawrence, and she made 30 or more saves in 10 games (including four games in a row during which she did not allow a single shorthanded goal).
• Schaus led Hockey East with a .931 save percentage as a freshman and set a school-record by posting a 1.90 goals-against average. In the process, she made 25 or more saves 16 times and 30 or more saves nine times.
"I definitely think for me, personally, I've always faced a lot of shots," said Schaus, who played on the U.S. National Team that won a gold medal at the 2008 IIHF World Women's Championship in Harbin, China, and who's been named to the U.S. Select National Team that's scheduled to compete in November's Four Nations Cup in Lake Placid. "I've thrived in that atmosphere. If I'm making only 15 saves a game I lose adrenaline and energy.
"Facing 30 shots a game would keep me more ready to play as opposed to if I was facing less. Once you get the first 10 to 15 under your belt, you feel comfortable and then you build from there."
Schaus's record performance against Harvard in the Beanpot arguably is her favorite memory at Boston College to date.
"It never got tiring," recalled Schaus. "It reached a point where you stopped thinking about getting tired. And no one was tired in the locker room (after the game). But by the time we showered, ate and got back to our rooms around 2 a.m., that was when it sunk in how tired I was."
Indeed.
Entering this season Schaus had a 34-23-9 record replete with a 2.05 goals-against average, a .929 save percentage and seven shutouts. But despite her accomplishments, which include selection to the Hockey East All-Star Second Team as a freshman and unanimous selection to the conference's All-Rookie Team (plus a Hockey East All-Academic Team berth last season) and the All-USCHO rookie Team, Schaus is far from satisfied with her performance.
"Growing up I was told, technically, I wasn't a good goalie and just to keep the puck out of the net," she said. "I wasn't a textbook goalie. I'm still trying to fine-tune parts of my game and make it to the next step.
"I'm definitely trying to work on rebounds. That's a major part of my game."
While Schaus may need to make "technical" improvements, there's little that requires improving regarding what transpires between her ears once the puck is dropped.
"It's tough (to play goal)," she admitted. "It takes a certain kind of personality. But I've always been a calm goalie that settles down the game when I can. If I panic it passes along to the rest of my teammates.
"A lot of it is mental and being able to stay with the game. I've always been a goalie where if a goal is scored, I move on. I forget about it."
Schaus played one game where she allowed two goals and still isn't able to forget about it.
After her family moved from Shorewood, Minn., and before it moved to Natick, it spent time in the Chicago suburbs.
One year, the older of her two brothers, Michael, was a junior forward at Neuqua High in Naperville, Ill., and Molly was a freshman at Benet Academy in Lisle.
Ironically, their respective teams met during a regular-season game which Neuqua won, 2-0. But Michael scored zero goals.
"All of our friends were there and I remember being pretty nervous before the game," recalled Schaus. "We still talk about it and joke around.
"Michael had about two shots. He didn't have great chances and my dad (David) likes to rub it in sometimes.
"I didn't play many games (as a freshman),"continued Schaus. "But my coach let me play because of the storyline."
If Schaus wanted to play hockey with her brother and his friends, she was given only one choice when it came to a position.
"After we moved to a suburb of Chicago when I was in second grade, Michael and I started playing street hockey with his friends," said Schaus. "But the only way they would let me play is if I played goal."
Right. Michael Schaus and his friends used Molly for target practice which, in retrospect, served as a preparation for what she would encounter as she grew older.
And, not surprisingly, she had to twist her mother's arm in order to continue playing hockey.
"I'll admit I did figure skating for a couple of years," she said. "But I finally convinced my parents in the fourth grade to switch over to hockey.
"I'm sure my mom (Cathy) had reservations about it but she did a good job of hiding them. Because my brother played, that helped. But I'm sure in the back of her mind she wished I did something else even though now she loves it."
As well Cathy Schaus should, given the talent possessed by her daughter.