Mention the letters "ER" and most people think you're referring to the Emmy Award-winning television series.
Mention them to Notre Dame goalie Jordan Pearce and he thinks back to the summer after his sophomore year when he volunteered to help in the emergency room of St. Joseph's Hospital in South Bend, Ind.
In one sense that shouldn't have been a surprise considering the senior from Anchorage, Alaska has a double major in anthropology and pre-med — and has a self-professed affinity for biology and physiology.
"I was working weekly shifts and during my first shift there was an older male who came in and who was in cardiac arrest," said Pearce. "It was interesting to watch open-heart, bypass surgery. My nose was right there.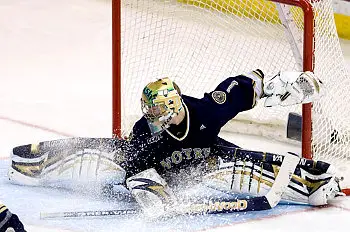 "I got a lot of exposure being with patients and getting a feel for it. The more I got exposed to it the more I figured that's where I wanted to be."
Pearce admits he never wanted to be "a 9-to-5 guy" and wanted a "challenging career."
"When I came to Notre Dame, I knew I really loved biology and was looking at what I could do to best help out people," he said. "I wanted to use my talents to pursue a career where I would be most happy.
"I committed to a career in medicine after volunteering that summer in the ER."
Now, flash forward to the second semester of his junior year when he "shadowed" primarily orthopedic surgeons.
"My favorite surgery is a knee replacement," admitted Pearce. "It's fascinating to watch when a knee is opened up and exposed."
Right. It helps to have a strong stomach if you're into bypass surgery and knee replacement operations.
But what's really noteworthy about Pearce is that his academic numbers are just as — if not moreso — impressive than his hockey stats.
For example, Pearce:
• Has made the Dean's List in four of his first six semesters.
• Had a 4.0 grade-point average in the spring of 2006.
• Has an overall GPA of 3.816.
• Last season received the Notre Dame Club of St. Joseph Valley's Rockne Scholar-Athlete Award and was an ESPN The Magazine/CoSIDA Second Team Academic All-American on the at-large team.
• Was Notre Dame's choice for the CCHA Scholar-Athlete Team.
"My GPA shows my dedication and commitment to my schooling," understated Pearce. "I do work hard and study."
What Pearce did between the pipes last season for the Irish was the hockey equivalent of surgically removing obstacles in their path en route to the Frozen Four championship game against Boston College.
Pearce set school records for games (43) and minutes played (2,557:46); he was 23-15-4 with a 2.04 goals-against average plus a .914 save percentage; and he received the CCHA's Top Goaltender Award for having the lowest goals-against average (1.80) in conference games.
That's a far cry from the numbers he recorded during his first two seasons when he was a backup to All-American David Brown. In fact, Pearce only played in a total of nine games over his first two seasons.
Considering he was an All-State selection as a freshman in high school, played for the USA Under-18 Team and was invited to Ann Arbor for the National Team Development Program, the bitter pill he had to swallow was the size of a hockey puck.
"I was expecting to come in and play and be a hotshot freshman," admitted Pearce, who last year received the Notre Dame Monogram Club's team MVP award. "Every freshman has a dream to come in and play and make a difference right off the bat.
"When I first came here, coach (Jeff Jackson) gave me a shot. At the beginning of my freshman year I felt a little bogged down coming to the rink and not knowing if I was going to play on the weekend.
"Coach told me I might not get my shot now nor even the year after," continued Pearce, "but when you do what do you do with it? Are you going to be ready? I worked hard and even though I didn't play, I'm reaping the benefits of it now."
Indeed.
Pearce also is reaping the benefits of being a sitting duck for his older brother Chad and the latter's friends.
"(Chad) was into hockey as a kid," said Pearce. "When I came along he and his buddies would put me in net, put a pillow on my legs and shoot tape wads at me.
"To me it was exciting to be able to play with my brother because I looked up to him. But I didn't realize it at the time that they were using me as somebody to shoot it."
Really.
While Notre Dame essentially came out of nowhere last season to reach the finals of the Frozen Four, a 4-1 loss to Boston College left the Irish with a major goal to shoot for this time around the rink.
"I remember growing up as a kid and I was a big (Alaska Anchorage) fan," recalled Pearce. "Back then the Frozen Four was on TV and it was the only time I got to watch college hockey.
"I'm happy we got there but there's some unfinished business. When we first came here we thought a national championship was a dream. After our sophomore year we started to think it was a possibility. After last year, a national championship no longer is a dream. It's our goal. If we don't achieve it this season won't be a success.
"It's good that we set the bar so high this year," added Pearce. "There's been a change of mindset for our team."
With Pearce operating in net, perhaps what was a dream for the Irish may become reality.