Jim: Well, Scott, another weekend of upsets provided a good bit of fluctuation in the poll, though the top spot remained with the Gophers. Northeastern, after two solid Hockey East wins, climbed to a best-ever fourth in the poll while neighbor Boston University took a major fall, dropping from second to eighth after being swept by Vermont. As a matter of fact, BU has just one win since reaching the top spot in our poll two weeks ago, and on Saturday night head coach Jack Parker said that his team became a little bit full of themselves after achieving the top ranking. There's plenty interesting to discuss this week beyond that, so let's get started.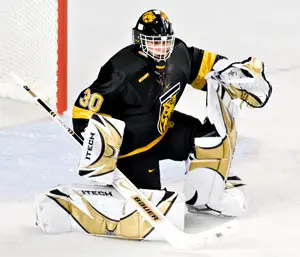 Scott: Speaking of interesting, you can always count on Jack Parker for a good quote, and that one's a real turnabout from the norm. Ordinarily the only time coaches and players even admit polls exist is to declare that they're meaningless — which is technically true except in college football, of course — but common sense dictates that being ranked No. 1 has to mean a little something to the team in question. So it's interesting to hear that confirmed rather than denied for once. But now, it's time for those five words that we've been itching to say for weeks: Air Force, twelve and oh. Dare we try to predict what happens this weekend between AFA, Colorado College and Denver?
Jim: Bring on the series! Honestly, if I wouldn't be disowned, I'd ditch the family this weekend to fly to Colorado for what I consider two of the most exciting games thus far this season. This is like hockey's version of Hoosiers: the upstart team that no one wants to credit, taking on two teams that are not just rivals but powerhouses. A few years ago, the Atlantic Hockey and WCHA columnists would have no problem making predictions on this game, as you handed victory to Denver and Colorado College before the Zamboni ever got near the ice. But the Falcons are perfect thus far. And they're winning the way they should to convince the world they're head and shoulders above the rest of their league. Only twice in league play has Air Force been held to less than four goals and the Falcons have posted six or more tallies four times! But you want predictions, right? I hate to say that I think that the Falcons will be dished their first loss of the season, but I think it's likely. That said, I think they win at home on Friday versus Colorado College. Having to hit the road to play Denver, though, is a difficult task for any team and I have to think the Pioneers will prevail. Are you in agreement here?
Scott: I am. The Hoosiers theme would dictate two wins for the Falcons, but it's just not reasonable to predict a sweep of CC and DU no matter who's playing them, or where. And given that one loss seems likely, I agree with the timing — Air Force gets to 13-0 after Friday night, but DU on the road is too much. And there's certainly no shame in it if that happens. Heck, the Falcons should crack the top 10 in Monday's poll with a split in either direction, though it's hard to predict what the voters would do in that case. What I'm really interested in isn't just the results, but the style and the scores. Here you have Air Force averaging more than five goals per game and giving up just over one, going against two teams with solid goaltending (often spectacular in the case of CC's Richard Bachman) and modest-to-solid (modest for CC, solid for DU) offense. Will these be defense-oriented games, maybe 2-1 finals? Or will the Falcons show the same burst that they've had all season and hang a five- or six-spot one of the two nights? Who knows?
Jim: I have to believe things will be low scoring and tight. 3-2 would be a high-scoring game in my book. One last comment on Air Force and we'll move on: I think it's wishful thinking that they'd be top 10 if they split the series. That's just not the rationale of the voters. The team is perfect right now yet can't seem to move up the rankings despite plenty of teams faltering ahead. Once (if?) they drop a game you may see quite a drop in the poll. As you alluded to earlier, though, polls matter little to anyone beyond the likes of you and me. On to other things: Another club that caught my eye last weekend was Notre Dame. The Irish haven't lost in quite some time and last week plastered Bowling Green. They were number one on my ballot this week and seem to be on a hot streak right now.
Scott: By my count, Notre Dame is now on an eight-game unbeaten streak, or an eight-game winning streak if you acknowledge their shootout win over Lake Superior (though the NCAA calls that a tie for PairWise purposes). Two fascinating things about the Irish: first, they're scoring by committee — six guys with 10 points apiece, but none over 14 — and second, netminder Jordan Pearce is the poster child for the statistical slant of the modern game. He's putting up numbers that would have resulted in Hobey Baker laurels 20 years ago, and now might not even get you on the all-league team. Consider — Pearce has a goals against average of 1.91 and a save percentage of .927 — and he's 17th in the nation in GAA and 23rd in sv%. Seriously? In 1988, Robb Stauber of Minnesota won the Hobey Baker with a GAA of 2.72 and a sv% of .913. Statistics like that barely qualify you to start for most teams these days. It's a different world, that's for sure.
Jim: No wonder there's a cry for more scoring in college hockey. In truth, as much as people want to credit equipment that is too large and nets that are too small (seriously, that argument makes me want to vomit), I think much of the credit goes to teams putting a greater emphasis on goaltending. We're not too far removed from a generation where goaltenders were simply the crazies who put on the extra pads and had rubber fired at them. Today, goaltending is an art and the goaltending coach on a hockey team is the most important staffer other than, say, the head coach. That's why numbers continue to fall. Though it is kind of obnoxious to think that a 1.91 goals against average is 17th in the country.
Scott: Yep. The tide of that change in how the position is played is overwhelming every attempt to reverse the trend toward lower scoring, and I don't know what can be done short of radical changes. The rules enforcement this season isn't bringing us back to the days of routine 5-4 final scores any more than the crackdown on obstruction did — the goalies are just too good no matter how much time and space the skaters are given. But enough for now: let's enjoy our Thanksgivings and this weekend's games too.