Dave Starman decided to do something different last weekend. After calling the Notre Dame-Michigan game nationally for CBS College Sports, he spent Saturday night with the Bowling Green Falcons and their coaching staff. He sat in during their pregame meetings, stood next to the bench during the game, and was with the team and staff between periods and postgame. He filed this report on what game night is about as seen through the eyes of the coaches. Special thanks to the BG staff for their trust and assistance.
The Bowling Green Falcons returned to their dressing room after their 3-2 loss to Miami last Saturday night a pretty dejected group. They quieted down in their stalls, looked up, and head coach Scott Paluch started to speak.
He paused before said anything and told the team, "Guys, there is nothing I can say to you right now that will help. I love how we competed. Let's get showered up and go home."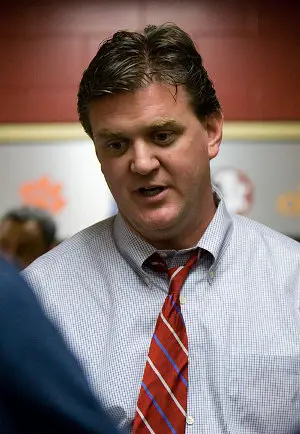 With that, the weekend at Miami was over and the Falcons started thinking about next week.
Well, maybe not all. Goalie Jimmy Spratt, who was brilliant that night for BG, sat in his gear a couple of minutes longer. Spratt saw a 2-1 lead after two periods become a 3-2 deficit in the third period on two strange goals and he couldn't let this one go as quick as some.
Paluch, who still looks as he could play college and/or pro hockey, was in the back room of the dressing room as the bustle of cleaning up and packing up swirled all around him. Teams win and lose together, from the equipment manager to the student manager to the head coach. However, at the game's end, it is usually the coaches who need a few minutes to sort through their feelings and emotions. Paluch is still a young coach and losses at this stage of his career probably hurt more than they will 20 years from now when they are more easily understood, more easily placed in proper perspective.
Paluch and I sat down after the game before he met the attending media. Seated on a trainer's table, he looked up and said, "That was a tough one, but I really like how hard we played." I told him I liked how shift after shift his guys busted their rear ends and how focused they were on executing the game plane he put in.
"They have to work hard to compete with the good teams," he said. I replied that a lot of teams are in that position but they don't and his team does. That's why this is an impressive group of kids.
What fans see of their head coach is usually from a team function, an interview, a postgame meet and greet, and what they see on the bench. It is no secret that there are many more faces and personalities to a college coach than get seen on a regular basis. The one aspect many don't see is the amount of work they do to get ready for games, and the amount of work it takes to coach a game.
The fan knows that while hockey is a game of emotion, of flow, of passion, of will, of working hard and smart, it is also a game of structure, rules, and parameters. For every yin there is a yang and for every action a consequence. While some people still look at hockey as 10 players chasing a puck, it is no secret that good coaching has proven that notion to be ridiculous.
Video has become a huge tool, and that's where this story starts. The morning after their 6-1 loss to Miami, Paluch changed up the routine. Instead of taking the players to the rink for an optional skate, only that night's starting goalie Jimmy Spratt went down with the assistants to get some shots. The rest of the team stayed back at the hotel, stretched, took a walk, and returned to the hotel to relax a bit. The morning video session was help at the rink that night.
"Between back-to-back games, we (coaches) watch the whole game immediately to look at scoring chances for and against, our forecheck and their forecheck, and special teams," said Paluch prior to bringing his team for a 5:50 p.m. meeting prior to that night's 7:05 start against the RedHawks. "We'll also check to see about any special faceoff plays we saw and want to be more aware of and then we'll find something that we want to be better in. Last night we threw about seven passes up the gut and they were picked off. Those are unforced errors and we don't want that, so that will be a point of detail in the meeting."
The team crammed into the trainer's room, where a projector was attached to the laptop and faced at a white dry-erase board in the room. From there, Paluch went to work on the Falcons' forecheck and what he felt they did well, and what they didn't. He liked the pressure of the first guy in on the puck but wanted the second man in to take a more active role; he felt that player was too slow in getting into a position to get engaged.
Using a dry-erase marker over a paused screen, he demonstrated to the players exactly where he wanted them and why when the puck was dumped in. Dump-ins were a big part of the game plan against a good Miami defense led by the ever-physical Kevin Roeder. Get your stick on their sticks, and sticks on pucks when they have it, Paluch reminded them. All simple fundamentals of disrupting a good puck-control team like Miami.
Bullet points, or "buzzwords" as they are called in the dressing room, are often effective here. "Sticks down" said Paluch to remind guys to cut off passing lanes. "Pressure" he reminded them, "take time and space," and "Falcon Frenzy" — a type of forecheck the team uses in a pressure situation.
"The second meeting and the third meeting are kind of funny, because they will be PK and then PP, and basically it's the same people," said Paluch. "I like to vary responsibilities but with this team, they guys we would use in either situation are very much the same core group. It puts a lot of pressure on them because the game is so special teams-dominated now and these kids have to play a lot."
The PK meeting focused on the forecheck as BG was adjusting the role of the first forechecker in their 1-3 setup. It is a similar forecheck to those used by both Miami and Notre Dame. The key point of emphasis was in reminding the PK units when they get loose pucks to try to avoid getting onto their backhands to clear the puck and when possible, pick a spot and hammer the puck out.
Simple, you say?
Well, yes, it is. However, repetition makes for immediate and natural reaction, so however you can ingrain these concepts into your players' heads, especially with positive video reinforcement, the quicker you get them to execute under pressure quickly.
First-year assistant Dennis Williams took over at that point and the talk switched to the power play. With an authoritative and passionate delivery, Williams addressed the need for better awareness off lost draws in the offensive zone and how they would pursue loose pucks. He reminded them to go for quick shots when possible, and also showed them how low the Miami PK goes when the puck is behind the net. "Point men, you'll be open, but not for long. Get to pucks and get shots."
Fire and brimstone are not part of Paluch's world of coaching. Yes he can get mad and bring a hellacious anger to the forefront, like he did with the officials during parts of the game. He can get loud and in players' faces as he did a couple of times on the bench, but there was no showing up a player or official. Paluch was mad, he let it out, and it was over. That's one thing about a good coach — the ability to convey anger or disappointment with someone in a tense and emotional situation and yet let them know without saying it that it wasn't personal.
Paluch learned under the wing of a legend, Jerry York. York's influence on Paluch is obvious to those who know both men. York gets emotional but not out of control. He'll argue a call but he is always respectful, and you can see a lot of York in Paluch. It is what makes his players look up and have great eye contact with him when he speaks.
Paluch stays in the dressing room during warmups, and we joked that if you watch your team warm up you are just going to get mad at them anyway, so why watch? For him, it's a few quiet minutes to have the dressing room to himself to think, to relax, and to gather some last-minute thoughts on what he might want to say to the team. He did the video before warm-ups which was uncharacteristic of BG, they usually do it in the morning but he felt from an emotional standpoint coming off the night before, he wanted to let the players relax a bit that morning.
Prior to hitting the ice, that dramatic pep talk that seems to get shown in a lot of staged pregame scenes was missing, and Paluch let it roll naturally. He reminded the players of the bullet points from before, reminded them what they needed to do that night, and told them to go out and have a good start. Simple, to the point, no dramatics.
Then came "the walk." The walk from the visitors' dressing room to the visitors' bench is about a football field long, so if you leave late, you could show up after the period starts. During the walk, I tailed behind with assistant coach Frank Novock, who joined the staff from the now-defunct Wayne State program. Novock was consistent on the theme of the night.
"We really need a close to perfect game because they can capitalize on mistakes quickly. The key for us really is pressure and good puck management, and of course Jimmy giving us a big game in goal. However, we are really well-prepared so we feel good we'll compete pretty hard."
In coaching, wins and losses bring you to highs that are hard to come down from and lows that could take a day or two — sometimes an entire offseason after one in the playoffs. The challenge of game preparation during the week, and the adjustments once the weekend series has started are part of the fun, the challenge, and at times, the frustration that goes into this profession.
Paluch wanted to win; that was obvious. Miami is an in-state rival, a program still on the rise, and a measuring-stick team. BG lost 6-1 the night before, but was only down 3-1 at the end of two and the Falcons felt they let the game slip away from them. Saturday in the pregame dressing room there was an air that let you know BG had come to play.
The bench intensity was great, the focus was there, and BG was composed. The Falcons weathered an early storm and managed to counter with a good forecheck and created some scoring opportunities. Spratt was on top of his game and then some, holding BG in during a Miami power play that seemed destined to open the scoring until Spratt robbed them at the goal line on two occasions. Josh Boyd made some key plays.
One thing about Paluch during the period: he stayed out of the game as a whole but kept reminding players about the smaller goals they had on the forecheck, and some of the things they wanted to accomplish on the penalty kill to eliminate Miami's top unit from generating offense off the left-wing side of the ice where Pat Cannone and Carter Camper have done so well all season.
Conversely, when up five-on-three during the period on two occasions, Paluch got active in guys' ears. He knew right then that they could take the game over and it was time he and his staff got a little more vocal with suggestions and instructions. BG was good, but Connor Knapp was better and Miami killed off a pair of five-on-threes. Two other areas where he was pretty loud was on line changes ("Perkins' line is up, know who you have on the change") and with his defensemen he harped on a pregame theme of winning battles on the walls and being strong on your stick.
The period ended 1-1 and the staff went to work. Once the laptop arrived from the press box the coaches took a look at their penalty kill on video. They felt that the strong-side forward was not getting good enough pressure on the puck and that had to change because it was allowing Miami too much time to set up. Also, the weak-side defenseman needed to keep a better eye on the Miami player setting up behind the play — a bad pattern was developing in which Miami was getting chances from the back door.
The coaches felt they were getting through the neutral zone with the puck and some speed but not doing anything with the puck once they gained the line.
"Pull up and shoot, get traffic moving to the net," Paluch told the team between periods. He wanted to test Knapp down low and get his feet moving. He liked the jump they had on the road in the first period. He was concerned that Miami had blocked eight shots in the period and made it a point of emphasis to his team to find ways to get the puck through. He felt that Miami dumped the puck more than normal and that was a good sign that they were protecting the defensive blue line pretty well.
As the team gathered for his talk, his message was crisp, clear, and concise. "Remember, stick down on the forecheck, and take away passing lanes. In the offensive zone, don't leave shots on the table; shoot when you have a chance. They hate to dump it in on their PP, but they rushed it in four times and all four you broke it up and cleared so they finally dumped it on the next rush. Keep that up; it disrupts their rhythm. Don't let them back you off."
Most importantly, he wanted his defensemen to move the puck quickly when they went back and recovered it. "Be quick, because they are. They are too fast for you to take your time."
That wrapped up the between-periods chat and the Falcons departed for period two. Said Paluch, "I know this is an obvious, but we really need the first goal in this game."
One thing is interesting when you are coaching the underdog team. The more you feel you have a chance to take the game over, the more active you get. 0-0 in the second at Miami is a perfect place to be as a road underdog and the staff got pretty intense in that second period. In horseracing terms, it would be similar to going to the whip. After a long shift, Miami iced the puck early on and Paluch quickly changed lines and told them, "Hurry up, they can't change up and they have been out there a while. Get the puck dropped — they are tired."
An offensive-zone draw came up a minute later, and Paluch said to his players going over the boards "reverse Bossy." As someone who is fascinated with using faceoff plays, and having seen the Guy Perron Hockey Canada faceoff video a million times, I knew what he wanted.
The "Bossy play," named after former Islander Mike Bossy, was a play that had Bossy line up on the boards on his off wing for offensive-zone draws (Bossy was a right shot, so they did this on left-side draws). The play called for Bryan Trottier to win the draw (actually scramble it behind him) so Bossy could charge into it and shoot if a lane was open while hulking Clark Gillies went to the net. If there was no shot, Bossy would move the puck back to the defenseman for a quick shot.
Paluch went the other way. The draw was on the left side, but he had a left shot on the wall and a left shot in the slot. After the draw, he had the inside winger charge for the puck and move it quickly back to the D while the board-side winger went to the net. The play worked and BG got a pretty good scoring chance.
Spratt was standing on his head and the bench was rallying around it. Each save gave them life and the staff kept the heat on. Paluch lost his cool once after a hit from behind, a play which I felt could have been five minutes and a game on Miami but was ruled a two-minute minor. He also got on the officials for a hooking call they got during a power play, though I sided with Kevin Hall on that one. Midway through the period, Justin Mercier of Miami, who played a little over the edge most of the night, was nailed for tripping.
Kyle Page found Brandon Svenson (a pretty good undrafted senior) alone in the high slot and it was 1-0 BG. They had the all-important first goal. Shifts after goals are huge for momentum and each team had a pretty spirited next one. A TV timeout came up and Paluch called the team over to the bench. He wanted to remind them that they were doing well on their forecheck and to stay with it, plain and simple.
Miami got some mojo back with a play at the net and Spratt gave BG a huge save to keep it 1-0. However, Tommy Dee got caught for hooking to put Miami on the PP. As the draw ensued, Paluch told his next two forwards up to get down to the defenseman's side of the bench so that they could change pairs and be in a more defensive posture coming off the bench. Good reminder, good coaching.
Miami's Brian Kaufman tied the score in the later stages of the power play and now the big crowd was back into it. It was a quick shot and a rebound. The staff immediately called upstairs to the video coach to ask what happened so they could sort it out on the bench. The scrum obscured the view from the bench, and they also wanted to know who might have missed an assignment.
BG got into some penalty trouble at that point and Paluch was getting annoyed at the officials for what he thought were some questionable calls. Despite getting irate at times he did a good job of keeping the bench calm, and implored his PK units to stay in lanes and get more blocked shots. BG wound up on a late power play and Boyd scored to give BG some momentum and a 2-1 lead after two.
Despite being outshot 32-16, the Falcons were holding their own and held the lead. The dressing room was alive. "Battle the fatigue," one player yelled. Defenseman Nick Bailen, an undersized yet ultracompetitive defenseman from upstate New York, was vocal in support of Spratt. "He's standing on his head out there, boys; let's give him some support here."
While the team pumped itself up, the staff looked at the second period penalty kill and realized they had a problem. "Kind of a shooting gallery out there on our PK," Paluch said as he rested his sport coat on his seat.
"Fatigue is a factor, I know that, but we didn't get in lanes very well that period and we had too many guys circling instead of stopping and starting." He felt they needed to adjust the way they pressured the Miami D off a lost draw in the offensive zone and he mentioned that to his pk units. He also reminded them to stay off their backhand when trying to clear the puck from the d-zone. "Get it on your forehand and hammer it out!"
He addressed the team.
"Okay, first of all, let's get sticks on pucks when they have the puck. We are wasting a lot of energy on battles we don't have to fight. Forwards, let's do a better job getting to areas where the D can get you the puck. Be available so we can keep it moving forward. On their power play, stop running at the points. Get in lanes, get bigger, and block some shots. Take away their short passes and watch the back-door play. Control what we can control, forecheck, win battles, come out this period with what it takes to put these guys away. Go earn two points."
Depth is a wonderful weapon and Miami has it. The RedHawks can wear you out over four lines and that started to become evident in the third. Fatigue was becoming an issue for BG because its key players play in every situation, especially special teams — and there was a lot of that.
About eight minutes into the period, BG was pressing and had some chances. The Falcons had a great play at the net but Miami thwarted the chance and took off the other way. On the right-wing side defenseman Kevin Roeder, who had his nose broken and was cut for six stitches on the game's opening shift, took a pass from Bill Loupee and sent a shot netward. It hit a stick and fooled Spratt.
Game tied at 2.
Paluch looked nervous. It was a fluky goal but he looked like a coach who was confident but concerned. Miami was gaining steam, while his team was lagging a bit but still in it.
But Alexandre Lacombe of Miami made it 3-2 a little over two and half minutes later and BG was on thin ice. Paluch changed the forecheck and told his D's to be more aggressive, coming hard down the walls to cut off passes. He got a lot more active, the bench responded and BG threatened.
Then they caught a break. No one will ever admit it, but coaches and officials know that if you work an official the right way, you will eventually get a call your way. Paluch did that most of the night. He complained but kept it inside the boundaries of good taste about a couple of hits that he felt were hits from behind but not called. With just over five minutes left, he got his call. Will Weber nailed Todd McIlrath on the wall inside the Miami zone after a whistle and got five minutes for hitting from behind and a game disqualification. That put BG on the power play the rest of the game.
Paluch and Williams (who runs the power play) not only ran this power play but were in constant communication as to when they were pulling Spratt for a sixth attacker and how that affected the units and who was up next. With just under two minutes left Paluch lifted Spratt. BG threatened but couldn't score. Miami won 3-2.
The team assembled in the room and Paluch said, "Nothing I can say right now will help." The players nodded and packed up.
"You know, I thought the mood on the bench was great, and it's important that we keep things upbeat," said Paluch before he went to meet with the attending media. "We did a good job on our adjustments, we switched some things on our forecheck and that helped. We didn't get as much puck possession from it as I wanted, but it did put us in a better position to play four lines."
The anguish of the loss was evident on his face.
"There were a few times when they were getting some momentum, but until they scored I felt we were in control of what we were doing. We had a great chance to make it 3-1 and on that play they managed to get out quick and make it 2-2."
Looking ahead, you got the feeling that the following week's practices were starting to take shape as the coaches talked a little about what they saw during the game. They would identify what to build on and what to correct.
"It was important how well our guys handled the turnaround from Friday to Saturday. The adjustments we made helped us, especially with how we let a game like Friday slip away from us. There is still a lot of time in the season and the culture we have is to battle and we did."
Paluch rubbed his forehead and smiled.
"Now it is a matter of going home and starting over."