Playoffs?
You want to talk playoffs?
If you can picture the opening lines with the voice from the NFL's ex-Indianapolis Colts coach Jim Mora you can kind of imagine that sense of incredulousness that accompanies the rapid end to the regular season once we hit February and the dramatic "win or go home" aspect that the playoffs bring to conference tournament play.
Playoff time has finally arrived: this weekend starts the ultimate process for conference championships and potential NCAA qualifying bids. Nobody wants to go home but half of the participants this weekend are done for the season and will be waiting until next year–which sounds like pretty good motivation to me to leave it all out on the ice and truly focus on one game, because on Saturday, that's all there is!
So what's likely to happen this week in the quarterfinal match-ups in both the ECAC East and NESCAC? It's probably anybody's guess as both leagues are deep and playing a six, seven or eight seed doesn't guarantee any trip to the conference final four. In fact, we have already seen six seeds win each conference over the past tow years with Babson accomplishing the feat in 2007 and Trinity doing the same in the NESCAC last season.
The picks are hard and nary a single coach is going on record with their picks beyond the toss-up or too-tough-to call prediction. I'm happy to take a shot because right or wrong, the hockey is going to be great and the opportunity to cheer on your school in the chase for postseason glory is only going to make the atmosphere at all of the rinks more exciting!
ECAC East
No. 1 Norwich v. No. 8 UMass-Boston
The Cadets are on very familiar ground heading into the postseason as the number one seed in the conference. They seemingly do this every year and while this season came down to the last game to decide, Norwich is not going to lose focus on the prize at hand.
Norwich is just 3-2-1 in the month of February, but swept last weekend's must-have games against Colby and Bowdoin to capture the top seed. Nikita Kashirsky (17 goals, 17 assists, 34 points) leads the team in scoring and will be looked upon to lead this retooled version of the Cadets to hosting another ECAC East final four next weekend.
For the Beacons, February was not kind. With just one win in their final six games, UMass-Boston is in desperate need of some offense from last year's big guns Kris Kransky and Eric Tufman. Freshman defenseman Wayne Sands leads the team in goals with nine, including five on the power play. Goaltending has also been inconsistent and the Beacons will need either junior Ryan Donovan to regain his form from last year as the league's best goalie or freshman Kevin Bendel to step it up in the playoffs.
Prediction: Norwich 7, UMB 2 — Too much firepower for the Cadets and not enough for the Beacons, who lost in overtime at Northfield in mid-January. Head coach Mike McShane's team won't be taking anyone lightly and cruise to the quarterfinal win.
No. 2 Castleton v. No. 7 Babson
The Spartans are disappointed that they only managed to grab the two seed, finishing just one point behind Norwich in the final regular season standings. Castleton enters the playoffs unbeaten in February and riding a seven game win streak. Career scoring leader Brandon Heck and teammate Steve Culbertson have 11 and 10 goals respectively to lead the offense for a team that can win with strong defense and any one of three goaltenders to back them. Seniors Jay Seals and Jeff Swanson along with freshman Seth McNary have all played well and coach Alex Todd has the luxury of choosing among three hot goaltenders for the match-up on Saturday.
The last team to defeat Castleton was Babson in late January on the road, 7-2–the most goals surrendered in a game by the Spartans this season. Babson brings playoff experience to the match-up with several key players having played key roles in the ECAC title from two seasons ago. Jason Schneider and Brad Baldelli lead a talented and explosive offense that will not look to rely on the power play where the Beavers picked up four of their seven goals at Castleton last month.
Prediction: Babson 5, Castleton 4 — Despite the goaltending, this contest will come down to special teams and big game experience. The beavers won in 2007 from the six spot and look to up the ante by going to the final four as a seven seed this time around.
No. 3 Salem State v. No. 6 Skidmore
Salem State proved last weekend that even without leading scorer Justin Fox, they can compete with anyone as they swept both games last weekend to move into third place. This is head coach Bill O'Neill's final season in the ECAC East–the only league he has ever coached in his almost three decades with the Vikings. Next year they move to the new Massachusetts State College Athletic Conference (MASCA), so going out with a big win and a final shot at the league title will be a strong motivation for this team. Netminder Ryan Hatch has proven to be a big game goalie and has the Vikings on a three game win streak to end the regular season. Salem State won't beat themselves so look for an entertaining match-up with a Skidmore team that likes to create pressure and play offensively.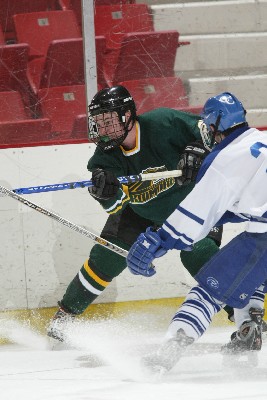 The Thoroughbreds come into the game going 2-1-3 in their final six games and having scored 17 goals in their final three contests, earning a record of 2-0-1. Sophomore Alex Mykolenko leads the team with 10 goals and has showcased his great offensive skills at the right time this season to be a factor for Skidmore. Look for more shots than the twenty they got off in a regular season 2-2 tie at Salem State in January. Goalie Colin Bessey made 40 saves in that game and has played well down the stretch for Skidmore.
Prediction: Skidmore 4, Salem State 3 — This one is really tough to call but Skidmore has it going at the right time and will prosper from the prior game experience at Salem where they took the Vikings' best and didn't go down. The Thoroughbreds have matured and Bessey will be the difference in another close game.
No. 4 New England College v. No. 5 Southern Maine
Just to give an idea of how close all of the teams are, NEC and USM played last Friday and–like the prior regular season match-up noted between Salem and Skidmore–the game ended in a 2-2 tie at Southern Maine. This week the venue switches to NEC's home rink where the Pilgrims are looking to take advantage of being in their own barn. Junior Mark Ehl (9-14-23) leads NEC in scoring and provides key leadership for a young team looking to play more consistently than their 2-3-1 record of February has shown. Goalie Aaron Harvey brings great numbers into the playoffs and will need to be sharp against a Huskie squad that boasts three players with fourteen goals or more this season.
Forward Dan Gordon (15-20-35) and defenseman Paul Conter (8-18-26) will lead the offense in front of goalie Jamie Gilbert who has returned from injury to lead USM to a 2-2-2 record in February. The special teams may hold the key here as Southern Maine has struggled on the penalty kill but did hold the Pilgrims to a 0-for-7 last week in the tie game.
Prediction: Southern Maine 3, NEC 2 — Yes, I really am going with three upsets (at least by seeding) but believe that the home ice doesn't mean a lot in match-ups where teams are just that close. They played it tight last week and expect that even after some film work, this game is tight too. Would not be surprised to see overtime (even multiples) here in the opening round.
NESCAC
No. 1 Amherst v. No. 8 Tufts
The Lord Jeffs–that's J-E-F-F . . . JEFFS, JEFFS, JEFFS!–earned the top seed for the very first time in NESCAC conference playoff history on the strength of the nation's best defensive scoring team. Goaltender Cole Anderson leads the nation in a number of statistics and last weekend made 54 saves in a clinching win over Middlebury at home. Teammate Jonathan Larose then shutout Williams on Saturday, 6-0, and Amherst ran their winning streak to 10 games while going a perfect 6-0 in February. Senior captain Jeff Landers quarterback's the offense from the blueline and the forwards have shown great balance across the line s in putting the puck in the back of the net.
Seemingly, you would expect to be talking about the Amherst goaltenders coming into this quarterfinal match-up, but Tufts freshman Scott Barchard is this week's NESCAC Player of the Week after making 53 saves on Friday in a win at UMass-Boston and 59 more saves in an triumph at Babson the next day. Transfer Tom DeRosa (15-13-28) and freshman Nick Resor (16-11-27) will be key parts to any offense that Tufts needs to generate against Amherst–a task not many other teams have found success with.
Prediction: Amherst 4, Tufts 1 — The regular season match-up at Tufts found the Lord Jeffs winning by a 3-1 score and Barchard made over 50 saves to keep the game close. Amherst scored a man-up, man-down and even strength. The top seeds are looking for much more than just hosting a first round game, so look for the win streak to continue and the strong defensive play to keep yet another opponent to less than two goals.
No. 2 Middlebury v. No. 7 Hamilton
This match-up brings together two teams that just played last weekend. Middlebury won at Hamilton by a 5-2 score after jumping out to a quick 4-0 lead in the first period. Middlebury is no stranger to home ice playoff games and Hamilton is back into the conference playoffs for the first time in three years.
The Panthers are lead by the conference's leading scorer in senior Jamie McKenna (13-22-35) and freshman phenom Martin Drolet (17-14-31). Combined the pair have eight game-winning goals for Middlebury, who have brought back the explosive offense that carried them to league and NCAA titles in 2005-2007. In goal, freshman John Yanchek or senior Doug Raeder will get the call and both have played well this season for Bill Beaney's team.
Norm Bazin heads into the playoffs for the first time with Hamilton and has a team with limited playoff experience. Junior Chris Lorenc (17-13-30) leads the team in virtually every scoring category and defenseman Kyle Roulston provides key leadership and stability on the blueline in front of a goaltending tandem that has surrendered two goals or less just once in their last four games.
Prediction: Middlebury 6, Hamilton 1 — Playing at home the Panthers won't take the Continentals lightly and will look to pressure the Hamilton defense and goaltending early. Big difference playing on the big sheet in Vermont and the Panthers will take advantage of the rabid home fans and a playoff experience laden roster.
No. 3 Williams v. No. 6 Bowdoin
The Ephs have had a terrific season despite not scoring a lot of goals. They have a balanced attack as evidenced by six players having scored seven or more goals this season. Freshman Ryan Purdy has been outstanding in goal and Williams will need to continue their strong play at home against a Bowdoin squad that opened Watson arena with a 8-3 win at Williams' expense back in mid-January. Williams has struggled on the power play so 5-on-5 play will be key to deciding the outcome here.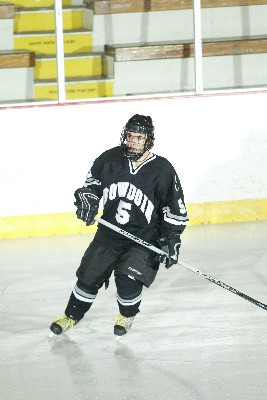 Bowdoin ran into some serious goal scoring problems in the middle of the season and has revved up the attack on the shoulders of defensemen Kyle Shearer-Hardy (11-10-21) and Mike Corbelle (10-7-17), who has been a standout on the power play for coach Terry Meagher's team. Freshman Richard Nerland has played the majority of games for the Polar Bears and has solid stats; he will need to play big for Bowdoin to advance beyond the quarterfinals on the road.
Prediction: Bowdoin 3, Williams 2 — No opening night rush of adrenaline for this game but Bowdoin manages to pull off the upset with enough offense and a more consistent game to advance to the final four next weekend.
No. 4 Trinity v. No. 5 Connecticut College
This will be the third time these teams have met this season with Conn having won both prior games by identical 6-3 scores. The Camels have won at home and at Trinity so the venue doesn't appear to mean much in this game of intra-state rivals. The Bantams are defending conference champions and come into the playoffs with a 3-3 record in February and back-to-back losses at home to close out the regular season this past weekend. Very few teams will ever outwork Trinity and with balanced scoring, good special teams and an outstanding goalie in Wes Vesprini, the Bantams are looking to turn on their playoff magic.
For Conn. College, their fifth place finish is their highest ever in the league and their roster poses serious challenges for any opponent. Goaltender Greg Parker has been a key in the team's success and the offense can create chances from several different players, including Ryan Howarth (10-7-17), Ryan Riffe (8-2-10), Brett Moore (8-14-22) and leading scorer Trevor Bradley (8-15-23). They should have confidence based on beating Trinity on the two prior occasions this season.
Prediction: Trinity 4, Conn. College 2 — It will be a battle of the goaltenders in this one to be sure. I am counting on a one goal game and an empty-net goal as the final difference here. Awfully hard to beat one team three times in a row in one season and Trinity is at home. Vesprini is the difference that earns the Bantams a trip to the conference semi-finals.
Half of the teams will be all done after Saturday–hopefully your team isn't one of them. It's been another incredible regular season but now the intensity gets ratcheted up even higher: win and you play hockey in March, lose and it's off to someplace warm on spring break! Anyone for some more hockey?
Drop the puck!