Who will be the 2009 NCAA national champions? Nobody knows. Predictions can be made based on performance, and the athletes themselves can have a hand in fate by giving it their all in the playoff stretch.
But there are those instances in life that are so unpredictable, and so far from our control, that not even the biggest gamblers in Vegas could see it coming.
Prime example: A hockey player — in tip-top physical condition — has a random seizure, is diagnosed with a brain tumor, and within weeks undergoes life-threatening neurosurgery.
Sound like a nightmare? Well, it was reality for UMass-Lowell freshman Matt Ferreira.
In August of 2007, the Brampton, Ont., native went from celebrating his departure for college, to spending weeks in the hospital.
"My parents, my family, and a bunch of friends got together and we were having a going-away party," said Ferreira. "Then the next morning we all went out to breakfast, and the whole time I felt really weird, like I didn't know where I was and couldn't really remember anything.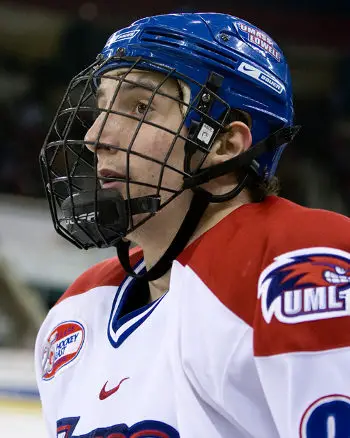 "So we went back home and I fell asleep, and then the next thing I know, I woke up and there were paramedics in my basement looking at me. Apparently they had been talking to me for a while, but I don't remember anything and the next thing I know, I'm in the ambulance on the way to the hospital."
Ferreira had suffered a seizure, and was incredulous when he woke up in a hospital bed.
"I was shocked," he said. "I had no clue what was going on and looked over to my parents. I felt like someone just came and took me away. My parents filled me in that I had a seizure, but I was still in disbelief."
He underwent numerous tests in the hospital so that the doctors could try and find the cause of the problem, but he waited two long weeks before getting any answers.
But the best remedy for Ferreira and his family during this time was support, especially from someone who could empathize, like Lowell coach Blaise MacDonald.
MacDonald is no stranger to tragedy, as he worked with the Boston University program for six years in the mid-'90s. He recruited Travis Roy and was on the bench the night of the horrific on-ice incident that left Roy a quadriplegic, and MacDonald also was part of the Terrier family when BU goalie J.P. McKersie struggled to recover from a near-fatal bicycle accident.
"I admire Jack Parker tremendously as a hockey coach, but way more as a person," MacDonald said. "He has a gift through some tremendous adversity that he's faced in his life and that program has faced where it's a blessing how he's been able to handle that. I had a chance to be around some of those tragedies and see how we can pick ourselves up and support each other, and that's one of the things — it's like breathing, it's what you're supposed to do."
As a father of four children, MacDonald viewed Matt's situation through a parent's eyes and made sure he was there to support the whole family.
"I flew up there to see the Ferreiras, and at the time I went, the doctors still didn't know the diagnosis," he said. "We would sit at the kitchen table and your heart just goes out to the parents as a parent. The confidence in Matt showed the belief in faith, which is a good thing, but there's a point where it's in God's hands."
At first, the doctors thought a cyst might have been the culprit, but after more tests, they concluded it was a benign brain tumor that needed to be removed in surgery.
"Chances for me surviving were 70/30," Ferreira explained. "And where the tumor was, it was affecting the left side of my body, so they gave me 70/30 that I wouldn't have any feeling in my left arm and left leg. Obviously my first concern was my life, but hockey too was always in the back of my head. It was pretty scary."
At 18 years old, Ferreira was supposed to be starting a new, exciting chapter in his life — moving to the U.S. to play Division I college hockey, working hard, and having fun as a student. Instead, it was almost as if the book was closing.
Instead of checking into his dorm room, Ferreira was admitted to the operating room for surgery in early September. The doctors had to leave some of the tumor to avoid cutting a vein or artery, but they removed most of it and inserted three metal plates in his head.
"They said it shouldn't come back; they don't expect any of it to reoccur since they think that's what caused the seizures," Ferreira said.
Miraculously, Ferreira recovered and began skating again just months later.
"The medical staff wanted me to keep trying new things every day to see where I was at [post-surgery], especially the left side of my body," he said. "I stayed back and played another year with my junior team [the Brampton Capitals of the Ontario Provincial Junior Hockey League] and I started to play around December 2007, but I think I came back a little too early. For the first month I wasn't really myself, but obviously I just wanted to put it behind me and get going again, and I felt better by end of January, February."
By the fall of 2008, Ferreira had finally arrived at UMass-Lowell to play for MacDonald's program, which was still honoring his scholarship. Even though it was the first time meeting his new teammates face to face, Ferreira had already grown to appreciate the River Hawk family.
"They were really helpful when I got sick," explained Ferreira. "We didn't know if I was still going to be able to come down to Lowell, so the coaches came down to visit me a bunch of times and the guys were sending e-mails and stuff. You know, it really helped getting all that support. I mean, a lot of the guys I hadn't met before, and yet they're all sending me e-mails wishing me luck before and after the surgery; it was helpful."
Despite being captain and one of the funnier guys on the team, River Hawk Mark Roebothan was a little unsure of how to handle the touchy situation upon Ferreira's arrival on campus.
"I wasn't really too sure when I first met him; I didn't know if it was a sore subject or not," Roebothan said. "I mean, obviously, he battled it pretty well. But I just treated him normally, like I did all the other guys when I first met him, but then I started messing around with him and stuff later on."
Ferreira smiled. "We're a pretty tight group, which is nice, and when guys make jokes sometimes about my surgery and stuff like going through airports because of the metal plates in my head, it's funny."
Roebothan laughed, "Yeah, every now and then I'll poke him with a hockey stick or something to see if he feels it. He's pretty cool about it; he never gets too sensitive about it or anything. Obviously it's something he got the better part of."
To say Ferreira is a good sport is an understatement, but the rookie is enjoying the little things in life now, like just hanging out playing video games with his friends, or watching movies.
"I'm a pretty big movie guy," Ferreira said. "I love watching movies, so I go as much as I can. Me and my roommate [David Vallorani] play a lot of Xbox, NHL 2009. So we just hang out and relax when we have some free time."
"Yeah, he loves movies," Roebothan said. "And if you go to the theater with him, keep your hand out of his popcorn because he will bite it off. He is the most protective person over popcorn I've ever seen in my life, and that's a fact, I'm not making it up."
Battling health issues has put life in perspective for Ferreira, which has led him to appreciate every small moment.
"You don't really expect that something like this can happen to you," he said. "I've just tried to move forward. You do kind of wonder, 'Why me?' But it happened to me, we got through it, and now I'm here … Everything around me I just enjoy so much more: coming to the rink with the guys, going out for practice. You just have to enjoy being on the ice, and outside of hockey you have to enjoy being out with your friends. Enjoying all the little things is really important."
MacDonald is grateful for all of Ferreira's contributions this season, and there's more to show for the rookie's work than just five goals and two assists.
"When he first came in he was kind of fourth-line center, just regular shifts," MacDonald said. "Then after three or four weeks, next thing you know he was on the power play, he's one of our best penalty killers. Even though his points don't reflect it, his contributions to our team are very significant, like with blocking shots and play like that.
"I think he's a Lowell player — he's tenacious, he's thorough — that's what I expected of him and he's definitely played to our expectations and slightly above; I know over his career he's going to amplify those."
Added Ferreira, "I always want to do a bit more. I mean whatever you achieve you always want to bring it to the next level. I'm happy with how I've played so far helping the team out, but I always think I can bring my game to another level and hopefully in the years to come build off of this season."
Deep down in his heart, past all of the positivity and strength, and even underneath his smile during fun times with teammates, Ferreira will always have a legitimate worry; a fear that nobody can really understand unless they've been through it.
"It's always in the back of your head," said Ferreira. "I mean sometimes when I have headaches or something it kind of gets me thinking again that maybe something is going on. I do checkups, MRIs every three to six months, so if there is something there I would know about it, but it's always in the back of your head."
Things that happen in our past — both good and bad — make us who we are. It's how we deal with those situations that define our character. Ferreira may love watching movies, but with his audacity, optimism, and determination, it's certain that if he were to ever play the starring role, he'd be the inspirational character that fights for his own happy ending.