In the End, No Surprises
One game was decided quickly. The other after a scare. But in the end, the favorites won.
Brockport came to play against Plattsburgh, and took a surprising 2-1 first period lead. Dylan Clarke put the home team ahead on the power play early, but the Golden Eagles hung tough.
Ray Tremblay tied it midway through the period, and then James Cody did something no one else has all season–score a shorthanded goal against Plattsburgh.
"I thought we came out with the intensity and the emotion that we needed," Brockport coach Brian Dickinson said. "We had a couple of great chances. I thought we did a pretty good job in the first period of containing Plattsburgh, keeping them to the outside."
"I thought Brockport came out as they have all year, working hard," Plattsburgh coach Bob Emery said. "We made a few mistakes, and they took advantage of it."
However, the Cardinals regrouped and eventually overwhelmed the upset minded Golden Eagles, scoring three times in each of the final two periods. Riley Hill on the power play and then Andrew Willock with their own shorthanded tally in the first five minutes gave Plattsburgh the lead back. Kyle Kudroch made it 4-2.
"We regrouped in the locker room after the first period, and came out as a different team in the second period," Emery said. "We got the shorthanded goal, and like a shorthanded goal can do many times, it took the wind out of them."
"The inability of coming out of the locker room and keeping them off the scoreboard early [hurt us]," Dickinson said. "They just hit on all cylinders in the second and third periods."
Kyle Taylor, Vick Schlueter (an empty netter), and Ryan Corry finished putting the game away in the third. Bryan Hince made 29 saves as Todd Sheridan stopped 25 but not nearly enough.
Despite the loss, Brockport had one of their finest seasons in school history, finishing at 14-10-3.
"People keep talking about the history of what we achieved this year," Dickinson said. "Hosting our first playoff game. Winning our first playoff game. The 10-game unbeaten streak. It gives us something to really build for. We've been working for so long to get us to be a top tier team. I think everybody in our program are [sic] excited to get the offseason over with and begin next season."
In the other semifinal game, Oswego jumped out to a quick 2-0 lead and led at the first intermission, 3-0. Rich Zalewski, Ryan Ellis, and Mark Lozzi scored. The Lakers outshot Geneseo, 22-7, in that first period which could have been a whole lot worse.
"If it wasn't for [Cory] Gershon, it could have been 6-0 in the first period," Geneseo coach Chris Schultz said.
"It could have very easily been four, five nothing in the first period," Oswego coach Ed Gosek said. "There were three with us and the net wide open and we didn't bury it."
Geneseo did regroup in the second and scored on the power play thanks to Casey Balog.
"We went back to what our identity is as a team," Schultz said. "We did play well in the second period, but you can't play 40 minutes against Oswego because they'll make you pay, and they certainly did."
"All of a sudden we were afraid of making mistakes," Gosek said. "We were afraid of taking chances like we did in the first period."
However, Oswego went back to their first period aggressiveness, scoring twice more, both by Eric Selleck, to clinch the win.
"It takes a special person to raise it up in the playoffs," Gosek said of Selleck. "We challenged him. I give him credit. He raised his game up a level tonight."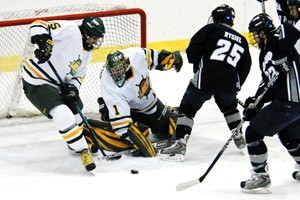 Tim Potter stopped 27 of the 28 shots he faced.
Geneseo ends their season at 14-12-1. How does Schultz describe the year?
"How about a reverse bell curve?" he said. "We got out to a 9-3-1 start. And then we had a rough stretch there in January, and then we put together some wins towards the end to get us rolling into the playoffs. We found a way to dig ourselves out of a hole we created. If we take away January, I think our record is 13-4-1 or something like that.
â€ŔBut, you can't take a month off. The bottom line is we put things together; we won the play-in game. We got ourselves into a position to be in the semis. By no means is anyone wearing Geneseo jersey satisfied with that right now. We have to continue to improve our personnel to get ourselves in to a championship position."
All Rookie Team and Defensive Awards
This is the fourth year we've been helping out with these awards, yet there stills seems to be some confusion over who picks them. I don't. USCHO does not. The SUNYAC coaches do. They do so the same way they select the other SUNYAC year-end awards. I just count the votes since the conference does not want to handle more than what they already do.
The purpose is to bring some publicity to players who are not recognized by the traditional end-of-season awards. They may not be sanctioned by the conference, but I believe they hold the same credibility as the other official SUNYAC awards.
Here are the 2008-09 All-Rookie Team and defensive awards:
F: Eric Selleck (Oswego)
F: Jonathan Redlick (Geneseo)
F: Anthony Proteau (Potsdam)
D: Mike Kavanagh (Plattsburgh)
D: William Lacasse (Buffalo State)
G: Cory Gershon (Geneseo)
Best Defensive Defenseman: Eric Greene (Plattsburgh)
Best Defensive Forward: Joey Wilson (Plattsburgh)
Final Preview
It's rematch time. Plattsburgh and Oswego, the top two teams in the SUNYAC all season, go at it again for the conference championship. Last year, Plattsburgh took the title, 4-3, at home.
Oswego (11-4-1, 18-7-1) at Plattsburgh (15-0-1, 23-1-2)
(Note: All statistics in the preview are for conference play only.)
You could look at the numbers. For these teams, they are impressive.
Plattsburgh's 5.06 goals per game versus Oswego's 2.44 goals allowed per game.
Oswego's 4.12 goals per game versus Plattsburgh's 1.56 goals allowed per game.
Oswego's league worst 16.2% power play versus Plattsburgh's league lowest 11.8 penalties in minutes (PIMs) per game.
Plattsburgh's second best 26.7% power play versus Oswego's second best 85.2% penalty kill.
Plattsburgh's best scoring period, the third scoring 31, versus Oswego's worst defensive period, the third, allowing 20.
Plattsburgh's goaltender Bryan Hince (13-0-1, 1.56 GAA, .937 save pct.) versus Oswego's netminder Tim Potter (6-1-0, 1.79 GAA, .932 save pct.).
Plattsburgh's 8-0-1 record in their last nine games against Oswego, including two wins this year (4-3 in overtime and 2-1).
Or, you could look at this as another Plattsburgh-Oswego showdown. One filled with all the emotion this rivalry has created over the decades. One that very well could be decided by who makes the least number of mistakes and controls their emotion the best and does not pull a Matt Whitehead.
"They're a good team," Oswego coach Ed Gosek said. "They're going to force some mistakes. We're going to make mistakes. But let's play our game. Let's skate. They're a good skating team. That's the game we want."
"It's going to be a great hockey game," Plattsburgh coach Bob Emery said. "Oswego is a great hockey team. Both games [this year] were settled by one goal, and they could have gone either way."
Not only does familiarity breed contempt, but it also avoids surprises.
"I don't think either team is going to change much at this point in the season," Emery said. "Clearly, they have played the same style the last few years, as have we."
"I expect more of the same from them," Gosek said. "They are an excellent team. They move the puck well. They have great goaltending. When you get the opportunities with them, we're going to have to capitalize, or it's going to be the same outcome. Hince made the big saves when he had to. We're going to have to try to get traffic in front of him. Keep it ugly in front of him and try to bang in some second and third chances."
Besides the motivation for holding up the SUNYAC trophy at the end of the night, there is a little extra fueling Oswego. Win or lose, Plattsburgh is assured of an NCAA playoff sport. Most likely, even with a loss, the Cardinals will be the number one seed in the East.
Not so for Oswego. Most likely, their only chance of playing past this weekend is to grab the automatic bid by winning the SUNYAC championship.
On The Periphery
Last week, as the regular season ended and the conference playoffs began, I covered five games in nine nights at four locations (Oswego, Buffalo State, Brockport, RIT, and Oswego again).
Despite that schedule, in reality I did not get to as many SUNYAC games this year as last season due to the way the scheduling worked out with the odd teams in the league and the need to allow Morrisville to play everyone home and away. Thus, conflicts which normally wouldn't occur caused other weekends to be without games I could easily attend. However, my wife would not have thought my schedule was any leaner because when there was an off weekend of SUNYAC contests, there always seemed to be a home weekend for RIT.
Special thanks to her for putting up with that sort of schedule.
Thanks also to the coaches, not just for keeping the status quo this year, but for accepting my phone calls and calling me back promptly. Ditto for the sports information directors. Thanks as well to the radio announcers around the league who asked me to provide my opinions and thoughts. A special thanks to Geneseo's Josh Carey, not just for being a USCHO colleague, but for the enjoyable debates on the message board. Another special thanks to Potsdam's Chris Engel, who allowed me to crash in his hotel room.
Finally, and most importantly, thanks to all you fans and readers. Without you, this sport would be quite dull.