Perhaps it's fitting that in the wildest, most unpredictable NCAA tournament in recent memory, one of the steadiest programs of the last several years reached its first Frozen Four.
Under head coach Enrico Blasi, the Miami RedHawks have been transformed from an afterthought in the CCHA to a conference and national contender.
Until Blasi took over the Miami program in 1999, the RedHawks had reached the NCAA tournament just twice in 19 years as a member of the CCHA, once under Mark Mazzoleni and one under Blasi's mentor, current Denver head coach George Gwozdecky.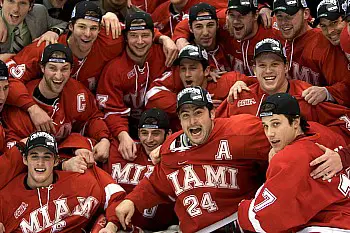 Now they've made the national tourney four times in a row, winning at least 22 games each time.
But Miami's Achilles heel had been its inability to get to college hockey's grandest stage. The RedHawks lost in the regional finals each of the last two years, including in 2007-08 when Miami won a program-best 33 games before falling to nemesis Boston College.
So a Frozen Four appearance had been lacking on the resume for the 'Hawks — until now. Saturday night, Miami earned an April trip to Washington, D.C., with a 2-1 win over Minnesota Duluth in the West Regional final.
Afterward, Blasi tried to put into words the feeling, and admitted that he wasn't sure that he had the right ones.
The alumnus-turned-bench-boss thanked nearly everyone affiliated with Miami hockey past and present ("Ryan Jones has been calling me nonstop since the game got over," he mentioned at one point), including Gwozdecky and Joel Maturi, the athletic director at Minnesota who in his days as Miami AD hired Blasi to oversee men's hockey.
Then he turned to the accomplishments of the current group of RedHawks.
"Nobody, and I mean nobody gave us a chance to even be close to being in the national tournament with four freshman defensemen and two freshman goalies," said Blasi.
One of those freshman goalies was Cody Reichard, who allowed only three goals on 44 shots over two games in the regional en route to being named to the all-regional team. Another key contributor to Miami's cause didn't go unmentioned, either.
Justin Mercier, who was voted the regional's most outstanding player, could have left before the season for a pro deal, but came back to college instead.
Until this weekend, his rewards for his perseverance had been minimal. Mercier scored 25 goals in 2007-08, but this season had just 11 entering the NCAA tournament. Three goals and two wins later, those struggles are forgotten.
"He believed in what we were doing, and he believed that we could make the NCAA tournament and maybe a Frozen Four," said Blasi of Mercier, also quipping that "I told him no one remembers the regular season."
This edition of Miami hockey is not the school's winningest, or its most talented. Nevertheless, it is the first to get this far in the NCAA tournament. Why this year and not last, or any previous attempt, for that matter?
"I've always been a big believer that everything happens for a reason," said Blasi. "This is the way it's supposed to be."
The best summary, though, is sometimes the simplest. Strip away the history, the speculation and the significance, and what's left is joy.
"We're pretty excited about going to the Frozen Four," said Blasi.