When Terrier senior Jason Lawrence tells his grandchildren about the goal he scored to send Boston University to its first Frozen Four since 1997, he agreed that he "absolutely" would report it to be a pinpoint snipe of a top corner.
The reality was that the goal wasn't as pretty as one might have hoped in such a high-stakes game, yet you could say that it was a microcosm of the game as well. It was a tightly-fought battle in which UNH did get one fortunate carom on its lone goal, but otherwise every bounce and near-miss seemed to go against the Wildcats despite myriad scoring opportunities.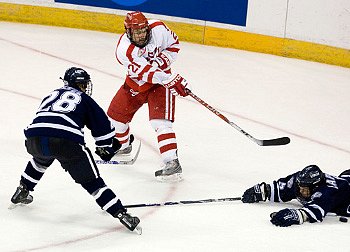 Perhaps pressing to live up to its top seed, BU seemed more desperate to score throughout much of the third period. Yet that resulted in more odd-man rushes for the opposition rather than grade 'A' chances for the scarlet and white. Finally, BU's newly-anointed top line of Nick Bonino, Brandon Yip, and John McCarthy stormed the net and drew a penalty with 45 seconds left.
"From the bench, it just looked like a scramble — couldn't tell," UNH forward Greg Collins. "I saw the puck was bouncing, guys were trying not to get beat to the net, and a penalty was called."
After the game, Umile appeared to be miffed about the call but did not elaborate.
While the Bonino line has been the top even-strength line of late, the line of Colin Wilson, Jason Lawrence, and Chris Higgins has been the Terriers' top power-play unit all year.
Lawrence is second in the nation in power-play goals and already had scored a remarkable number of his 23 goals this season on short-yardage shots. The unit took the ice, setting the stage for yet another last-minute goal in what has to be one of the wildest NCAA hockey tournaments ever. These games are not recommended for fans with histories of cardiac issues.
For the Terriers, though, it was a sweetheart result.
"We were on the power play, and I think Colby [Cohen] gave it to Chris down low," Lawrence said. "Chris started to roll up and I popped off; he gave me a nice pass. I kind of hesitated a little bit, and the defenseman laid out so I tried to get it around him. I threw it in the area of Colin. I believe it went off their guy sliding in; I didn't see it go in. I just saw that it went in, and we were happy about that."
You think? Meanwhile, the most memorable pinball shot since the film Tommy left UNH coach Dick Umile shaking his head. "It was a tough way to lose the way the puck went in," Umile said. "I believe Brian [Foster] might have made the save, and it bounced off and went off one of us and went in the net."
No one attending the press conference seemed to get a great look at how the puck went in, but a frame-by-frame analysis of USCHO photographer Melissa Wade's pictures seems to tell the story.
With his back to the end boards at the bottom of the left-wing circle, Lawrence managed to get Wildcat defenseman Kevin Kapstad to go down and then attempted to pass to Wilson beyond the far post. Hustling on the backcheck, UNH forward Jerry Pollastrone dove headfirst in anticipation of the pass. The puck caromed off Kapstad and went off Pollastrone's arm directly in the net. Foster seemed to thinking about a shot and likely was screened by Kapstad.
In any event, it was an excruciating and bitter end for a team that deserved a better fate.
Meanwhile, Terrier coach Jack Parker could heave a sigh of relief and reflect on what had helped his team get to its first Frozen Four in 12 years.
"First of all, pure unadulterated talent," Parker said. "We've got an awful lot of guys that can play hockey on this club. This is as strong a team as I've had, all four lines. We've got four 40-point scorers, and years ago they'd have been 60-point scorers the way goals were scored in past years. So we've got a pretty good, balanced attack.
"This is probably the best corps of defensemen I've ever coached for six guys. And our goalie has been Jimmy Craig or Cleon Daskalaskis-like. That's the major reason: Get off the bus with the best team and you've got a chance to win.
"But the best team doesn't always win because you have to have an effort and focus," Parker added, noting that UNH very easily could have won because its effort was great while BU's was merely good.
"That's how you really win. Nobody can win on talent. Sometimes you sneak by on talent, but you also need character and effort and discipline. And we've had a great senior class and captains, and this team is as good as any I've ever coached that way. I've said before that having Gilroy and McCarthy is liking having two additional assistant coaches."
In a game the Terriers easily could have lost if not for the heroics of Kieran Millan and some poise under pressure, perhaps BU did sneak by on talent … and by Lawrence sneaking one in when it counted most.