"What an unbelievable comeback!"
Those are the most common sentiments heard among the BU players and coaches after the game against Miami.
The fans, who keep coming back game after game, year after year, share those sentiments.
Known as The Dog Pound within the student realm, this school's fan base encompasses a wide variety of people around the country, including alumni, past players, professors, members of the media, and even young children who are inspired to one day be a player themselves.
In his speech addressing the cramped crowd in Marsh Plaza that overflowed onto Commonwealth Ave, coach Jack Parker emphasized what an impact the BU hockey fans have had, especially at the Frozen Four.
"I had a lot of former teammates that were down at the tournament, former players that played for me, and it's always nice to see all the former Terrier hockey players that show up and live and die with our club.
"They were talking about the student section when we were down 3-1; they couldn't believe how hard and how determined the student section was still cheering and the band was still playing, urging us on. To have everyone here today, especially the students, it was a great tribute to our team, a great tribute to the University, but a great tribute to you as fans of this team. I can't tell you how much I appreciate the support over a long period of time, but more so than ever this year, especially in the last three minutes of the Miami game."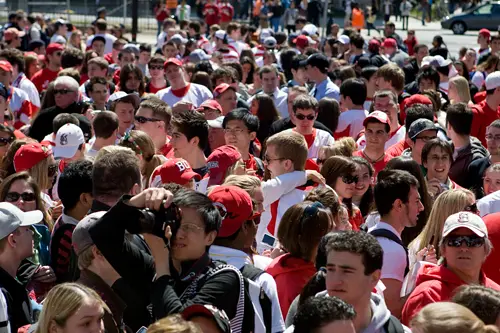 Co-captain John McCarthy added, "We had a good year this year, but there were times when we weren't playing our best, but it didn't matter to you guys; you guys were there cheering. It was that support all year that helped us win everything we did."
The term 'diehard fan' is uniquely defined at BU by a Hot Dog and a Jesus, juniors Brian Fadem and Ross Lichtenberg respectively, who have famously dressed up in the costumes for the past three years to root on the team.
"Well I like to look at it as, 'BU sports is my religion,'" said Lichtenberg in response to why he chose to dress as Jesus.
Both are Philadelphia natives, so with the recent Phillies' World Series win, where does this NCAA Championship rank?
"This [national title] was 10 times more exciting," said Lichtenberg. "The Phillies won in five, which is kind of boring, but this was the most exciting game I've ever been to no matter who was playing, no matter what the competition."
"We were part of this, we were pretty much at every game, we were an integral part of the whole season," Fadem said. "So this is really special, especially to students here; it's very rare to be a student and win a national championship."
The student broadcasters, though neutral in the press box, still felt the adrenaline pumping through their Terrier blood.
"If I never broadcast another hockey game in my life, I will die a happy man," explained senior Nick Gagalis, color commentator at the Frozen Four for WTBU.
Gagalis' fellow classmate and radio play-by-play announcer Kevin Edelson explained what a positive impact the Ice Dogs have had in his life.
"Following the hockey team gave me so much. I met my girlfriend through BU hockey, I met most of my good friends, both fans and media members through BU hockey, and I got a great head start on my broadcasting career. BU hockey changed my life."