The debate has raged on and on in recent years between which is better: Junior A hockey or U.S. college hockey.
This weekend in Montreal we may find out the answer, at least in the eyes of those most important to the game — NHL executives.
As this weekend's NHL Entry Draft kicks off, beyond the foregone conclusion of the first two selections in the draft, the remainder of the first-round picks, most experts feel, is wide open. The top prospects to fill the spots, according to the rankings developed by the NHL's Central Scouting Bureau (CSB), are comprised of both collegiate and collegiate-to-be players and others from the top ranks of junior hockey.
Therein is our debate.
The absence of any stellar European products makes this a North American battle. Will the full-season major junior ranks typically played in Canada prevail over shorter-season U.S. college hockey? Pure numbers alone suggest yes.
Get past the first two draft picks — there's little doubt that Canada's John Tavares and Sweden's Victor Hedman will be taken as the first two picks (though the order remains unclear). After that, it's likely it's all North Americans through the top 10.
So filling those final eight spots will be either major junior or college players. College, though, is at a disadvantage, with only two players ranked in the top 10 among North American skaters.
How, then, will the battle of college vs. junior be settled? In this writer's opinion, the two highly-ranked collegians — Minnesota's Jordan Schroeder and Colorado College freshman-to-be John Moore — can make a statement for the U.S. college game if both are selected top 10.
Schroeder was ranked fifth in the final CSB rankings. Moore was sixth.
But CSB is not the be all, end all.
In recent years, the International Scouting Service (ISS) emerged as a trusted source for NHL scouts. Similar to the CSB, the ISS ranks each player individually through data and opinions they gather. Their opinions of Schroeder and Moore aren't nearly as high. ISS ranks Schroeder 12th and Moore 17th.
Now the question becomes, which ranking has more credibility? ISS certainly is a better system as it ranks all eligible players together whereas as CSB breaks down the prospects into four lists — North American skaters, North American goaltenders, European skaters and European defensemen. Thus, a player ranked fifth, as is Schroeder, by CSB could slip to a lower draft position if say, four European players and a couple of goalies slipped ahead of him.
The problem this year, though, is that the crop of goalies is awful and the European contingent (besides Hedman) of players isn't expected to overtake many of the top 10 spots.
So the difference between the CSB and ISS rankings for Schroeder and Moore certainly sends a statement: ISS prefers major junior players.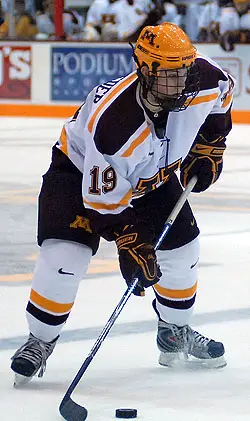 This is hardly a blanket statement year after year. For 2009, though, it is true.
Now the question is how will the NHL GMs react? Will they overthrow ISS and make Schroeder and Moore top 10 picks? Or will the ISS influence knock one (or both!) out of the top 10?
The gut says likely somewhere in between. A win for college would be both players drafted in the top eight. A draw might be one player in the top eight and another in the top 12. A minor loss would be one player in the top 10 and another just below, say top 15. A complete loss is if both players' stock knocks them below the 10th overall position. The last time the top 10 was absent a player with U.S. college ties was 1999 (considered by many to be the worst draft crop in history). That year, Michigan's Jeff Jillson was the highest selection at 14th and only two other college players (Wisconsin's David Tanabe, 16th, and Maine's Barrett Heisten, 20th) were first-round selections.
This year, though, hardly should paint as cloudy a picture for college hockey as a decade ago. There are more than a handful of talented players who have a chance to make a statement in this year's draft and when the opening round is over, it's likely that five or six (or more) players with collegiate ties will have heard their names called.
Louis Leblanc (Harvard, incoming) and Chris Kreider (Boston College) are both ranked highly by CSB. Leblanc was a point-a-game player last season for Omaha in the USHL.
"Louis established himself as one of the better and most tenacious players in the league," said Leblanc's coach in Omaha, Bliss Littler. "He has an outstanding stick and a nose for the net. His work ethic is unmatched and he truly understands the meaning of the word 'team.'"
Kreider, somewhat unproven as a high school senior-to-be at Phillips Academy-Andover (Mass.), will get a lot of attention because of his size. Standing at 6-foot-2, 201 pounds as an 18-year-old freshman, he might see a team take a chance on him early in the first round.
"The scouts who see him know what type of tremendous skills he has and he obviously has great physical strength, but he's an absolutely great character kid," said Phillips Andover coach Dean Boylan. "He's a great kid off the ice, a presence in the locker room and a young man who is forever looking to get better. Character is important to me and Chris is at the top."
You can also expect players like Drew Shore (Denver, incoming), Nick Leddy (Minnesota, incoming) and Kyle Palmieri (Notre Dame, incoming) to be first-round potentials. Zach Budish (Minnesota, incoming) was a lock first-rounder earlier in the year, but injured his knee just nine games in for Edina (Minn.) High School. Because of that, his stock may fall, but he also may be a late first-round pick for a team that feels he is a steal.
The first round of the NHL Entry Draft kicks off from Montreal's Bell Centre at 7 p.m. Eastern on Friday (TV: Versus, TSN). Rounds two through six take place Saturday beginning at 10 a.m. Eastern (TV: NHL Network, TSN).
USCHO.com will have complete coverage from Montreal.